Computers in the Library

Information Commons - Located on the entry-level/west-side, this area consists of 24 computers with Windows10, Microsoft Office 2016, SPSS 25, Mathematica 11.1, and computers #20 - #24 have ArcGIS installed. There is also a Bloomberg Terminal on the north side.
This space provides plenty of room to work side-by-side and there are also two copiers in the area for printing and scanning.
---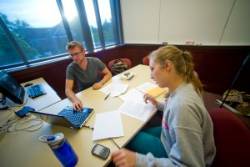 Project Rooms - There are three Project Rooms located in the Ames Library. These rooms are great collaborative spaces which are equipped with a Mac mini, webcam, and either a large flat screen monitor or projection and seat anywhere from 5 - 12 people. Due to COVID-19 social distancing guidelines, these room currently have a capacity of 1 - 4 people.
These rooms can be reserved in advance of your meeting time.


---

Thorpe Center - located on the third level, the Thorpe Center consists of eight iMacs with software for video and audio editing. There are also three windows computers, one large format scanner, and all of the computers have access to a flatbed scanner.
The ITS Service Desk, One Button Studio, Lightboard Studio, and Podcast Studio are also located in the Thorpe Center.
---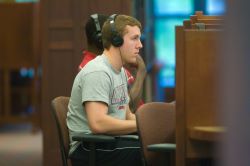 Scholarly Workstations - There are 12 Scholarly Workstations available for use in the library. Four are located on the lower level - east-side and four each on the second, third, and fourth levels - west side.
These computers have Windows10, Microfsoft Office 2016, SPSS 25, Mathematica 11.1, and additional software related to materials in the area.
---