LIBRARY INFORMATION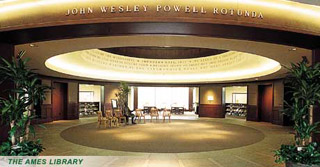 The Ames Library opened in 2002 and is named in honor of B. Charles Ames '50 and Joyce Eichhorn Ames '49. 
The Ames Library is the intellectual heart of Illinois Wesleyan University.  It is here that scholarly information, regardless of format, is gathered, organized, and prepared for dissemination to the University community.  In addition, the library provides a place for interaction. collaboration, consultation, study and reflection.
FEATURE
Pembroke Windows - A gift from Clayton, Dubilier & Rice, the windows are originally from Pembroke College, Oxford.  Restored by Terry Garbe & Staff.