Spotlight on Alumni Working in Human Rights
Titans all over the world are devoted to making a difference. Here, we highlight just a few.


Christopher Tatara '14
Chris Tatara graduated from Illinois Wesleyan University in 2014, with a history major and international studies (diplomatic studies concentration) minor. While at IWU, Chris was involved in the Alpha Lambda chapter of Phi Mu Alpha Sinfonia and Phi Alpha Theta. He also actively participated in the Scholars at Risk Advocacy Seminar at IWU.
After graduation, he interned for the summer with the Scholars at Risk Network in New York, N.Y. Currently, he works as an advocacy consultant with The Global Coalition to Protect Education from Attack (GCPEA).
Q: What peaked your interest in working in human rights, and was there anything at Wesleyan that specifically enabled you to pursue those interests?
I can't say that there was any single event that piqued my interest in human rights. After switching my major to history and adding my international studies minor sophomore year, I had really begun to start thinking about what I was passionate about. From numerous years of community service projects with the Boy Scouts, I knew that I wanted to help others in some way. Quite naturally I became more interested in human rights and human rights work.
Upon reflection, there were quite a few opportunities to explore my interests at IWU. My interest in human rights began with reflection on the many tragedies of the 20th century and modern history. From there, it was easy to find human rights and social justice themes/topics in most of my coursework. IWU's liberal arts curriculum allowed me to engage with human rights in a variety of courses, be it international law, philosophy, or developing economics. Each course approached human rights from a different angle.
Q: What were you doing for your internship and how did that work affect your career?
I did in fact intern at Scholars at Risk. As part of my internship I had several tasks. First and foremost, I worked with the Protection Services team on active casework. This included communicating with scholars, updating their case files, doing background research to corroborate the risks scholars reported facing. Additionally, I assisted with the Scholars in Prison project, tracking updates on imprisoned scholars and drafting letters of appeal. Other tasks included making edits to the Scholars at Risk (SAR) website, assisting with the Academic Freedom Monitor project and preparing the weekly academic freedom media review.
The networking opportunities I gained from my internship have led directly to my current position with the Global Coalition to Protect Education from Attack. The close contacts between organizations in the relatively niche field of protecting education in conflict and insecurity helped me secure my current position. Those connections made a world of difference.
Q: Do you have any advice for current students interested in working in human rights and social justice?
The competition is fierce right now. Take all the opportunities you can to channel your passion into human rights/social justice activities, internships, etc. Strive to not only follow directions, but to create and build something unique. There are hundreds of small organizations looking for dedicated individuals that help grow their work. Show them that you can think outside of the box when needed.
---
Justin Ahrens
Year of Graduation: 1994
IWU Major: Art
A casual decision to take an introductory graphic arts class to fill time after an injury that ended Justin's nascent football career at IWU was certainly serendipitous. Six years after graduation, Justin Ahrens founded the strategic design firm Rule 29, creatively combining business, art, and social activism. The company's bread and butter may be branding and creative design, but Justin's passion is reflected in the company's slogan, "Making Creative Matter:" creative design that turns a profit and improves the human condition. Giving back and being part of solutions are objectives realized through the company's commitment to raising awareness of poverty in the U.S. and Sub-Saharan Africa. Justin has served as an advisor for Life in Abundance and Engaging Philanthropy, Inspiring Creatives, and he has traveled extensively in Africa as part of his involvement with Life in Abundance and Lifewater, which works toward solving the African water and sanitation crisis.
Emily Coles
Year of Graduation: 2011
IWU Major: International Studies and French & Francophone Studies
Emily began her academic career at IWU with an established interest in human rights, and took every opportunity to develop her skills and expertise. As a Peace Fellow she led workshops to raise cultural awareness and promote peace through study abroad among high school students. She also interned in the Dutch Parliament in the Hague, the World Health Organization in Geneva, and the U.S. embassy in Sarajevo in Bosnia-Herzegovina. After graduation she spent a year in Bulgaria on a Fulbright Grant and then worked in Nairobi, Kenya for the Danish Refugee Council. She's also conducted research in Jijiga, Ethiopia, and compiled a report on durable solutions for Somali refugees in the Horn of Africa. She returned to her studies at the London School of Economics in fall of 2012, with plans to work for an NGO in Belgrade, Serbia after graduation. Emily is particularly passionate about the rights of children.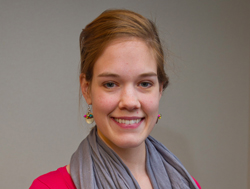 Erick Henderson
Year of Graduation: 2012
IWU Major: Biology
As a student at IWU, Erick served as the philanthropy chair of the Tau Kappa Epsilon fraternity and founded the Optometry Club with the goal of encouraging students to learn more about the optometry profession. Even before Erick accepted an internship in Lamu, Kenya, he felt passionate about delivering eye care to those deprived of access to health care. The internship at the Lamu Center for Preventative Health offered an opportunity to do just that, as he performed eye exams, distributed eye glasses to those with optical needs, and developed a community awareness program promoting the benefits of eye health. Erick has personally witnessed the impact of his work: "A pair of glasses can make a world of difference in someone's life, especially as a child, but also once in adulthood." He is currently attending the Southern College of Optometry in Memphis, Tenn., and will graduate in 2017.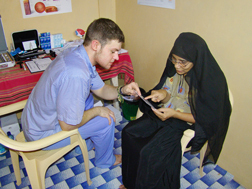 Molly King
Year of Graduation: 2003
IWU Major: Nursing
Molly remembers as a 10-year-old seeing photos of Romanian children who were abandoned by their parents because of birth defects. Disturbed by the idea that such children were treated as disposable, and contrasting her own experience as a child born with a facial deformity to a family who did not see her that way, Molly knew she wanted a career that helped ensure such children would grow up knowing their own value. Now armed with dual master's degrees in public health and nursing from Emory University as well as experience as a pediatric intensive care unit nurse, she works with children as part of a team of pediatric cardiac specialists through the not-for-profit organizations For Heart and Souls and Samaritan's Purse. Molly has traveled to Mongolia to work with pediatric cardiac patients there, and she has also been to Iraq helping train nurses working with children with congenital heart disease.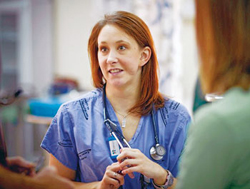 Samantha Krueger
Year of Graduation: 2012
IWU Major: Educational Studies and French & Francophone Studies
As a Peace Corps volunteer in Mozambique, Samantha is teaching English at a training college for primary school teachers in the province of Niassa. She's also involved in youth groups and building libraries, and she has plans to partner with her roommate to build a community center. As a senior at IWU, the decision to become a Peace Corps volunteer was inspired by her study abroad experience, the University's focus on social justice, and her exposure to educational practices and social justice. The opportunity also allows her to indulge her passion for travel. Samantha hopes to follow in the footsteps of other IWU alumni she admires who have done their part to improve the world. She hopes to eventually teach in the United States at a refugee school or teach English as a second language to recent immigrants. In any case, her plans will surely involve teaching, traveling, and helping!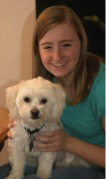 Molly McLay
Year of Graduation: 2006
IWU Major: English Writing and Women's Studies
Molly entered IWU with the idea of becoming a mathematics teacher, realized almost immediately that the math part was not ideal, and so switched her goal toward English education instead. Before long, Molly realized that she also didn't want to be a teacher. Known in the English Department as the student whose assignments always focused on women, it was a natural fit for her to pursue a second major in Women's Studies. Her post-graduation path led her to pursue a master's in Social Work at the University of Illinois, and as a graduate assistant she served as a campus sexual health educator, completing a field practicum as counselor and advocate for survivors of sexual assault. She graduated with her master's in 2011, and is now the assistant director at the University of Illinois' Women's Resource Center, where she continues to work closely supporting survivors of sexual assault.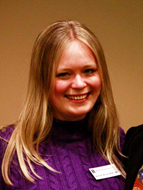 Shannon O'Rourke
Year of Graduation: 1987
IWU Majors: International Studies and Political Science
Shannon's decision to spend one semester studying abroad set her on a path that would lead to her current work with children in the Democratic Republic of Congo. While studying abroad, her work on a research project with a World Trade Organization representative from Tanzania spurred a desire to explore Africa for herself, and a Rotary Cultural Ambassador Scholarship to Senegal led to taking an internship there. After earning a master's degree in development in the U.S., she returned to Africa in 2010 to work in Zambia. Now she is with the Norwegian Refugee Council, an international aid organization with significant impact in the Congo and closely partnered with the United Nations in providing crucial aid and assistance to the many victims of the long regional conflict. Shannon manages the construction of temporary schools or schools that have been destroyed, training teachers, and coordinating distribution of educational equipment and supplies.
Megan Thompson
Year of Graduation: 2012
IWU Major: International Studies
Megan's interest in social justice was front and center as a student at IWU. Not only did she serve as the vice president of the campus chapter of Amnesty International, she lead the effort to establish the University's Scholars at Risk program, an international network based in the United States that strives to support and defend scholars whose human rights and academic freedom have been violated. As a junior, she studied abroad in Arusha, Tanzania with the Arcadia Center for East African Studies and the Nyerere Center for Peach Research. Her work included getting an HIV/AIDS education project established in secondary schools, researching human rights violations reported in East African countries, and compiling case applications to present to the African Court on Human and Peoples' Rights. Megan currently serves as the AmeriCorps VISTA Housing Resource Coordinator at Heartland Alliance for Human Needs & Human Rights in Chicago.