Spotlight on Alumni Working in Human Rights
Titans all over the world are devoted to making a difference. Here, we highlight just a few.


---
Sydney Rowley
Year of Graduation: 2020
IWU Major: Psychology
Sydney Rowley first came to be involved in Human Rights, Environmental Sustainability, and Social Justice at IWU, and continues to be involved in the social work field to this day. At IWU the focus on diversity and injustice in her major coursework inspired her to explore opportunities to personally further the cause of justice. This led Sydney to Hong Kong, where she advocated for the rights of migrant workers. Sydney states that she would not have been able to afford the expensive travel and living expenses in Hong Kong were it not for the Human Rights, Environmental Sustainability, and Social Justice grant she was awarded at IWU. In Hong Kong Sydney gained first-hand experience with the exploitation of migrant workers, who often made less than $1 per day, and were routinely fired for demanding legal treatment. This experience profoundly affected her and she knew upon her return home she wanted to continue this important work. She earned a part-time job in Homeless Services at PATH Crisis Center during her senior year at Wesleyan and now works full time through the same agency as an Adult Protective Services caseworker. Sydney encourages students interested in social justice to explore many different populations to serve. She says that her various experiences helped her to find work that truly drives her, and encourages students to do the same.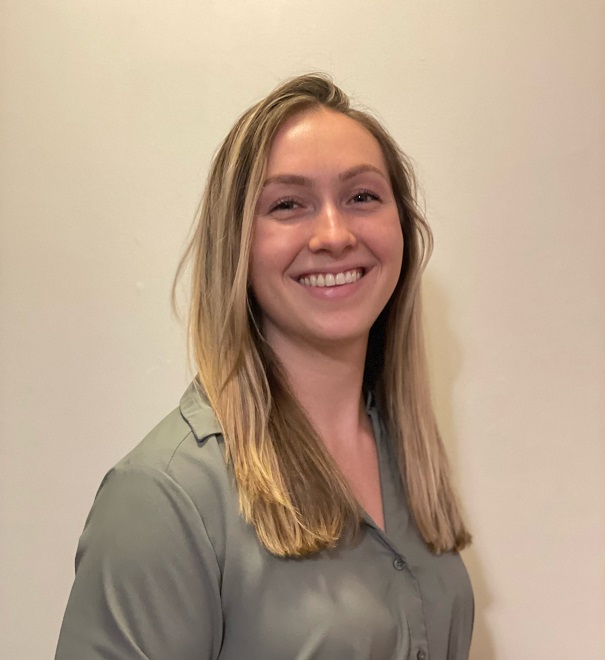 Ann Crumbaugh
Year of Graduation: 2019
IWU Major: Political Science and International Studies
Ann Crumbaugh graduated from Illinois Wesleyan University (IWU) in 2019 with a B.A. in Political Science and International Studies with a concentration in African Studies. Upon graduating, she worked at Abaarso School of Science and Technology, a boarding school in Abaarso, Somaliland. She graduated from Cornell University in 2021 with an M.P.S in International Agriculture and Rural Development. She is currently an analyst for the Danish Refugee Council's Ethiopia Migration Programme, a program that aims to protect young – 14 to 29-year-old – would-be migrants and refugees from unsafe irregular migration through and from Ethiopia. With funding from the Human Rights, Social Justice, and Environmental Sustainability Grant and the IWU Freeman Asia Internship Program she completed an internship with Mission for Migrant Workers in Hong Kong. Watching protests for democracy in Hong Kong the summer she completed her internship drove her interest in Human Rights. Opportunities to intern at the Lamu Center of Preventative Health, take a class in South Africa on the politics of South Africa, and participate in the Scholar's at Risk seminar were transformative experiences that enabled her to pursue her interests in human rights at IWU.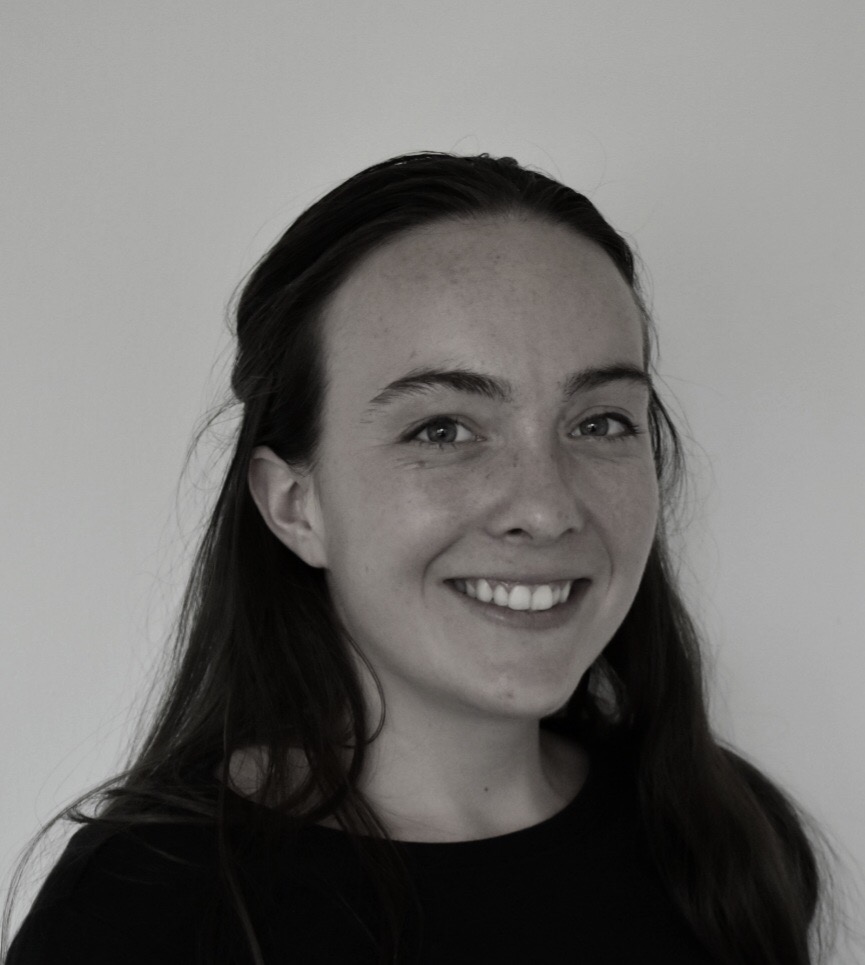 Emily Coles
Year of Graduation: 2011
IWU Major: International Studies and French & Francophone Studies
Emily began her academic career at IWU with an established interest in human rights, and took every opportunity to develop her skills and expertise. As a Peace Fellow she led workshops to raise cultural awareness and promote peace through study abroad among high school students. She also interned in the Dutch Parliament in the Hague, the World Health Organization in Geneva, and the U.S. embassy in Sarajevo in Bosnia-Herzegovina. After graduation she spent a year in Bulgaria on a Fulbright Grant and then worked in Nairobi, Kenya for the Danish Refugee Council. She's also conducted research in Jijiga, Ethiopia, and compiled a report on durable solutions for Somali refugees in the Horn of Africa. She returned to her studies at the London School of Economics in fall of 2012, with plans to work for an NGO in Belgrade, Serbia after graduation. Emily is particularly passionate about the rights of children.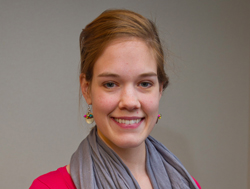 Erick Henderson
Year of Graduation: 2012
IWU Major: Biology
As a student at IWU, Erick served as the philanthropy chair of the Tau Kappa Epsilon fraternity and founded the Optometry Club with the goal of encouraging students to learn more about the optometry profession. Even before Erick accepted an internship in Lamu, Kenya, he felt passionate about delivering eye care to those deprived of access to health care. The internship at the Lamu Center for Preventative Health offered an opportunity to do just that, as he performed eye exams, distributed eye glasses to those with optical needs, and developed a community awareness program promoting the benefits of eye health. Erick has personally witnessed the impact of his work: "A pair of glasses can make a world of difference in someone's life, especially as a child, but also once in adulthood." He is currently attending the Southern College of Optometry in Memphis, Tenn., and will graduate in 2017.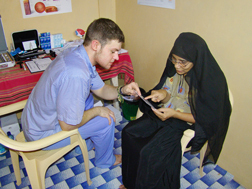 Molly King
Year of Graduation: 2003
IWU Major: Nursing
Molly remembers as a 10-year-old seeing photos of Romanian children who were abandoned by their parents because of birth defects. Disturbed by the idea that such children were treated as disposable, and contrasting her own experience as a child born with a facial deformity to a family who did not see her that way, Molly knew she wanted a career that helped ensure such children would grow up knowing their own value. Now armed with dual master's degrees in public health and nursing from Emory University as well as experience as a pediatric intensive care unit nurse, she works with children as part of a team of pediatric cardiac specialists through the not-for-profit organizations For Heart and Souls and Samaritan's Purse. Molly has traveled to Mongolia to work with pediatric cardiac patients there, and she has also been to Iraq helping train nurses working with children with congenital heart disease.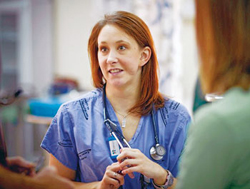 Samantha Krueger
Year of Graduation: 2012
IWU Major: Educational Studies and French & Francophone Studies
As a Peace Corps volunteer in Mozambique, Samantha is teaching English at a training college for primary school teachers in the province of Niassa. She's also involved in youth groups and building libraries, and she has plans to partner with her roommate to build a community center. As a senior at IWU, the decision to become a Peace Corps volunteer was inspired by her study abroad experience, the University's focus on social justice, and her exposure to educational practices and social justice. The opportunity also allows her to indulge her passion for travel. Samantha hopes to follow in the footsteps of other IWU alumni she admires who have done their part to improve the world. She hopes to eventually teach in the United States at a refugee school or teach English as a second language to recent immigrants. In any case, her plans will surely involve teaching, traveling, and helping!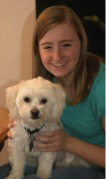 Molly McLay
Year of Graduation: 2006
IWU Major: English Writing and Women's Studies
Molly entered IWU with the idea of becoming a mathematics teacher, realized almost immediately that the math part was not ideal, and so switched her goal toward English education instead. Before long, Molly realized that she also didn't want to be a teacher. Known in the English Department as the student whose assignments always focused on women, it was a natural fit for her to pursue a second major in Women's Studies. Her post-graduation path led her to pursue a master's in Social Work at the University of Illinois, and as a graduate assistant she served as a campus sexual health educator, completing a field practicum as counselor and advocate for survivors of sexual assault. She graduated with her master's in 2011, and is now the assistant director at the University of Illinois' Women's Resource Center, where she continues to work closely supporting survivors of sexual assault.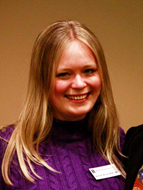 Megan Thompson
Year of Graduation: 2012
IWU Major: International Studies
Megan's interest in social justice was front and center as a student at IWU. Not only did she serve as the vice president of the campus chapter of Amnesty International, she lead the effort to establish the University's Scholars at Risk program, an international network based in the United States that strives to support and defend scholars whose human rights and academic freedom have been violated. As a junior, she studied abroad in Arusha, Tanzania with the Arcadia Center for East African Studies and the Nyerere Center for Peach Research. Her work included getting an HIV/AIDS education project established in secondary schools, researching human rights violations reported in East African countries, and compiling case applications to present to the African Court on Human and Peoples' Rights. Megan currently serves as the AmeriCorps VISTA Housing Resource Coordinator at Heartland Alliance for Human Needs & Human Rights in Chicago.