Center for Human Rights and Social Justice at IWU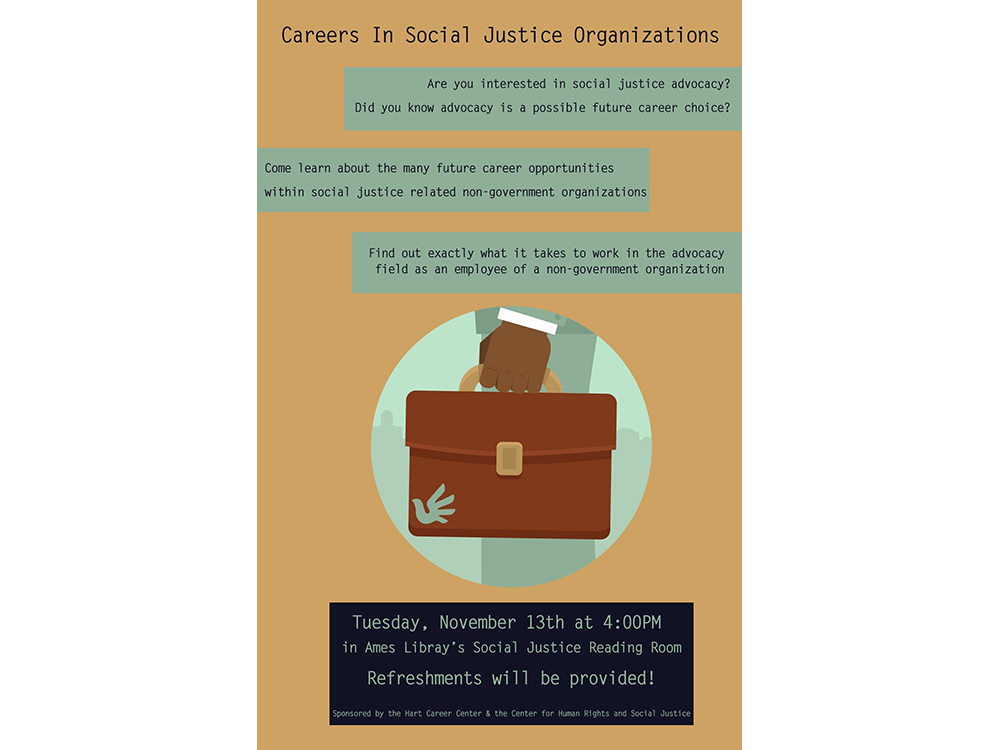 Careers in Social Justice Organizations
"Human Rights and Environmental Justice"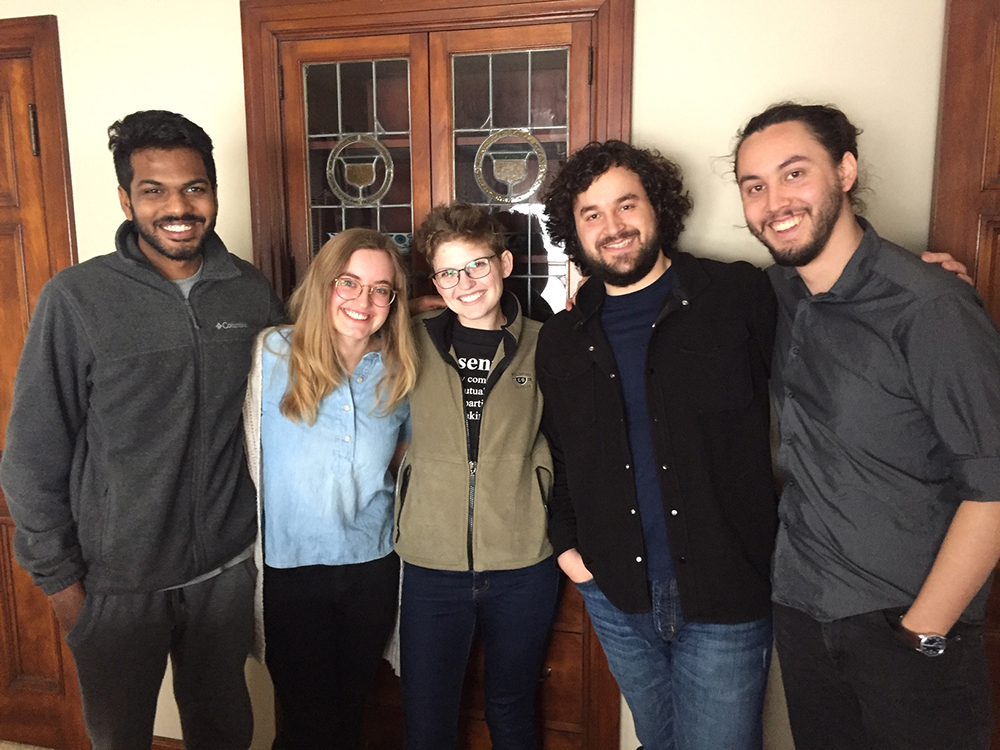 7th Annual IWU Human Rights Undergraduate Research Workshop
About the Center for Human Rights and Social Justice
The Center for Human Rights and Social Justice is committed to creating a campus community that together works to address human rights and social justice concerns. It pursues this commitment by offering opportunities for learning, reflecting, and advocating on behalf of human rights and social justice in a variety of venues. In so doing, we offer support for the IWU mission statement, which states that "The Illinois Wesleyan experience affords the greatest possibilities for realizing individual potential while preparing students for democratic citizenship and life in a global society…" while explicitly mentioning that the University "… is committed to diversity, social justice, and environmental sustainability."
We further believe that furthering our understanding of and advocacy for human rights and social justice gives meaning to the liberal arts experience. To be a reflective and engaged person in the 21 st century demands that we continually question what it means to be human and how our shared humanity requires us to treat one another. The questions that touch all of us, questions that focus upon equity, fairness, justice, dignity, and responsibility, for each other and our planet, can best be addressed through engagement with the liberal arts and through working with and advocating on behalf of others. A true appreciation of the liberal arts further requires that we open ourselves up to new encounters that expand our understandings of these crucial questions.
On-going Programs
The Center sponsors and co-sponsors a number of programs that are designed to further these aims. They include the John and Erma Stutzman Peace Fellows Program, the Scholars at Risk Advocacy Seminar, and the Fund for Human Rights, Environmental Sustainability, and Social Justice.
Fall Human Rights and Social Justice workshop

The Center sponsors two human rights workshops a year. In the fall, over the course of an afternoon and dinner, 40-50 students, faculty, and staff get together to discuss an important human rights related theme. The format encourages individual presentation as well as large, and small group discussion among the many campus constituencies. In the past few years, topics such as immigration policy, environmental justice, and prison incarceration have been among the human rights themes that have been explored.
The Center regularly sponsors speakers, films, and panel discussions throughout the year. From 2014-2016 it regularly held a human rights related film series. Noted independent film director John Sayles and academy award nominated actor Jesse Eisenberg are some of guests the Center has sponsored. Others have included Mark Steinberg, Professor of Russian History, University of Illinois, Urbana-Champaign, Jonathan Ebel, Professor of Religion at University of Illinois, Urbana-Champaign, Alison Bailey, Professor of Women's Studies, Illinois State University, Janet Bergstrom, Professor of Film Studies at UCLA, and Martha Nussbaum, Professor of Law and Ethics at the University of Chicago.
We believe that by creating a community devoted to an exploration of human rights and social justice concerns, we are able to offer students the support and confidence to make a positive difference in people's lives once they leave IWU. Alumni who have been affiliated with the Center have gone on to pursue careers in law, environmental justice, and the social services. A number have used the academic skills that were polished and refined during their association with the Center to pursue graduate work.
Human Rights Course Offerings Spring 2020
| | | | | |
| --- | --- | --- | --- | --- |
| IS 222/322 | International Human Rights: An Introduction | Irving Epstein | | Analysis of Values |
| PSCS 262/362 | Global Environmental Sustainability and Asian Development | Abigail Jahiel | | Contemp Social Institutions, Encountering Global Diversity |
| PSCS 303 | International Law and Organizations | William Munro | | N/A |
| PHIL 224 | Introduction to Social and Political Philosophy | Mark Criley | | Analysis of Values |
| PSYCH 374 | Psychology of Gender | Amanda M. Vicary | | Encountering US Diversity |
| HIS 343 | Migration, Ethnicity, and Race | April Schultz | | Cultural & Historical Change and Encountering US Diversity |
| EDUC 225 | Education and Social Justice | Margaret E. Evans | | Writing Intensive |
| ANTHRO/ENST 274 | People's Cultures of East Africa | Rebecca Gearhart Mafazy | | Contemporary Social Institutions & Encountering Global Diversity |
| SOC 230 | Race and Racism | Meghan A. Burke | | Contemp Social Institutions, Encountering US Diversity |
| ENGL 139 | Freaks! | Molly K. Robey | | Literature and Encountering US Diversity |
| CS 222 | Ethics, Values and Issues in Cybertechnology | Mark Criley | | Analysis of Values and Writing Intensive |
| FREN 230 | French for Human Rights and Social Justice | Christopher J. Callahan | | Analysis of Values & Encountering Global Diversity |