Parent Portal Information
Gaining Access
Each parent/guardian of an IWU student will have access to the Parent Portal. The Parent Portal provides you with access to news and events of interest to IWU parents. If your son or daughter authorizes your access, you can view their secure information such as grades, financial aid, class schedules, etc. IWU mails parents information about this service in October each year (February for those starting school during the Spring semester). If you did not receive this information, please contact the Dean of Students Office at (309) 556-3111.
Watch Parent Portal Demonstration Videos
Student Video
Watch Student Video on YouTube

Parent Video
Watch Parent Video on YouTube
Parent Portal FAQ
Q. What is my User Name and Password?
A. Your username is your email address. Your initial password is sent via email with the subject "New Parent Portal Proxy Identity" and is only initiated when your account is created by the student. You will be asked to change your password to something you choose upon logging in the first time.
Q. What if I forgot my password or lost my mailing?
A. The student who gave you proxy access can also initiate a password reset for you. Please let your student know that you have lost your password and that they need to reset your password. The student will find this "Reset Password" link on the Profile tab at the bottom of the page.
Q. My child is a first year student, but I did not receive a mailing/letter. Why?
A. The Dean of Students Office based its mailing on information provided by your child on the admission application. If you would like to have access to the parent portal, have your child update your missing parent information in Banner Self Service on MyIWU. If your child does not see any parent information in BSS, have them use the "Type of Address to Insert:" drop down menu at the bottom of the Address Update page and select Parents. They can then add your information and submit it. You will then get all future parent communication.
Q. My child does not know how to authorize my access. How do they?
A. Students received information and instructions in September of this year. Each student can authorize parental access via the MyIWU portal on the Student tab. They need to select Banner Self Service, Parent Proxy Access, and then Proxy Management. They will then click on the your name and switch to the authorizations tab. A screen shot of the authorization page is shown below: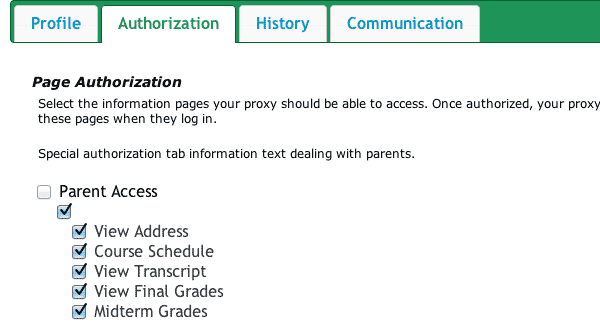 Q. I've successfully logged into the portal. However, I don't see any of my child's "secure" information. Why?
A. The secure information should appear on the tab with your students name on it. If you do not see it, or do not see your child's information, the first step to take is to contact your child. Each child must authorize his or her parent access to secure information. If your child has authorized your access it should appear almost immediately. If they authorized your access WHILE you were logged in you would need to log out, then back in again, to see the information. If your child has authorized your access, and you still cannot access this information, contact the Help@Ames Helpdesk at (309) 556-3900.
Q. What is FERPA?
A. The Family Education Rights and Privacy Act (FERPA) and the E-signature Act of 2004 are federal regulations that require the University to provide our students with a "safe harbor" of protected access to their educational records that include personally identifiable information. The FERPA guidelines grant sole control of the education records of post secondary school records to the student. To comply with these regulations, IWU asks your child to enable or leave disabled access to records for each individual parent. Learn more about FERPA.