Danielle Ponsot Internship with Aoyama Gakuin University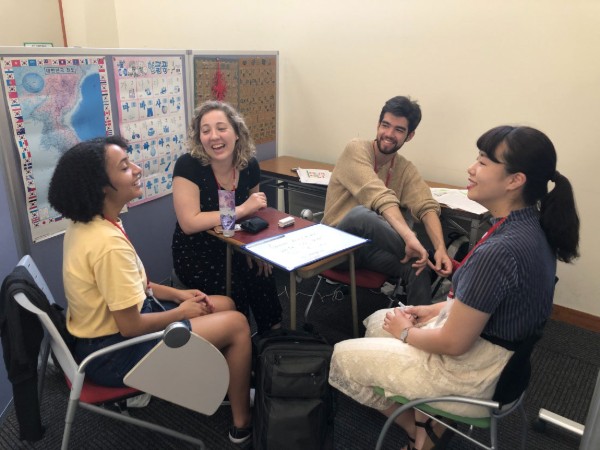 Name: Danielle Ponsot
Class: 2020
Major: Secondary Education and English
Hometown: Arlington Heights, Illinois
Interning with: Aoyama Gakuin University
Location: Tokyo, Japan
Position: Chat Leader
What are your everyday responsibilities as an intern?
I facilitated conversations in English so that Japanese students could practice speaking English. We had different conversation topics every day like "culture," "TV/ Movies" and "manners," with about twenty questions to talk about with students. I facilitated hour long conversations with beginners, intermediate and advanced college students, as well as adults who were able to take free lessons at Aoyama. The university had many other schools on campus, too, from elementary to junior high school to high school, and we spent a lot of time in those schools, as well. In the elementary school, we walked around the English classes and helped students with their questions. After school, we led the "English Club" which was playing board games in English with the students. In the junior high school, we also walked around in classrooms, and ate lunch with students while talking to them in English. In the university, we hosted an American cultural event where we brought in homemade rice krispie treats and taught the Cha Cha Slide line dance.
How did you land this internship?
I applied to the Freeman Asia internship program, interviewed, and was accepted!
What drew you to this internship?
The opportunity to travel abroad while working in a position that fit my interests so well! I want to be an English teacher, and at Aoyama Gakuin University, I was able to teach English to students as a second language, while in Japan!
How did IWU prepare you for succeeding as an intern?
Illinois Wesleyan helped prepare me to succeed by forming partnerships with places like Aoyama Gakuin University and offering the Freeman Asia Internship to students. I felt prepared for this internship because of my Education classes, which taught me how to carefully observe students and write daily logs while helping in the classroom. My Education advisor filled in the gaps by supplying me with articles about how to teach students who speak English as a second language, and she was able to answer my questions and guide me in our weekly Skype sessions.
What do you hope to gain from this internship experience as you look forward to being a student/professional?
I gained real world experience from this internship, which I will apply to my future classrooms. Working as a Chat Leader, I learned that students are most engaged when they connect to the material and when they're having fun. As a future teacher, I'll make sure to start off classes with a short energizing activity, use partner work, and switch activities if the students lose interest. I also want to bring this cultural experience into my classroom, by showing photos and videos of Japan. Practically, this internship taught me a new level of responsibility; we had to commute 45 minutes to work, teach all day, create activities, document each day's activities in a daily log, present PowerPoints about our lives in America, create new chat topics, and devise and host a cultural event.
What's been a particularly rewarding experience as an intern?
It was extremely rewarding to see my students become more confident in their English skills. My favorite part of the internship was making friends with the Japanese students at the University, especially when one of them told me, "You are the first person who I feel comfortable speaking English with." Another of my favorite moments was seeing about forty Japanese students at our cultural event (which happened during their lunch, and they all attended voluntarily!) learning the Cha Cha slide, dancing in unison and laughing.
In your opinion, why is it important for students to experience internships?
Internships are important to experience because they are a sneak preview into the real world. This way, you can learn if you actually like the job or not, without having to work full time. Plus, they are important to have on your resume when you apply for jobs. For me, it was so interesting to meet students and teachers from a different country, and hopefully maintain some relationships for the future!