May 6, 2019
News for and about the Illinois Wesleyan community
Campus News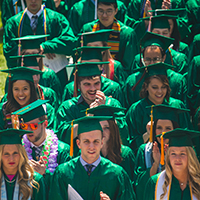 Illinois Wesleyan Celebrates Class of 2019
More than 400 graduating members of the Class of 2019 joined the ranks of Titan alumni during Commencement exercises on Sunday, May 5. See a photo gallery or watch the video.
Three Students Accepted to Oxford's Pembroke Program
Three Illinois Wesleyan students – Samira Kassem '21, Thao "Jenny" Le '21, and Rachel McCarthy '21 – have been accepted to spend their junior year studying at Pembroke College, University of Oxford in England.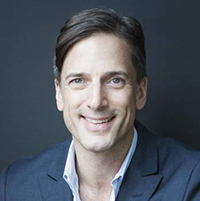 The Prom, Produced by Damaschke '85, Nominated for Seven Tonys
Broadway musical comedy The Prom, produced by Illinois Wesleyan theatre alum Bill Damaschke '85, has been nominated for seven Tony Awards, including Best Musical.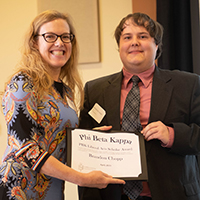 Chopp '19 Earns Phi Beta Kappa Award for Frank Zappa Research
History major and Hispanic studies minor Brandon Chopp '19 won IWU's Phi Beta Kappa Liberal Arts Scholar Award, recognizing undergraduate research that engages, translates, and bridges academic disciplines or crosses traditional academic boundaries.
Titan Athletics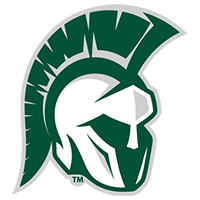 A roundup of champions:
Titans In The News
The Pantagraph
Bill Damaschke '85 is the producer of the Broadway musical The Prom, nominated for seven Tony Awards.
The (Carbondale, Ill.) Southern Illinoisan
Illinois Wesleyan students were among those participating in the Paul Simon Public Policy Institute in March; the summit's final report was delivered to state leaders last week.
WGLT Radio
Former military surgeon and health care policy advisor Stephen Ondra '80, who delivered Illinois Wesleyan's Commencement address, talked with WGLT about the future of health care.
Bureau County Republican
Nevana Ahrends '63, a region director for the Illinois Retired Teacher's Association State Board, will speak at a meeting of the Bureau County Retired Teachers Association.
Chicago Tribune
Associate Professor of Music Vadim Mazo will conduct the Waukegan Symphony Orchestra in a musical piece commissioned to celebrate the orchestra's 45th anniversary.
Kudos
Associate Professor and Chair of English Joanne Diaz will speak as part of the Center for the Writing Arts Reading Series at Northwestern University on Tuesday, May 7.


National Institute of Standards and Technology physicist Brian Simonds '05 discussed the organization's research to improve understanding of laser welding, the physics of which is surprisingly complex. A better understanding of the interaction between laser and metal could give industry more control over the technology that is becoming increasingly popular in manufacturing.

Campus Weekly is an electronic newsletter from Illinois Wesleyan's Office of Communications, edited by Ann Aubry, director of communications. To submit items of interest, email webedit@iwu.edu. See an archive of past editions.