Research Honors
Research Honors in Philosophy
Purpose, Eligibility and Procedures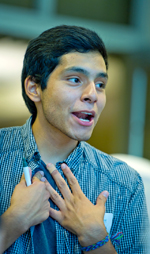 A. Purpose:
Research Honors provides you with the opportunity to pursue a project of original research in philosophy. A Research Honors in philosophy is similar to an independent study in philosophy, except that you are required complete and defend a polished thesis. You are not required to produce a thesis on par with Kant's Critiques or other revolutionary turns in philosophy, but you are required to produce a polished thesis in which you present an idea or an approach that is distinctly your own.
B. Eligibility:
You may seek Research Honors in Philosophy if and only if (i) you have an overall cumulative average of at least 3.25 and an average of at least 3.50 in philosophy, and (ii) you are a major in Philosophy or you have completed 6 course units in Philosophy. Research Honors may be done only in your senior year. In addition, you should be a self-motivated student who is self-disciplined and intellectually independent.
C. Procedures:
Outline of the Process: Officially, when you do a Research Honors, you are taking the philosophy department's course "403: Research Honors in Philosophy." You will receive a standard grade and standard credit upon satisfactory completion of this "course." But through this "course" you are attempting to earn "University Honors." This is a special distinction that is granted (or not) by the university. In section D of this form the procedures whereby one takes "403: Research Honors in Philosophy" as a means of earning "University Honors" are described.
Begin early. You can do a Research Honors project only in your senior year. To obtain "University Honors," you must declare your intent to seek University Honors to the Associate Provost in the Spring of your junior year. (See "Documents for University Honors" below.) Though we do not require it, we suggest that you do an Independent Study the semester before you do an Honors Research. More specifically, we strongly suggest the following plan: Do an Independent Study in the Spring of your junior year, and a Research Honors in the Fall of your senior year. This plan has a number of benefits: First, if you are applying to graduate school in philosophy, you will want to use a section of your Research Honors thesis as a writing sample, and this sample must be completed by the middle of your senior year. Second, this plan gives you plenty of time, your entire senior year, to prepare for your thesis defense. (Many students continue to work on their theses, even after they have completed "Philosophy 403: Research Honors in Philosophy.") And third, you will be able to write a much more specific "project description" for the Associate Provost after having completed an Independent study. The rest of this form presupposes that you are following this plan. (If you, for some reason, do not want to follow this plan, you must make special arrangements with the philosophy department.)

Select a Project Advisor. You should work with the same faculty member who served as your Independent Study advisor. If you want to do a Research Honors, you should discuss this idea your Independent Study advisor near the end of your Independent Study in the Spring of your junior year. If your advisor gives you tentative approval for taking Research Honors the next semester, you must then write a "project description."

Project Description, and Approval. After you have received tentative approval for Research Honors, you must write a "project description." The project description should be no more than one page in length, and should include the following: a summary statement of the area you want to explore or the problem or issue you intend to work on; a reading list or bibliography; and a tentative statement of what you will argue for in your thesis. Your written project description must be approved and signed by your faculty advisor. You do not have approval for a Research Honors unless and until a faculty member has signed your project description.

Documents for University Honors. To be eligible for University Honors, you must declare in writing your intention to seek University Honors to the Associate Provost, and you must do this in the Spring of your junior year. To do this you need to obtain two documents pertaining to Research Honors at the Associate Provost's Office: Research Honors Program, Eligibility and Procedures, and the Research Honors Record. You must complete the Research Honors Record and return it to the office of the Associate Provost.

Research Honors Record. Completing the Honors Research Record will require you specify three other faculty members, one from outside of the philosophy department, to serve as your "Hearing Committee." You must, of course, obtain the approval of these additional faculty members, and they are to be selected in consultation with your advisor. The Honors Research Record also requires that you write the "project description," discussed above, and that it be submitted to the office of the Associate Provost with the completed Honors Research Record.

Work Schedule. You and your advisor must agree to a work schedule. Your schedule will state when you agree to hand in initial drafts of sections of your thesis, and when a completed draft of your thesis is due. A passable rough draft of the whole paper must be available for your advisor to read at least 4 weeks before your scheduled project hearing. Your paper must be completed at least one week prior to your scheduled Hearing Committee Meeting. It is your responsibility to adhere to this schedule. If you fail to adhere to it, your advisor may elect to drop you from research honors.

Hearing Committee. In order to receive University Research Honors you must present for your Hearing Committee an oral defense of your thesis. You need to arrange a time, date and place for your hearing which is suitable for all the members of your Hearing Committee, and you must provide copies of your paper to members of this committee at least one week before your scheduled hearing. After your defense, your committee may ask you to make some changes in your paper.

Grades, Honors and Credit. As you are taking "Philosophy 403: Research Honors in Philosophy," your advisor will assign you a standard grade for this "course" and you will receive standard credit. After the oral defense of your thesis, your Hearing Committee as a whole will determine whether or not you have earned University Honors.

File Your Project. After you have defended your thesis for your Hearing Committee, and you have made any and all changes required by your committee, you need to file one copy of your completed thesis with the Associate Provost and another copy with the Philosophy Department. (The Philosophy Department keeps on file copies of completed Honors Research Projects. You may find these helpful to look at; they may give you ideas about how to go about planning and designing your project.)