June 24, 2019
News for and about the Illinois Wesleyan community
Distributed bimonthly during the summer
Campus News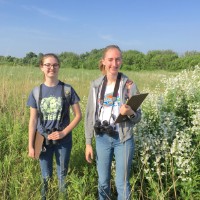 Students Receive Grants for Summer Research
Leah Bieniak '21 and Rachel Schoenecker '20 have been awarded multiple grants for their summer research project to study species and habitat preferences of birds in Bloomington-Normal.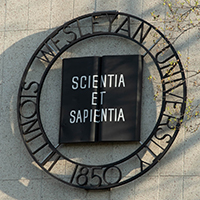 Six New Minors Added for 2019-20
In addition to the more than 80 majors, minors, and programs already available to students, Illinois Wesleyan is adding six new minors and concentrations for the 2019-20 academic year.
Esports Adds Fortnite Following Successful League of Legends Season
Starting in the fall of 2019, a new Fortnite team will join the successful League of Legends teams in Illinois Wesleyan's state-of-the-art Esports Arena.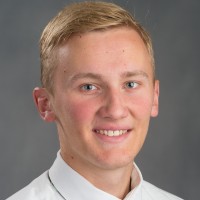 Gustafson '20 Awarded Economics Research Opportunity
After his curiosity was sparked in an economics course, William Gustafson '20 won the Mark Israel '91 Endowed Summer Research Fund in Economics to explore the question, "Do 2nd-generation immigrants fare better in the labor market than their parents, and if so, why?"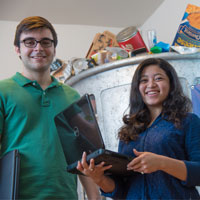 IBHE Grant to Support Internship Opportunities
Illinois Wesleyan University's Hart Career Center has been awarded an Illinois Cooperative Work Study Program grant from the Illinois Board of Higher Education to support internship opportunities for IWU students who are Illinois residents.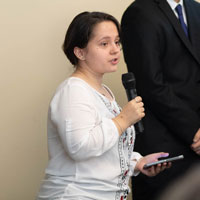 Bantas '21 Awarded Phi Kappa Phi Study Abroad Grant
Gabriela Theadora "Theo" Bantas '21 is one of 75 students nationwide to receive a study abroad grant from the honor society of Phi Kappa Phi, supporting her study in Poland this summer.
Dalton '19 Honored by Miracle Network Dance Marathon for Leadership
After the IWU TitanThon helped raise $22,125 in 2019 for OSF Children's Hospital in Peoria, Emma Dalton '19 was named among recipients of the Miracle Network Dance Marathon Distinguished Leadership Award.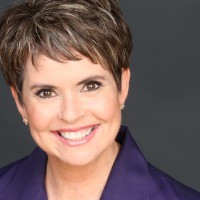 Kalodimos '81 to Produce New PBS Show
Demetria Kalodimos '81 is producing and directing the weekly music and conversation show Barnegie Hall for PBS. The show will feature Kalodimos' husband and veteran songwriter Verlon Thompson, along with a wide range of guests.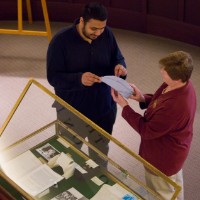 Ames Librarians to Study Teaching with Primary Sources
The Ames Library will join an international study exploring how teaching with primary sources promotes student engagement and critical thinking skills, along with participating institutions including Williams College, Brown University, Dartmouth College, University of Virginia, University of Sheffield (U.K.) and Yale University.
Titan Athletics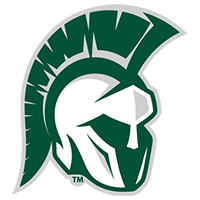 Illinois Wesleyan University senior lacrosse player J.C. Grabarek has been elected to the third team of the Division III Men's At-Large Google Cloud Academic All-America® Team, as selected by the College Sports Information Directors of America (CoSIDA). His selection brings the total to 129 for the number of Illinois Wesleyan Academic All-Americans since the program began in 1970. Illinois Wesleyan is No. 24 among all colleges and universities, regardless of NCAA division, in the number of athletes so honored.


Jack Sikma '77 threw out the ceremonial first pitch and Wayne Messmer '72 sang the national anthem before the Chicago Cubs played the Mets at Wrigley Field on Saturday, June 22.


Illinois Wesleyan University finished No. 27 (of 442 Division III schools) in the final set of rankings of the 2018-19 Division III Learfield IMG College Directors' Cup Standings, as announced by the National Association of Collegiate Directors of Athletics (NACDA).
Titans In The News
The (Bryan, Texas) Eagle
Rachel Short '09 identified a new species of rhinoceros through findings from the Gray Fossil Site of eastern Tennessee.
La Porte (Ind.) County Herald-Argus
Kaitlin Feely '20 stars in the (Michigan City, Indiana) Canterbury Summer Theatre's The Queen Bees.
The Pantagraph
Jessica Deahr '04 is the artistic director of Chicago Dance Crash, performing at Make Music Normal in uptown Normal.
Broadway World
New Titan William Dusek '23 will represent his home state of Minnesota at the National High School Musical Theatre Awards.
The Pantagraph
Jack Sikma '77 returned to Illinois Wesleyan and Bloomington-Normal last week ahead of a speech at the YMCA's Legacy Dinner. More coverage from WGLT-Radio.
(Sacramento, Calif.) CW31-TV
Cameron Blossom '13 is the co-founder of Storied Hats, a company offering high-quality, eco-friendly hats without logos.
The Pantagraph
The Illinois Shakespeare Festival's upcoming production of Pride and Prejudice will be adapted and directed by Deanna Jent '84.
Broadway World
Hayley Rice '04 will direct a 2020 production of The Duchess of Malfi at Chicago's The Factory Theater.
The Alpena (Mich.) News
J. Garner '21 will join the Thunder Bay Theatre's core company for the summer 2019 season.
The (Springfield, Ill.) State Journal-Register
Pat Sodemann '15 has been named an assistant men's basketball coach at the University of Illinois Springfield.
WGLT Radio
Brandon Chopp '19 earned Illinois Wesleyan's Phi Beta Kappa Liberal Arts Scholar Award.
The Pantagraph
Jasil Olabode '22 is a teacher at Bloomington's Compassion Center for the Arts, a nonprofit bringing arts programs to McLean County youth.
The Pantagraph
Illinois Wesleyan will offer six new minors beginning in 2019-20. More coverage from WMBD-TV.
Kudos
Jonathan Charak '05, who is vice president, senior pricing actuary-emerging solutions for Zurich North America, earned a Business Insurance Break Out Award. He previously earned the Young Researcher Award (2018), Above and Beyond Achievement Award (2016) and New Member Award (2014) from Casualty Actuarial Society.


Steven Sturlis '10 has joined Brinks Gilson & Lione, one of the largest intellectual property law firms in the United States, as a scientific advisor based in their Ann Arbor office.
This newsletter is an electronic publication of Illinois Wesleyan University's Communications Office in conjunction with the Admissions Office. To unsubscribe, email iwuadmit@iwu.edu
Illinois Wesleyan University
www.iwu.edu
PO Box 2900
Bloomington, IL 61702
(309) 556-3031