Aug. 7, 2018
Welcome to Our Newsletter About the Illinois Wesleyan Community
Turning Titan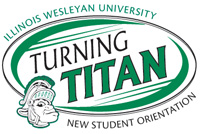 We're excited to help you Turn Titan!
Looking for a job when you get to campus? Opportunities are available both for students who are offered work-study as part of their financial aid package, and for those who aren't eligible for work-study. It's a great way to gain experience and expand your connections within the Titan family. You can find campus job openings and employment forms on the Student Employment page.
Can you believe Orientation is just two weeks away? See the schedule or check out the full orientation checklist for upcoming deadlines and information. If you have any questions, please contact orientation@iwu.edu or (309) 556-3749. 
Titan Athletics
Women's lacrosse coach Lindsey Kellar has been chosen as the Great Lakes Region Coach of the Year for Division III by the Intercollegiate Women's Lacrosse Coaches Association. Kellar coached the IWU women's lacrosse team to its second straight NCAA Division III appearance after winning the College Conference of Illinois and Wisconsin regular season championship and postseason tournament.
Titans In The News
Thrillist
Illinois Wesleyan has the highest earning graduates of any four-year institution in the state of Illinois, according to College Scorecard data analyzed by the career search site Zippia.
WGLT Radio
Assistant Professor of Sociology Todd Fuist, who co-edited a recent book on religious activism, says progressives are getting more comfortable invoking their faith to push for political causes.
Opera News Magazine
Soprano and educator Dawn Upshaw '82 brings a passion and unique perspective on performing to her mission of shaping aspiring singers.
The Pantagraph
Kwame Patterson has been named director of Illinois Wesleyan's Office of Diversity and Inclusion.
The Harvard Gazette
As an education fellow for the Harvard Divinity School Religious Literacy Project, Prospect High School social studies teacher John Camardella '03 is implementing an innovative teaching method in his world religions classroom.
This newsletter is an electronic publication of Illinois Wesleyan University's Communications Office in conjunction with the Admissions Office. To unsubscribe, email iwuadmit@iwu.edu
Illinois Wesleyan University
www.iwu.edu
PO Box 2900
Bloomington, IL 61702
(309) 556-3031