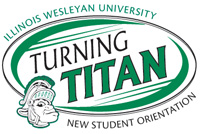 We're excited to help you Turn Titan! A few reminders:
Applications are now open for our Pre‐Orientation Programs: MALANA Pre-O, for under-represented groups; Engaging Diversity, fostering real conversations and leadership skills around issues of multiculturalism; and International Connections, specifically for roommates of international students. As a bonus, you'll get a head start on settling in to campus and making new friends.
Thanks to all who could join us for an amazing Parent Orientation last weekend! If you were unable to attend or would like to review the materials and presentations from Experience IWU 2018, check out our Experience IWU Handouts.
Check out the full orientation checklist for upcoming deadlines and more information. If you have any questions, please contact orientation@iwu.edu or (309) 556-3749.