Campus Weekly
Aug. 14, 2017
News for and about the Illinois Wesleyan community.
Turning Titan
Welcome, New Titans!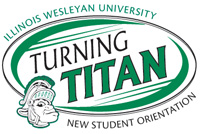 It's almost here! Don't forget to follow Illinois Wesleyan University: Turning Titan on Facebook.
Move-In Day Directions
Before you make your way to your residence hall to unpack on Tuesday, Aug. 22, your first stop will be the Hansen Student Center to check in (300 E. Beecher St., Bloomington).
Check-in and move-in will run from 8 a.m.-noon. See the full schedule.
If you have any questions, please contact orientation@iwu.edu or (309) 556-3749. We are happy to help you Turn Titan!

Checklist Items
Sign Up for Mission Day!
This one-day event on the Friday of orientation week provides all first-year students the opportunity to be involved in community service, diversity, globalization, social justice or sustainability –  all pillars of the IWU mission. Each site has limited space, so reserve your spot as soon as you can! Registration closes Friday, Aug. 18.


Mark Your Calendars for Family Weekend
IWU Family Weekend is Sept. 22-24. Start planning now for this fun-filled family event!
Titan Athletics
A total of 106 Illinois Wesleyan student-athletes were chosen as recipients of College Conference of Illinois & Wisconsin (CCIW) Academic All-Conference honors from the winter and spring seasons. In addition, a variety of academic honors were announced in recent weeks recognizing the men's basketball team, women's lacrosse team, men's golf team, and men's and women's track teams.
Titans In The News
Washington Post
Professor of Political Science Greg Shaw co-authored a blog post on evolving public support for the Affordable Care Act, which has come to be seen for its provisions over the politics.
Chicago Tribune
Catherine Mojsiewicz '19 starred as Mrs. Lovett in the Schaumburg Summer Theatre production of "Sweeney Todd."
The Pantagraph
Makenzie Kelley '17, who is bound for the University of Illinois law school this fall, was the women's overall winner in a Spartan obstacle course race in Richmond.
Kudos
Computer science and accounting double major Rui Cao '18 co-authored, with former IWU faculty member Pavel Naumov, "Budget-Constrained Dynamics in Multiagent Systems," which has been accepted at the 26th International Joint Conference on Artificial Intelligence (IJCAI 2017) in Melbourne, Australia, Aug. 19-25.
IJCAI is a premier event in the field of Artificial Intelligence. Out of this year's 2,540 submissions for the conference, only 660 were accepted, Naumov said.
This newsletter is a monthly electronic publication of Illinois Wesleyan University's Communications Office in conjunction with the Admissions Office. To unsubscribe, email iwuadmit@iwu.edu
Illinois Wesleyan University
www.iwu.edu
PO Box 2900
Bloomington, IL 61702
(309) 556-3031