Campus Summer
June 2017
We hope you enjoy this edition of our campus newsletter, sharing news for and about the Illinois Wesleyan community.
Turning Titan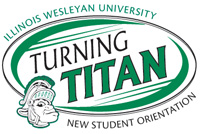 Illinois Wesleyan's Orientation Services office offers these Turning Titan Next Steps. For more information, visit our Orientation Checklist.
If you have any questions, please contact Orientation Services at orientation@iwu.edu or (309) 556-3749. 
Checklist Items
As you get ready to Turn Titan this fall, here are items to check off your list in June:
Parent Orientation
Parents and guardians of the incoming class are invited to Experience IWU to learn more about their students' upcoming transition to college. Faculty, staff, and orientation leaders will welcome these parents and guardians to the Titan family with keynote and educational sessions and a chance to experience Illinois Wesleyan firsthand. The pre-registration deadline is June 16. Experience IWU 2017 will be held on Saturday, June 24.
Campus News
Illinois Wesleyan Grads are Tops in Job Placement
Ninety-six percent of our Class of 2016 were employed or in graduate school within six months of graduation. These survey results for recent grads confirm the trend shown by federal data, which places Illinois Wesleyan 10th overall in the nation for alumni job placement rates 10 years after graduating!
May in Photos at Illinois Wesleyan
In May, we celebrated our graduating seniors – richly deserving of the hoopla – and other Titan highlights on the athletic field, in the classroom, and far beyond the Quad (including at the Parthenon in Greece, pictured right).
Student Studying Behaviors at Food Psychology Lab Internship
Nghi Nguyen '18, an art and psychology double major, expects to draw on both interests as she explores how and why humans relate to food during an internship at the Cornell University Food and Brand Lab.
Simmons Awarded Luis Leal Scholarship
Hispanic Studies and sociology double major Connor Simmons '19 is receiving a scholarship to conduct research while studying abroad next spring in Buenos Aires, Argentina.
Chang Selected for Economics Research Fellowship
Hsin-Jou (Lily) Chang '18 will spend the summer conducting independent research under the guidance of a faculty mentor, supported by the Mark A. Israel '91 Endowed Summer Research Fund in Economics.
Titan Athletics
Traveling to Japan, the Titan football team defeated the Waseda University Big Bears in the Global Bowl Tokyo 2017 on June 4. This is the sixth foreign trip for the team since 1996; its first in Asia.


Illinois Wesleyan University finished No. 28 (of 325 ranked schools) in the final rankings of the 2016-17 Division III Learfield Sports Directors' Cup Standings, as announced by the National Association of Collegiate Directors of Athletics.
Titans In The News
Chicago Magazine
Charlene Carruthers '07, national director of Black Youth Project 100, was featured among "emerging power players" who are poised to make big changes in their fields and beyond.
WEEK TV
Illinois Wesleyan is among colleges across North America that are adding competitive video games to their sports rosters.
The Pantagraph
With their expenses funded by a grant from the Freeman Foundation, 34 IWU students have internships in Asia this summer. Past participants call the experience "life-changing."
This newsletter is a monthly electronic publication of Illinois Wesleyan University's Communications Office in conjunction with the Admissions Office. To unsubscribe, email iwuadmit@iwu.edu
Illinois Wesleyan University
www.iwu.edu
PO Box 2900
Bloomington, IL 61702
(309) 556-3031