Campus Weekly
August 22, 2016
News for and about the Illinois Wesleyan community
Turning Titan
Welcome, New Titans!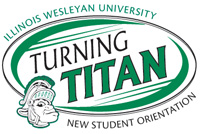 Directions to the Hansen Student Center
Before you make your way to your residence hall to unpack on Tuesday, Aug. 23, your first stop will be the Hansen Student Center to check in. (300 E. Beecher St., Bloomington).
Check-in and move-in will run from 8 a.m.-noon. See the full schedule.
If you have any questions, please contact orientation@iwu.edu or (309) 556-3749. We are happy to help you Turn Titan!

Checklist Items
Register for Family Weekend

IWU Family Weekend is Sept. 16-18. Register now for this fun-filled family event!
Campus News
Popular Summer Program Develops Student Leaders
The diverse students in Illinois Wesleyan's Summer Enrichment Program complete a paid internship, learn at training workshops and work together on a service project. See photos of their celebratory gathering with alumni at the Network Annual Picnic.
Titan Volunteer Rubs Shoulders with Olympians
At the world's biggest sports stage, Illinois Wesleyan student Juntian Wei '19 has taken selfies with Olympic gold medalists and witnessed the performance of a trailblazer from his home country. 
Updike Interviews Collected in New Plath Book
Wesleyan's James Plath has compiled a collection of John Updike interviews into a new book that helps explain the author's bond with Pennsylvania, the setting of much of his early fiction.
Music Alumni Selected for New York Lyric Opera Theatre
Two young School of Music alumni spent part of their summers singing on some of the world's most prestigious stages, including Carnegie Hall and the Lincoln Center.
Upcoming
Monday, Aug. 22
Regular Office Hours Resume – Four o'clock summer hours end; University offices will be open from 8 a.m.-4:30 p.m. weekdays.
Through Sept. 1 – Merwin & Wakeley Galleries – Exhibit "Alpha and Omega" is on display.
Tuesday, Aug. 23
Through Sunday, Aug. 28 – Turning Titan: New Student Orientation – See the full schedule.
Wednesday, Aug. 24
3 p.m., Neis Field – Men's Soccer vs. Illinois College (Exhibition)

6 p.m., varied campus locations – Turning Titan Summer Reading Discussions – Incoming students will discuss The Underground Girls of Kabul: In Search of a Hidden Resistance in Afghanistan by Jenny Nordberg.

7 p.m., Neis Field – Women's Soccer vs. Aurora University (Exhibition)

8 p.m., Hansen Student Center – Mentalist Chris Carter – Sponsored by the Office of Student Activities.
Friday, Aug. 26
8 p.m., Hansen Student Center – Hypnotist Frederick Winters – Sponsored by the Office of Student Activities.
Saturday, Aug. 27
6 p.m., Hansen Student Center – Titan Carnival – Activities include the eliminator, mechanical bull, wipeout, gold fish racing, pedestal joust, big red chair, cat rack, shockwave, boom blaster and hi-striker. 
Sunday, Aug. 28
9 a.m.-6 p.m., 131, Presser Hall – Vocal Jazz Ensemble Auditions – If you're interested in singing jazz and jazz-influenced music in an ensemble setting, consider auditioning for the IWU vocal jazz ensembles. Auditions for the Vocal Jazz Lab ensemble and Unlicensed Syncopation, Illinois Wesleyan University's premier vocal jazz ensemble, will be held on Aug. 28 from 9 a.m.-6 p.m. and on Monday, Aug. 29 from 9 a.m. - 2 p.m. There will also be a callback audition on Tuesday, Aug. 30 from 2:35-3:50 p.m. (the meeting time for Unlicensed Syncopation).
Monday, Aug. 29

12 p.m., Davidson Room, Memorial Center – Non-Org: Introducing IWU's Peace Corps Prep Program – Deborah Halperin, director of the Action Research Center, will discuss the new Peace Corps Prep Program at Illinois Wesleyan.
Titans In The News
WJBC Radio
The Bloomington-Normal Economic Development Council is working with Illinois Wesleyan to relaunch the small business development center on the IWU campus.
Best College Reviews
Illinois Wesleyan is among the 50 Best Colleges for Greek Life – schools where participation is high, criminal offenses are low, and current Greeks are satisfied with their experience.
The State Journal-Register
Theatre arts major Ryan Fisher '17 chose to go beyond the princely stereotype in his starring role in The Muni production of "The Little Mermaid."
The Pantagraph
Illinois Wesleyan offers counseling to students in distress, and encourages students to develop coping skills for constructively coping with stress.
The (Champaign) News-Gazette
Ready or not, Tom and Natalie Lessaris are sending their fifth and youngest child off to college at Illinois Wesleyan. Sam follows older brother Steven, a 2012 alum.
The Pantagraph
Among local Olympic connections, swimmer Ryan Held, who famously cried after winning gold with the 4x100 freestyle relay team, is the younger brother of former IWU swimmer Kendall Held, a 2011 grad.
Kudos
Irv Epstein, the Ben and Susan Rhodes Professor of Peace and Social Justice, recently co-authored the piece, "The Unintended Consequences of edTPA" on the Phi Delta Kappa International "Learning on the Edge" blog.


Christina Isabelli, Chair and Professor of Hispanic Studies, gave an invited lecture titled "Origins of Spanish in/of the United States" as part of the Middlebury College Round Table panel, "Spanish in the U.S.: Myths and Realities," on Aug. 9.
 

This newsletter is a monthly electronic publication of Illinois Wesleyan University's Communications Office in conjunction with the Admissions Office. To unsubscribe, email iwuadmit@iwu.edu
Illinois Wesleyan University
www.iwu.edu
PO Box 2900
Bloomington, IL 61702
(309) 556-3031