Campus Weekly
August 8, 2016
News for and about the Illinois Wesleyan community
Turning Titan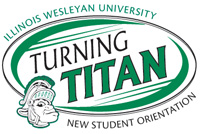 The Illinois Wesleyan University Orientation Services
Office is excited to offer these Turning Titan Next Steps. Visit our Orientation Checklist or the newly updated Schedule of Events.
If you have any questions, please contact Orientation Services at orientation@iwu.edu or (309) 556-3749. 
Sign Up For Mission Day!
Mission Day is an opportunity for incoming students to participate in events that encourage commitment to the Illinois Wesleyan mission – including community engagement, diversity, globalization, social justice and sustainability. Mission Day will take place on Friday, Aug. 26 from 10 a.m.-2 p.m. Register here!

Checklist Items
Summer Reading Essay
The deadline for the Summer Reading Essay Contest has been extended to this Friday, Aug. 12. Find more info.
Health Insurance Waiver
Participation in the student insurance plan is required unless a waiver form is completed prior to Aug. 29. Learn more or access the waiver.
Titan Athletics
The women's outdoor track team was chosen as the Division III Scholar Team of the Year and also earned All-Academic Team honors for the 2015-16 NCAA Division III Track & Field seasons. Max Leonard '16 was named the Male Scholar Athlete of the Year for NCAA Division III Outdoor Field, and Amelia Glueck '18 was named the Female Scholar Athlete of the Year.


Eight individuals and the men's basketball team have been recognized for academic achievement by The National Association of Basketball Coaches.

Titans In The News
The (Louisville) Courier-Journal
"One of the most extensive and eloquent archives on the subject of Muhammad Ali is now in the possession of Illinois Wesleyan University," donated by 1963 alum and Hall of Fame sportswriter Dave Kindred.
Chicago Tribune
With a passion for the environment, Dominic Gambaiani '19 rescues and re-purposes everything he can from dumpster dives – including edibles.
(Decatur) Herald & Review
IWU accounting alumna Carrie Jassman '90 joined the Busey Wealth Management Team as a tax specialist.
The (Logan, Utah) Herald Journal
Illinois Wesleyan's Saundra DeAthos and her husband, Harold Meers, are enjoying time on the Utah Festival Opera stage this summer.
The Pantagraph
The St. Jude Telethon, broadcast from Illinois Wesleyan's Shirk Center and with IWU representatives answering calls, set a fundraising record.
Kudos
Sharon Hahs '69 announced her plans to retire as president of Northeastern Illinois University after nearly a decade at the helm.
 

Announcements
Do You Love Your Bike Too Much to Keep it Outside?
You're in luck! There are a handful of spaces still available for the indoor bike storage space on the ground floor of Harriett House. Learn more and sign up here – but be quick, as keys are handed out on a first-come, first-served basis.
Colleagues
Welcome New Employees
Mary Frahm started Aug. 1 as the Assistant to the Athletic Director/Assistant Volleyball Coach, a grant-funded position.

Tommy Gilbert started Aug. 1 as the Assistant Swimming/Diving Coach, a new position.

Susan High started Aug. 1 as the Costume Shop Supervisor in the School of Theatre Arts, replacing Jeanne Oost.
This newsletter is a monthly electronic publication of Illinois Wesleyan University's Communications Office in conjunction with the Admissions Office. To unsubscribe, email iwuadmit@iwu.edu
Illinois Wesleyan University
www.iwu.edu
PO Box 2900
Bloomington, IL 61702
(309) 556-3031