Campus Weekly
July 25, 2016 - Published biweekly in the summer
News for and about the Illinois Wesleyan community
Turning Titan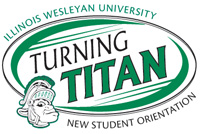 The Illinois Wesleyan University Orientation Services office is excited to offer these Turning Titan Next Steps. For more information, visit our Orientation Checklist.
If you have any questions, please contact Orientation Services at orientation@iwu.edu or (309) 556-3749. 
Summer Reading Essay Contest
The 2016 First-Year Summer Reading Essay Contest is open to all members of the Class of 2020. The general topic of the essay is our Summer Reading selection, The Underground Girls of Kabul by Jenny Nordberg. Winners are invited for dinner at the IWU President's house with the author, plus receive a gift card to the IWU Bookstore. Learn about essay criteria and how to enter.

Whether or not you enter the contest, you should make sure to purchase your copy of the book now and complete your guided reading questions for a group discussion at Turning Titan.
What to Bring
Before you come to campus, make sure you have looked at the what to bring list, as well as communicated with your roommate so you don't have two of everything.

Checklist Items
Health Forms and Immunization Record 

Don't forget to submit your Medical History and Immunization Record to Illinois Wesleyan's Arnold Health Service by Aug. 1.
Health Insurance Waiver
Participation in the student insurance plan is required unless a waiver form is completed prior to Aug. 29. Learn more or access the waiver.
Titan Athletics
Tom Lyons '19 played on the Ireland Under 19 national lacrosse team in the World Championships, held July 7-16 in British Columbia, Canada.


A total of 177 Illinois Wesleyan student-athletes have been named to the College Conference of Illinois and Wisconsin academic all-conference teams and six student-athletes earned Jack Swartz Academic All-Conference honors.

Titans In The News
The Pantagraph
Hall of Fame sportswriter Dave Kindred is donating a substantial portion of his writing collection to his alma mater, Illinois Wesleyan University. Also reported by WGLT and WJBC Radio.
WJBC Radio
Retired Illinois Wesleyan Sports Information Director Ed Alsene, who died July 17, was remembered for his professionalism, and in The Pantagraph, as "a wonderful man of wit and wisdom."
WGLT Radio
In honor of his 12th season performing at the Illinois Shakespeare Festival, Illinois Wesleyan's Tom Quinn shared 12 secrets about the outdoor theatre.
Connect Faith
With a new Multifaith Meditation Room and an event series titled "3D: Diversity, Dialogue and Dignity," Illinois Wesleyan is among college campuses increasing their focus on interfaith relations.
Bangor (Maine) Daily News
Music theatre major Kamilah Lay '19 was selected as an outstanding performing arts student and awarded an inaugural scholarship from a fund honoring Chicago-area actor Bernie G. Yvon.
Chicago Tribune
Titan Eliud Gonzalez '12 shared a memory of NBA star Dwyane Wade, who attended the same high school where Gonzalez was later the starting point guard.
Las Vegas Review-Journal
Scott Moreau '01, appearing as Johnny Cash in Million Dollar Quartet, credits fellow alum Ben Stephenson '00 as "monumentally important" in rethinking The Beatles Love by Cirque du Soleil.
WGLT Radio

A retrospective exhibition that covers 45 years of work by artist Glen C. Davies is on display in the Merwin and Wakeley Galleries at Illinois Wesleyan.
Upcoming
* See summer hours for The Ames Library, Shirk Center and campus dining. *
Ongoing
Merwin & Wakeley Galleries – Exhibit "Alpha and Omega" will be on display through Sept. 1.
Westbrook Auditorium, Presser Hall – The Illinois Chamber Music Festival will offer a series of public performances through July 30.
Friday, Aug. 5
Summer Preview Day – Prospective students and families are invited to learn more about Illinois Wesleyan, tour the campus, find out about upcoming changes in the financial aid process, speak with representatives from various campus offices, and more.
Camps and Conferences on Campus
Conference Services summer season is coming to a close. We'd like to offer our heartfelt thanks to the Illinois Wesleyan campus community for being welcoming hosts to our visitors this summer! The final camps left to visit our campus are:
July 10-30: Chamber Music continues to be in Presser Hall.
July 24-29: Hoop Mountain basketball camp will be using the Shirk Center.
July 27-29: Women's Lacrosse will be in the Shirk Center.
This newsletter is a monthly electronic publication of Illinois Wesleyan University's Communications Office in conjunction with the Admissions Office. To unsubscribe, email iwuadmit@iwu.edu
Illinois Wesleyan University
www.iwu.edu
PO Box 2900
Bloomington, IL 61702
(309) 556-3031