Campus Weekly
July 11, 2016 - Published biweekly in the summer
News for and about the Illinois Wesleyan community
Turning Titan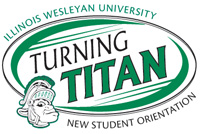 The Illinois Wesleyan University Orientation Services office is excited to offer these Turning Titan Next Steps. For more information, visit our Orientation Checklist.
If you have any questions, please contact Orientation Services at orientation@iwu.edu or (309) 556-3749. 
Academic, Housing or Meal Plan Accommodations
Students with needs for support services, academic accommodations, or special housing or dining needs should file requests through the Disability Services Office. Please download and submit the appropriate forms to your physician before you arrive on campus.

Summer Reading
The Summer Reading program is an opportunity for new students to engage with faculty, staff, current students and alumni through shared conversations about a common text. This year, we're reading The Underground Girls of Kabul by Jenny Nordberg.

Make sure to purchase your copy now and complete your guided reading questions for a group discussion at Turning Titan! 
Checklist Items
Health Forms and Immunization Record 

Don't forget to submit your Medical History and Immunization Record to Illinois Wesleyan's Arnold Health Service by Aug. 1.
Titan Athletics
Point of Pride: Through June 2016, Illinois Wesleyan has had 121 student-athletes named Academic All-Americans, placing Titans in the top 25 among all colleges and universities, regardless of NCAA division, in the number of athletes so honored.

Upcoming
Ongoing
Merwin & Wakeley Galleries – Exhibit "Alpha and Omega" will be on display through Sept. 1.
Westbrook Auditorium, Presser Hall – The Illinois Chamber Music Festival will offer a series of public performances through July 30.
Tuesday, July 12
4-6 p.m., Backyard of the President's House – Backyard Jam Session –  Faculty and staff are invited for a "Jam Session" with President Eric Jensen and anyone else who is interested in playing. Everyone is invited to bring an instrument to join in, or just come and listen. Drinks and light snacks will be provided. Please RSVP to Sue Milligan at smilliga@iwu.edu.
Camps and Conferences on Campus
Our campus will be busy with the following camps and conferences during the next two weeks:
July 5-14:  Young Scholars Science Camp will be in CNS, State Farm Hall, the Hansen Student Center, and the Memorial Student Center.
July 9-13: Iron Sharpens Iron Wrestling Camp will be using the Shirk Center and the Eckley Quadrangle.
July 10-15:  Community Bankers Association will be in CNS, State Farm Hall, Buck, and the Memorial Student Center.
July 10-30: Illinois Chamber Music Festival will be in Presser.
July 13-16: Team Retreat 1 football camp will be in Shirk, CNS, and the Memorial Center.
July 14-15: The IACAC Camp College will be in the Myers Welcome Center, the Memorial Center, and CNS.
July 17-20: Team Retreat 2 football camp will be in Shirk, CNS, and the Memorial Center.
July 18-Aug. 5: Summer Theatre Camps for Youth will be in Presser Hall.
July 20-22: KNB Volleyball Camp will be using the Shirk Center.
July 20-23: Team Retreat 3 football camp will be in Shirk, CNS, and the Memorial Center.
July 24-29: Hoop Mountain basketball camp will be using the Shirk Center.
Titans In The News
(Arlington Heights) Daily Herald
Actress Christina Moore '95 shared Hollywood survival tips from her path to a successful TV and movie career.
The Pantagraph
Artist Bekki (Hermann) Canine '97 returned to the Bloomington-Normal area to showcase her work at the Sugar Creek Arts Festival.
The Pantagraph
Rhys Lovell '87 teaches acting to participants in the Young Artists in Theatre camp at Illinois Wesleyan.
Kudos
Associate Professor of Theatre Arts Scott Susong is among the opera faculty at a boot camp for singers at the Red River Lyric Opera in Wichita Falls, Texas.


Karoline Carstens '03 received the Illinois State Bar Association Young Lawyer of the Year Award for 2015-2016. 


Zoe Gross, class of 2013 political science major, and Melissa Seeborg, class of 2013 economics major, have both graduated from Washington University School of Law. Seeborg will join the firm Chapman & Cutler in Chicago, and Gross will join HeplerBroom in St. Louis.


Hispanic Studies and sociology double major Julie Lewis '16 was granted a position as Cultural Ambassador: North American Language and Culture Assistant with the Spanish Government's Ministry of Education, Culture and Sports for the 2016-2017 academic term. She will start on Oct. 1 in Valladolid, Spain. Lewis is the third Hispanic Studies student to receive this prestigious opportunity, joining previous winners Hannah Eby '15 and Mary Tackett '13.

This newsletter is a monthly electronic publication of Illinois Wesleyan University's Communications Office in conjunction with the Admissions Office. To unsubscribe, email iwuadmit@iwu.edu
Illinois Wesleyan University
www.iwu.edu
PO Box 2900
Bloomington, IL 61702
(309) 556-3031