Campus Weekly
June 27, 2016 - Published biweekly in the summer
News for and about the Illinois Wesleyan community
Turning Titan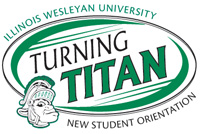 Greetings to the Incoming Class of 2020! The Illinois Wesleyan University Orientation Services office is excited to offer these Turning Titan Next Steps.
We are excited to help you Turn Titan!

If you have any questions, please contact Orientation Services at orientation@iwu.edu or (309) 556-3749. 
Parent Orientation
We would like to thank all the families who attended our Parent Orientation on Saturday, June 11. If you were unable to attend or would like to review the materials and presentations from Experience IWU 2016, check out the Experience IWU Handouts.

Pre-Orientation Programs
Orientation Services is proud to partner with departments across campus for these Pre-Orientation events:  MALANA Pre-O, Engaging Diversity, International Student Orientation, and International Connections, a program for the roommates of international students. We hope you are able to join us on campus early for one of these exciting programs.
Checklist Items
Housing Application
Whether you plan to live in a residence hall or commute from home, make sure you have completed your housing application. Students should complete their My Student Body essentials courses, then complete the housing survey, sent to your IWU email address. 
Titan Athletics
Class of 2016 graduate Nia Joiner has been named to the second team of the 2016 Academic All-America Division III Women's Track & Field/Cross Country Teams, while fellow graduate Max Leonard was named to the first team and senior Eric Rydell was elected to the third team of the 2016 Academic All-America Division III Men's Track & Field/Cross Country Teams, as selected by the College Sports Information Directors of America (CoSIDA).


Four Illinois Wesleyan women's swimmers have been selected for the Scholar All-America team chosen by the College Swimming & Diving Coaches Association of America.

Upcoming
* See summer hours for The Ames Library, Shirk Center and campus dining. *
Ongoing
Merwin & Wakeley Galleries – Exhibit "Alpha and Omega" will be on display through Sept. 1.
Monday, June 27
7 p.m., Shirk Center – Academic Achievement Recognition Ceremony – Illinois Wesleyan University and the Bloomington/Normal Neighbor-to-Neighbor Educational Activity Club will host the 25th Annual Academic Achievement Recognition Ceremony honoring local minority honor-roll students from 5th grade through high school.
Monday, July 4 and Tuesday, July 5
Campus Offices closed
Camps and Conferences on Campus
The following camps and conferences will be on campus during the next two weeks:
June 20-30: Young Scholars Theatre Camp will be using Shaw Hall, the Hansen Student Center, and McPherson Theatre
June 29-30: Men's Soccer will be using the Neis Soccer Field
July 1-2: AG Soccer will be using the Neis Soccer Field and the Shirk Center
July 5-14: Young Scholars Science Camp will be in CNS, State Farm Hall, Hansen Student Center, and the Memorial Student Center
July 9-13: Iron Sharpens Iron Wresting Camp will be using the Shirk Center
July 10-15: Community Bankers Association will be in CNS, State Farm Hall, Buck, and the Memorial Student Center
July 10-30: Chamber Music will be in Presser Hall
Titans In The News
Prairie Advocate
Music Theatre major Jenia Head '17 is starring in "Having Our Say, The Delany Sisters' First 100 Years" at Timber Lake Playhouse in Mt. Carroll.
The State Journal Register
Recent School of Music graduate Matthew Mason '16 is musical director for the Legacy Theatre's production of Sister Act.
Southern Business Journal
Business administration graduate Michael R. Kelley '16 will become the third generation in his family in management at the Giant City State Park Lodge.
WJBC Radio
Continuing the succession plan that began with his appointment as CEO, Mike Tipsord '81 has been named Chairman of the Board at State Farm, following Ed Rust Jr. '72. Also in The Pantagraph.
The Pantagraph
Wesleyan's Michael Gorman '10 discussed the Complete Streets concept, which he helped incorporate into the Bloomington Comprehensive Plan as chairman of the transportation/air quality working group.
Kudos
Associate Professor of Political Science Min-hyung Kim published an article, "Theorizing National Preference Formation," Cambridge Review of International Affairs, Vol. 29, No. 1 (2006), pp. 290-308.


Visiting Assistant Professor of the School of Music Lisa Nelson presented research on pedagogical viola music by Bulgarian composers at two national conferences:


June 2016 at the American Viola Society Festival, Oberlin, Ohio

Spring 2015 at the American String Teachers Association National Conference, Salt Lake City, Utah.



David Flowers '16 recently attended Fresh Inc., a selective music festival and workshop for young composers. The resident ensemble at the festival was Fifth House, who were the featured guest artists of IWU's Symposium of Contemporary Music in 2015.
 
Chicago trial attorney Michael J. Sorich '00 has joined Cavanagh Law Group after working 13 years at the Cook County State's Attorney's Office.


Alyssa F. Thum '12 received a Doctor of Medicine from the University of Illinois College of Medicine at Peoria.
Announcements
First Generation College Students Survey
To expand programming and outreach for First Generation College Students at Illinois Wesleyan, the Action Research Center is hoping to get feedback on who is a first generation college student, who might like to be more involved with the Office of Diversity & Inclusion programming for firsts, and the registered student organization for first generation college students at IWU.
Please take a few minutes to complete this survey for students.
This newsletter is a monthly electronic publication of Illinois Wesleyan University's Communications Office in conjunction with the Admissions Office. To unsubscribe, email iwuadmit@iwu.edu
Illinois Wesleyan University
www.iwu.edu
PO Box 2900
Bloomington, IL 61702
(309) 556-3031