Turning Titan – Next Steps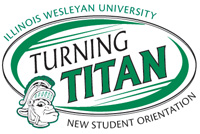 Directions to the Hansen Student Center

Before you make your way to your residence hall to unpack on Aug. 18, your first stop will be the Hansen Student Center to check in. (For GPS & map searches, the street address is 300 E Beecher St, Bloomington, IL 61701)

Follow or "Like" Us

Follow us on Twitter @iwuturningtitan or #TurningTitan, or find us on Facebook. If you have any questions, please contact orientation@iwu.edu or (309) 556-3749. We are happy to help you Turn Titan!

And don't forget to use #TurningTitan when you're sharing tweets and Instagram posts during Orientation!

School Spirit

The IWU Bookstore, located in Hansen Student Center, will be open during Orientation. When you stop in to purchase your books, make sure to pick up some Titan gear, as well!
 Checklist Items
Register for Family Weekend

IWU Family Weekend is Sept. 19-21. Register now for this fun-filled family event!

---
Campus News
Students Seek to 'Engage Diversity' in Record Numbers
Perhaps prompted in part by ongoing unrest from events in Ferguson and Baltimore, a record number of entering students enrolled in the Engaging Diversity program.
Patterson '92 Creates New Social Networking Platform
Janel (Wolfe) Patterson '92 of St. Louis has created a new social networking platform that she hopes will stop cyberbullying and promote positive digital citizenship.
Andersen, Burke Intern at Branding Firm With Alum's Support
Two Titans interned this summer at the Chicago office of VSA Partners, a brand and marketing firm where Patrick Palmer '87 is Discipline Lead for Strategy and Analytics.

Sports
> Find highlights at www.iwusports.com.
---
Upcoming
• Through Aug. 27 – Merwin and Wakeley Galleries, Joyce Eichhorn Ames School of Art – Summer Art Exhibits – The newly named director of Illinois Wesleyan's Merwin and Wakeley Galleries, Ian T. Carey, is one of the artists exhibiting work in the galleries.
Carey's "Hoodwinked" is on view in the Merwin Gallery, while Neil Cole's photographs, "Scenes from Seoul and Kyoto," are in the Wakeley Gallery.
Summer gallery hours are Friday, Saturday, Sunday and Monday, 12-3 p.m.

Monday, Aug. 17

Regular Campus Office Hours Resume – Summer hours end; campus offices will be open 8 a.m.-4:30 p.m.

International Connections – Pre-orientation for roommates of international students

Final day for Pre-Orientation Programs International Student Orientation, MALANA Student Orientation and Engaging Diversity.

• 2 p.m., TV Lounge, Hansen Student Center – Faculty Course Cluster Meeting – Faculty interested in participating in the 2015-16 course cluster "Nation(s) Divided?" are encouraged to attend this brainstorming session.


Tuesday, Aug. 18

Through Sunday, Aug. 23 – Turning Titan (New Student Orientation and Registration)

• 3:30-6 p.m., Shirk Center parking lot (south end) – Peace Garden Farm Stand – Illinois Wesleyan's Peace Garden will sell fresh, organic, locally grown produce in the Shirk Center parking lot (corner of Fell and Emerson) every Tuesday from 3:30-6 p.m. or until produce runs out. If you have questions about what's available, contact Kahri Jung '16 (kjung@iwu.edu) or Rachel Shaffer '17 (rshaffer@iwu.edu).

• 9:30 p.m., Hansen Student Center – Live Band Karaoke – Combining the silly fun of karaoke with the energy of a live rock band, Live Band Karaoke allows anyone to fulfill their rock and roll fantasy. Sponsored by the offices of Student Activities and Orientation Services.


Wednesday, Aug. 19

• 7:30 p.m., Hansen Student Center – Shot of Reality – From the creators of Mission IMPROVable comes a new show that combines improv comedy, audience participation and education. "A Shot of Reality" provides an honest, engaging, humorous and sober new look at alcohol awareness on campus. Sponsored by the offices of Student Activities and Orientation Services.

• 9:15 p.m., Eckley Quad – Neon Run – The Black Light Neon Run is a unique event: Wear a white shirt and plan to run or walk the course set out on campus. Sponsored by the offices of Student Activities and Orientation Services.


Thursday, Aug. 20

• 9 p.m., Eckley Quad (Rain location: Hansen Student Center) – Movie on the Quad: "Pitch Perfect 2" – Movie on the Quad is like a Drive-In movie without the car. Bring a blanket to the Quad for a movie on a 40-foot movie screen. Sponsored by Student Senate.


Friday, Aug. 21
 
• 4 p.m., Entry Level, The Ames Library – Faculty Scholarship and Creative Arts Reception – This event will showcase our faculty's rich scholarly, artistic and creative productivity from 2014 and 2015.

• 6:15 p.m., Hansen Student Center – The Hook-Up – The Hook-Up engages audiences in a facilitated discussion about hooking up, sexual assault and bystander intervention. The Hook-Up begins with a discussion on how gender stereotypes contribute to rape culture and harm survivors. Next, the program unpacks the practice of hooking up, and identifies the differences between a healthy hook-up, a regretted hook-up and a sexual assault. Sponsored by the offices of Student Activities and Orientation Services.

• 9 p.m., Hansen Student Center – Frederick Winters – Everybody's favorite hypnotist is back to present a great show for students. Come early for the best seating, volunteer to go on stage, and prepare to be amazed. Sponsored by the offices of Student Activities and Orientation Services.


Saturday, Aug. 22

Returning Students Arrive

• 8 p.m., Hansen Student Center – Titan Carnival – Come to Hansen for carnival food, live music and tons of carnival fun. This year's carnival includes a zip line, a mechanical bull, a rock climbing wall, inflatable foosbal, and jousting. And don't forget about photo opportunities in the Big Red Chair.

Sunday, Aug. 23

• 2 p.m., Neis Soccer Field – Women's Soccer vs. SLSG (exhibition)


Monday, Aug. 24

First day of classes

• 12 p.m., Neis Soccer Field – Men's Soccer vs. Webster University (exhibition)


> Find more on the University's Events Calendar
---
Kudos
• At the conference on Optical Trapping and Optical Micromanipulation, B. Charles and Joyce Eichhorn Ames Professor of Physics Gabe Spalding presented a laboratory instructor mentoring program established and funded by the Advanced Laboratory Physics Association (ALPhA). Spalding co-chaired the conference committee as part of SPIE Optics + Photonics 2015 in San Diego, Aug. 9-13, San Diego.

Also at the conference, Spalding chaired sessions on "Near-Field Micromanipulation, Plasmonic, and Nanoparticle Trapping" and "Outreach and Education: International Year of Light," where he presented "Initiating optics immersions." With colleagues from the University of Dundee (Scotland), he co-presented "Low-cost optical manipulation using hanging droplets of PDMS."

• Dr. Kate Cheng '04 was awarded a Fellowship in the Academy of General Dentistry. To earn this prestigious honor, she completed 500 hours of dental continuing education, passed a comprehensive written exam, and fulfilled three years of continuous membership in the AGD. Cheng is currently serving on active duty in the United States Navy Dental Corps. 

•  Jenn Oswald '15 is a Teaching Artist as part of the 2015-2016 Apprentice/Intern (A/I) Company at the Actors Theatre of Louisville.


> Find faculty publications and research and creative activity on the University website or Digital Commons @ IWU.
---
Announcements
Road Closings for Campus Events –  Aug. 22 and 27

On Saturday, Aug. 22 from 3-11 p.m., the streets (Franklin and Beecher) that hug Hansen Student Center will be shut down for the Titan Carnival.

On Thursday, Aug. 27 from 1-6:30 p.m., the streets also will be shut down for the Registered Student Organization (RSO) Fair.
We hope you enjoy this edition of our campus newsletter, sharing important happenings at Illinois Wesleyan University and news about the Titan community.
---
Titans In The News
The Chicago Citizen
Named one of the top black doctors in the U.S., Ansel Johnson '81 is cited as a success story from Head Start – which he attended in its inaugural year, 1965.

Chicago Tribune 
Steph AuBuchon '16 is researching impulse control in dogs. Also in the (Arlington Heights) Daily Herald.

The Beverly Review
Incoming Titan Tommy Lyons was selected for the U19 Ireland national lacrosse team that will compete in the world championships in Canada next summer.

The Pantagraph
The recipient of a life-saving bone marrow transplant, Sam Birsa '15 and his family "paid it forward" by hosting a marrow registry event.

Belleville News-Democrat
Former Lindenwood University-Belleville head football coach Jeff Fisher '93 has been hired as a tight ends coach at Washington University in St. Louis.

(DeKalb) Daily Chronicle
An exhibit of prints by Dorothea Bilder '62 is on display at the DeKalb Area Women's Center Galleries through Sept. 27.


> More Titans in the News
---
Colleagues
In Sympathy

Emeritus Trustee Hugh Henning died on Aug. 10. Henning served Illinois Wesleyan with distinction for thirty years, providing strong leadership as treasurer and subsequently as president of the Board of Trustees. Read an obituary.