Turning Titan – Next Steps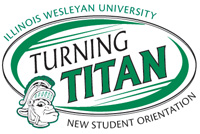 Turning Titan
Late Night Events

Check out this video for a glimpse into some of the fun to be had during Turning Titan!



Directions to the Hansen Student Center

Before you make your way to your residence hall to unpack next Tuesday, Aug. 18, your first stop will be the Hansen Student Center to check in. (For GPS & map searches, the street address is 300 E Beecher St, Bloomington, IL 61701)

IWU Gmail Account

Checking your IWU Gmail account is vital to successful communication with faculty, staff and students at IWU. Google Apps for Education is a secure, private and stable platform – with free, unlimited storage. Consider forwarding your personal email to your IWU account so you only have one place to check your email.

Follow or "Like" Us

Follow us on Twitter @iwuturningtitan or #TurningTitan, or find us on Facebook. If you have any questions, please contact orientation@iwu.edu or (309) 556-3749. We are happy to help you Turn Titan!
 Checklist Items
Register for Mission Day

Mission Day is an opportunity for incoming IWU students to engage with the mission of the campus. Mission Day will take place on Friday, Aug. 21 from 10 a.m.-2 p.m. Register here!

Turning Titan Schedule

Don't forget to download the Orientation Guidebook for the full schedule of Orientation events.
---
Campus News
Epstein Edits Book on Global Youth Protest
The Whole World is Texting: Youth Protest in the Information Age, edited and with chapters by Wesleyan's Irv Epstein, explores how protest is shaped by electronic and social media.
Eckley Scholars Spend Summer Immersed in Scholarly and Creative Activity
Students awarded Eckley Scholarships spent their summers searching for answers - exploring cosmic or interior mysteries through music, math and science.
Zhao '18 Refines Algorithm as Eckley Scholar
The first student awarded an Eckley scholarship in her first year at IWU, Wenting Zhao '18 worked to optimize an algorithm developed by her faculty mentor.
Schonert '16 Seeks Answers to Cosmic Dust
Ryan Schonert '16 devised ways to replicate and study interstellar dust as an Eckley Scholar, and found he thrived in the freedom to seek his own answers.
Student's Research Indicates Arts' Local Impact Exceeds $6 Million
Michelle Riechers '16, an economics and music double major, studied the economic impact of local arts and culture organizations as an Eckley Scholar.
Flowers '16 a Composer-in-Residence Through Eckley Scholarship
As composer-in-residence at Illinois Wesleyan, David Allen Flowers '16 devoted his summer to a soundscape composition for symphony orchestra.
AuBuchon '16 Researches Impulse Control in Dogs
As an Eckley Scholar, psychology major Steph AuBuchon '16 worked in the IWU Dog Cognition Lab, studying self-control in dogs.
Koka's Experience Perfect Example of What Internships Should Be
In her internship at COUNTRY Financial, Beatrice Koka '16 has applied classroom knowledge, developed professional contacts and explored career possibilities.
Sennett '16 Interns With Shopify
Computer science major Cale Sennett '16 was excited by the company culture at Shopify, where he interned as a software developer.
Former Intern 'Pays it Forward' for Current Student
Annie Tillmann '12 sought an IWU student for an internship to help with her employer's exhibit, Permian Monsters: Life before the Dinosaurs.
Student Athlete Learns Business Side of Practice During Internship
Athlete Netherland (Nia) Joiner '16 is familiar with chiropractic treatments from the patient's perspective - and this summer gained new understanding through an internship.
Students in Summer Enrichment Program Gain Skills, Knowledge
Students selected for the Summer Enrichment Program worked independently at internships and worked together to build leadership skills and understanding of social justice issues.

Sports
> Find highlights at www.iwusports.com.
---
Upcoming
> Find more on the University's Events Calendar


• Through Aug. 27 – Merwin and Wakeley Galleries, Joyce Eichhorn Ames School of Art – Summer Art Exhibits – The newly named director of Illinois Wesleyan's Merwin and Wakeley Galleries, Ian T. Carey, is one of the artists exhibiting work in the galleries.
Carey's "Hoodwinked" is on view in the Merwin Gallery, while Neil Cole's photographs, "Scenes from Seoul and Kyoto," are in the Wakeley Gallery.
Summer gallery hours are Friday, Saturday, Sunday and Monday, 12-3 p.m.


Tuesday, Aug. 11

• 3:30-6 p.m., Shirk Center parking lot (south end) – Peace Garden Farm Stand – Illinois Wesleyan's Peace Garden will sell fresh, organic, locally grown produce in the Shirk Center parking lot (corner of Fell and Emerson) every Tuesday from 3:30-6 p.m. or until produce runs out. If you have questions about what's available, contact Kahri Jung '16 (kjung@iwu.edu) or Rachel Shaffer '17 (rshaffer@iwu.edu) and they can let you know. Thank you for your support!


Friday, Aug. 14 through Monday, Aug. 17

International Student Orientation


Saturday, Aug. 15 through Monday, Aug. 17

MALANA Student Orientation and Engaging Diversity Pre-Orientation Programs


Monday, Aug. 17

Regular Campus Office Hours Resume – Summer hours end; campus offices will be open 8 a.m.-4:30 p.m.

International Connections – Pre-orientation for roommates of international students

---
Kudos
• Associate Professor of Biology Edgar Lehr was invited to present seminars in Hong Kong and Vietnam, entitled "Herping in the Mist: In search of Amphibians and Reptiles in Cloud Forests and Andean Grasslands in Central Peru."
- July 25 at the University of Science, Department of Biology, Ho Chi Minh City, Vietnam.
- July 3 at the University of Hong Kong, Department of Biology, Hong Kong.

•  As part of a Research Experience for Undergraduates 8-week summer program at the University of Colorado, funded by the Solar Radiation and Climate Experiment (SORCE), Hayley Roberts '16 is improving the algorithms used to process solar images by using a Graphics Processing Unit. If successful, her work will lead to a tenfold improvement in performance. She was featured in the June/July SORCE newsletter (page 3).


> Find faculty publications and research and creative activity on the University website or Digital Commons @ IWU.
We hope you enjoy this edition of our campus newsletter, sharing important happenings at Illinois Wesleyan University and news about the Titan community.
---
Titans In The News
Rochester (N.Y.) Business Journal
Eric Bieber '82 is president and CEO of Rochester Regional Health, playing a key role in the region's care.

The State Journal-Register
Brendan Finnell '16 is studying pollutants in alligators during an internship at the Medical University of South Carolina.

Environmental Monitor
In her research, Madz Negro '16 finds relationships between underwater sounds and coral death.

(Racine, Wis.) Journal Times
Ryan Andersen '17 performed as part of a concert series at First Presbyterian Church in Racine.

Peoria Journal Star
Emily Hardesty '18 starred in the Peoria Players Summer Youth Theatre production of the musical "Footloose."


> More Titans in the News
---
Colleagues
Welcome New Employee

Abby Reel '04 started Aug. 1 as assistant director for career development at the Hart Career Center, replacing Robyn Walter. Walter became the international student & scholar advisor in the International Office on April 20, replacing Reenie Bradley.

Reel previously worked in the Admissions Office for four years following her graduation from IWU.