Turning Titan – Next Steps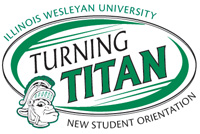 Introducing Your TOLs

Meet your 2015 Titan Orientation Leaders (TOLs)! New students will be assigned to groups led by TOLs, to get to know students on campus and assist with orientation.


Follow or "Like" Us

Follow us on Twitter @iwuturningtitan or #TurningTitan, or find us on Facebook. If you have any questions, please contact orientation@iwu.edu or (309) 556-3749. We are happy to help you Turn Titan!

 Checklist Items

Health Insurance Waiver

Participation in the student insurance plan is required unless a waiver form is completed prior to Aug. 30. Learn more about the IWU health plan here.




Emergency Contact Information

Make sure to log in to MyIWU and set your emergency contact information. IWU Alert is used to notify students, faculty and staff in case of an emergency, such as severe weather, threats to campus, or class cancellations. This short video provides further instruction.



---
Campus News
Andrew Schneider's YOUARENOWHERE Dissects Reality
An Obie-winning show created and performed by Andrew Schneider '03 won this rave review in Hyperallergic and will be touring Slovenia, Australia, France, and Croatia.
Show Titan Pride on Your Travels!
Wherever you are this summer, post pictures sporting your Titan gear on Facebook, Instagram or Twitter with the tags #TitanTravelers and #TGOE (Titan Green Over Everything).

Sports
• The Illinois Wesleyan men's golf team is one of 169 squads nationally to earn All-Academic Team recognition from the Golf Coaches Association of America.

• Eight individuals and the Illinois Wesleyan men's basketball team have been recognized for academic achievement by The National Association of Basketball Coaches (NABC).

• Senior Michael Kelley is one of 41 placekickers from 26 states on the "Watch List" for the 2015 Fred Mitchell "Outstanding Placekicker Award" for college football.

> Find more highlights at www.iwusports.com.
---
Upcoming
• Through Aug. 27 – Merwin and Wakeley Galleries, Joyce Eichhorn Ames School of Art – Summer Art Exhibits – The newly named director of Illinois Wesleyan's Merwin and Wakeley Galleries, Ian T. Carey, is one of the artists exhibiting work in the galleries. Carey's "Hoodwinked" is on view in the Merwin Gallery, while Neil Cole's photographs, "Scenes from Seoul and Kyoto," are in the Wakeley Gallery.
Summer gallery hours are Friday, Saturday, Sunday and Monday, 12-3 p.m.


Tuesday, Aug. 4

• 3:30-6 p.m., Shirk Center parking lot (south end) – Peace Garden Farm Stand – Illinois Wesleyan's Peace Garden will sell fresh, organic, locally grown produce in the Shirk Center parking lot (corner of Fell and Emerson) every Tuesday from 3:30-6 p.m. or until produce runs out. If you have questions about what's available, contact Kahri Jung '16 (kjung@iwu.edu) or Rachel Shaffer '17 (rshaffer@iwu.edu). Thank you for your support!


> Find more on the University's Events Calendar.
---
Kudos
• Irv Epstein, the Ben and Susan Rhodes Professor of Peace and Social Justice, has published the volume, The Whole World is Texting: Youth Protest in the Information Age (Pittsburgh Studies in Comparative and International Education, Sense Publishers, 2015). Surveying protest activities in Bahrain, Turkey, China, South Africa, Chile, Spain, the United States, Russia, Iran, and Cambodia, the authors of this collective work offer a comparative analysis involving the changing nature of globalized protest participation, its immediate and long-term consequences, and the ways in which protests have encouraged a re-evaluation of the nature of inequality and state authoritarianism as constructed within educational, social and political spheres.

William Munro, the Betty Ritchie-Birrer and Ivan Birrer Endowed Professor, contributed the chapter, "Adjusting the Margins: Poor People's Mobilization in Post-Apartheid South Africa," and Epstein contributed three chapters to the volume in addition to serving as its editor.

•  Associate Professor of Political Science Kathleen Montgomery published:
- "Women's resistance to the radical right: lessons from post-Communist Hungary," Patterns of Prejudice, 49:3, 225-248, available online.
- With Ryan Winter '14, "Explaining the Religion Gap in Support for Radical Right Parties in Europe," Politics and Religion Volume 8, Issue 02, June 2015, pp 379-403.

In addition, a book review by Montgomery will be published in the Journal of Slavic Military Studies (Volume 28, Issue 3) on Revolution With a Human Face: Politics, Culture, and Community in Czechoslovakia, 1989–1992, by Krapfl, James.

• Environmental Studies major Chris Crown '17 presented his research findings from a summer spent studying a rehabilitated stream as part of a National Science Foundation - Research Experience for Undergraduates on Stream Restoration and Rehabilitation at the Oklahoma Water Resources Center.
He studied Natural Resource Ecology and Management: Vegetation Induced Changes in Microclimate and Thermal Environment in Riparian Zones and Streams. An abstract can be found here.

• Alex Hill '13 has been named assistant volleyball coach at Illinois College.



Three generations of IWU alumni were united at the American Institute of Musical Studies (AIMS) in Graz, Austria, this summer. (Pictured, from left) Lauren Shafer '15 is administrative assistant for AIMS, Michael Ramach '78 is co-director of the Opera Theatre program at the University of Louisville School of Music and stage artistry coach at AIMS, and Andrea Huber '81 is director of development for AIMS.

•  Melissa Neis '02, vice president of Parr Insurance Brokerage in Chicago, wrote articles on the share economy featured in Claims Management and Best's Review. She was interviewed for an article on the rideshare insurance challenge featured in the Insurance Journal.


> Find faculty publications and research and creative activity on the University website or Digital Commons @ IWU.
We hope you enjoy this edition of our campus newsletter, sharing important happenings at Illinois Wesleyan University and news about the Titan community.
---
Titans In The News
Inside Indiana Business
Amanda Mueller '11 has been hired as the health care data analyst for LHD, an Indianapolis employee benefits advisory firm. She will lead the company's analytical reporting for its expanded population health division. 

The Washington (DC) Times
Music teacher Gina McKeown '92 is starting the Greater Newburyport Children's Choir, a new community choir for students in grades 4 to 8.

AdVantage News
Matt Glavin '01 has been named director of government affairs for Illinois American Water.

Tech Crunch
Debo Olaosebikan '06 is co-founder of Gigster, which connects start-up ideas with a vetted pool of coders and designers.

Jewish News
Ben Davis '95 is the new executive director at Temple Solel in Paradise Valley, Arizona.

The Pantagraph
In an interview with 1968 alum and columnist Steve Vogel, President Richard F. Wilson showed he remains engaged with Illinois Wesleyan and the community while the search for his successor continues.


> More Titans in the News
---
Colleagues
Welcome New Employee

Jacob Deters began July 28 as a residence director in the Office of Residential Life, replacing Kaitlyn Ballard.