Turning Titan – Next Steps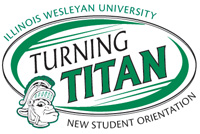 What to Bring

Before you come to campus, make sure you have looked at the what to bring list, as well as communicated with your roommate so you don't have two of everything.


Follow or "Like" Us

Follow us on Twitter @iwuturningtitan or #TurningTitan, or find us on Facebook.

 Checklist Items
Health Forms and Immunization

Don't forget to submit your medical history and immunization documentation by Aug. 1.


New Student Survey

Remember to complete the New Student Survey by Aug. 3. This national survey helps IWU faculty measure student readiness to conduct college-level library research. To take the test, follow this link and enter the personalized student identifier number and administration code found in the email that was sent to your iwu.edu address.
---
Campus News
Coursework Meets Reality in Accounting Internship at PwC
Alejandra Salinas '16 said her Illinois Wesleyan classes prepared her well for her internship with PwC, the world's second largest professional services network.
Nottingham '16 Wins Travel Award to Present Research
Kyle Nottingham '16 won funding support from the American Chemical Society Division of Organic Chemistry to present his research at the ACS national meeting in Boston.  
Poli Sci Major a Witness to Historic Court Case
Political science major Ally Daskalopoulos '18 witnessed a high-profile rape trial during her internship in the Nashville (Tennessee) District Attorney's office.
Students Interning in Asia Share Experiences
Students with internships this summer in the Philippines, Hong Kong and Tokyo – supported by a grant from the Freeman Foundation – are sharing their observations and travel adventures through blogs.
Language Professor Translates Novel for Amazon Imprint
Wesleyan's Scott Sheridan translated the 2014 novel Lemonade from Italian into English for AmazonCrossing, and draws from his translation work in his classes.
Geraty Named Interim Dean of Admissions
Bob Geraty, a Class of 1998 graduate with more than 17 years of admissions experience with Illinois Wesleyan, has been appointed interim dean of admissions.

Sports
• A total of 10 women and two men from the Illinois Wesleyan track and field teams were chosen as Division III Scholar-Athletes for the 2014-15 track & field season by the U.S. Track & Field and Cross Country Coaches Association.

• Spencer Groessl has joined Gabe Aprati and Kenny Wienckowski, all Class of 2015, on the Division III Cleveland Golf/Srixon All-America Scholars list, announced by the Golf Coaches Association of America.
> Find more highlights at www.iwusports.com.
---
Upcoming
• Through Aug. 27 – Merwin and Wakeley Galleries, Joyce Eichhorn Ames School of Art – Summer Art Exhibits – The newly named director of Illinois Wesleyan's Merwin and Wakeley Galleries, Ian T. Carey, is one of the artists exhibiting work in the galleries.
Carey's "Hoodwinked" is on view in the Merwin Gallery, while Neil Cole's photographs, "Scenes from Seoul and Kyoto," are in the Wakeley Gallery.
Summer gallery hours are Friday, Saturday, Sunday and Monday, 12-3 p.m.


Tuesday, July 28

• 3:30-6 p.m. (and Tuesdays throughout the summer), Shirk Center parking lot (south end) – Peace Garden Farm Stand – Illinois Wesleyan's Peace Garden will sell fresh, organic, locally grown produce in the Shirk Center parking lot (corner of Fell and Emerson) every Tuesday from 3:30-6 p.m. or until produce runs out. As the summer heats up, the garden will be providing more and more options for purchase. If you have questions about what's available, contact Kahri Jung '16 (kjung@iwu.edu) or Rachel Shaffer '17 (rshaffer@iwu.edu) and they can let you know. Thank you for your support!


Wednesday, July 29

• 7:30 p.m., Westbrook Auditorium, Presser Hall – Illinois Chamber Music Festival Student Concert


Thursday, July 30

• 7:30 p.m., Westbrook Auditorium, Presser Hall – Illinois Chamber Music Festival Faculty and Guest Artist Concert


Friday, July 31

• 7:30 p.m., Westbrook Auditorium, Presser Hall – Illinois Chamber Music Festival Student Concert


Saturday, Aug. 1

• 3 p.m., Westbrook Auditorium, Presser Hall – Illinois Chamber Music Festival Final Faculty-Student Joint Concert – concluding the three-week Illinois Chamber Music Festival.

> Find more on the University's Events Calendar
---
Kudos
• A research article by Assistant Professor and Sciences Librarian Crystal Boyce, "Secret Shopping as User Experience Assessment Tool," was accepted for publication in Public Services Quarterly. Her research focuses on the use of a cost-effective in-house assessment tool that provides rich results about patron satisfaction. The article will appear in the autumn 2015 issue of this peer-reviewed journal.

• Kathryn Cawley '69 was honored with the National Tax-Deferred Savings Association's (NTSA) prestigious "Elite Advisor Award." This award recognizes the contributions of advisors who, by their actions and example, have improved the ability of American workers to build a successful retirement.

• Leah Merrifield '78, assistant vice chancellor for community engagement at Washington University in St. Louis, has worked for 20 years to make the campus more diverse and inclusive.


> Find faculty publications and research and creative activity on the University website or Digital Commons @ IWU.
We hope you enjoy this edition of our campus newsletter, sharing important happenings at Illinois Wesleyan University and news about the Titan community.
---
Titans In The News
Rhode Island Monthly

Richard Jenkins '69 is nominated for an Emmy for lead actor in a limited series for his role in HBO's "Olive Kitteridge." Also in the Providence Journal.

Billed as "an enormous talent," Jenkins also made headlines for joining the new Epix spy drama, "Berlin Station," reported by Variety and The Hollywood Reporter.

In addition, coverage of Jenkins' upcoming role in the film "LBJ" included Deadline and Empire magazine, which noted Jenkins' roles are worth reporting, "given that he's an actor who improves every film he appears in" – a charter member of the magazine's 27 Percenters Club, so dubbed for people who make any film they're in 27% better.

The State Journal-Register
Madz Negro '16 conducted research on the acoustic ecology of coral reefs in Panama.

(Minneapolis) Star Tribune
Shaye Mandle '93, CEO of the LifeScience Alley trade group in St. Louis Park, Minnesota, weighed in on the designation of the state's medical-technology sector as a key manufacturing region by the U.S. Commerce Department.

The Pantagraph
The best is yet to come from New Horizons' discoveries about Pluto, says Professor of Physics Linda French.

The Pantagraph
Young Scholars Camps at Illinois Wesleyan allow elementary students to get hands-on experience with science and innovation.

Illinois Times
An introduction by professor emeritus Robert Bray for an edition of the novel "American Years" is described as "worth the price of the book."

(Jacksonville) Journal-Courier
Scott Lucas, a 1914 graduate of Illinois Wesleyan's former law school, was a powerhouse in the U.S. Senate, serving as majority leader from 1949-51.


> More Titans in the News
---
Colleagues
In Sympathy

Marlene Ortman, former office coordinator in the School of Art, died on July 13. Marlene served Illinois Wesleyan for 30 years, retiring in 2013. Read an obituary.