Turning Titan – Next Steps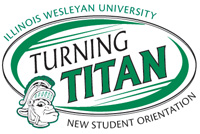 Greetings to the Incoming Class of 2019! 

If you have any questions, please contact the Office of Orientation Services at orientation@iwu.edu or (309) 556-3749.

We are excited to help you Turn Titan!


Follow or "Like" Us

Follow us on Twitter @iwuturningtitan or #TurningTitan, or find us on Facebook.

 
Parent Orientation

We would like to thank all of the families who attended our Parent Orientation on Saturday, June 13. If you were unable to attend or would like to review the materials and presentations from Experience IWU 2015, check out the Experience IWU Handouts.


Guidebook

The Orientation Guidebook is ready for download. Guidebook is a mobile app designed to bring the most important information, updates and schedules for Orientation straight to your phone, without having to search the IWU web pages. Download now and get connected!
 Checklist Items
Housing Application

Whether you plan to live in a residence hall or commute from home, make sure you have completed your housing application. Students complete their My Student Body essentials courses, then complete the housing survey, sent to your IWU email address. Don't delay! The deadline for the next round of roommate matching and room assignments is July 23.


---
Campus News
Campus Community Reading The Unlikely Disciple: A Sinner's Semester at America's Holiest University
New students are joining faculty, staff and alumni in a summer reading selection befitting the year's intellectual theme of "Nation(s) Divided?"
Bush '02 to Name New Octopus Species
Stephanie Bush '02, post doctoral researcher at the Monterey Bay Aquarium Research Institute, has the fun assignment to classify and name a particularly adorable octopus specimen.
Aldag '16 Surveying Foreign Investment During D.C. Internship
Austin Aldag '16 is interning in Washington, D.C. this summer with the Bureau of Economic Analysis, collecting information on foreign investment in United States businesses. 
Students Find, Name Bacteriophages
Illinois Wesleyan biology faculty and nearly 40 IWU students were among nearly 3,000 scholars who sequenced the largest-ever number of bacteriophages.
Diaz Edits Book on Fate of Little Magazines
Wesleyan's Joanne Diaz is co-editor of a new collection of essays, The Little Magazine in Contemporary America, which suggests the venue may be helped more than hurt by changing technology.
Bankston Named Assistant Athletic Director
Tony Bankston, a 1991 Illinois Wesleyan graduate and former Titan soccer letterman and head coach, has been named as the school's assistant athletic director and director of the Shirk Athletic Complex.

Sports
Boudreau '15 Becomes Illinois Wesleyan's 117th All-American
With the election of track star Allie Boudreau '15, Illinois Wesleyan is tied for 13th among all participating colleges and universities in its number of Academic All-American student-athletes since the program began in 1970.
> Find more highlights at www.iwusports.com.
---
Upcoming

* REMINDER: Tommy's in the Hansen Student Center is open for lunch this summer, weekdays from 11:30a.m.-1 p.m.
See campus facility hours for summer.

Ongoing: A variety of summer camps for youth are offered on the IWU campus.


• Through Aug. 27 – Merwin and Wakeley Galleries, Joyce Eichhorn Ames School of Art – Summer Art Exhibits – The newly named director of Illinois Wesleyan's Merwin and Wakeley Galleries, Ian T. Carey, is one of the artists exhibiting work in the galleries.
Carey's "Hoodwinked" is on view in the Merwin Gallery, while Neil Cole's photographs, "Scenes from Seoul and Kyoto," are in the Wakeley Gallery.
Summer gallery hours are Friday, Saturday, Sunday and Monday, 12-3 p.m.


Tuesday, June 30

• 3:30-6 p.m., Southwest corner, Shirk Center parking lot – Peace Garden Farm Stand – Illinois Wesleyan's Peace Garden will sell fresh, organic, locally grown produce in the Shirk Center parking lot (corner of Fell and Emerson) every Tuesday from 3:30-6 p.m. or until produce runs out. As the summer heats up, the garden will be providing more and more options for purchase. If you have questions about what's available, contact Kahri Jung '16 (kjung@iwu.edu) or Rachel Shaffer '17 (rshaffer@iwu.edu) and they can let you know. Thank you for your support!

• 7:30 p.m., Westbrook Auditorium, Presser Hall – Cello Camp Performance – Free and open to the public as part of the IWU Cello Camp.


Thursday and Friday, July 2-3

Independence Day Holidays – Campus Offices will be closed for staff holidays.


Friday, July 3

• 2 p.m., Westbrook Auditorium, Presser Hall – 20th Annual Midwest Cello Celebration – Free and open to the public, this concert concludes the IWU Cello Camp.


Tuesday, July 7
(and Tuesdays throughout the summer while produce lasts)
• 3:30-6 p.m., Southwest corner, Shirk Center parking lot – Peace Garden Farm Stand


Sunday, July 12

• 7:30p.m., Westbrook Auditorium, Presser Hall – Illinois Chamber Music Festival Faculty and Guest Artist Concert – The opening concert of the festival will feature a Beethoven Clarinet Trio, Hadjiev Sonatina for Viola and Piano and Duo for Two Cellos.


> Find more on the University's Events Calendar
---
Kudos
• If you missed the Lunch and Learn presentations at the McLean County Museum of History this spring given by Information Literacy Librarian / Associate Professor Chris Sweet and Professor of English Dan Terkla, video has been posted online: Watch Sweet's History of Cycling in Illinois and Terkla's Furnishing the Soul: Medieval Maps, Meditation, and Metaphor.

• The summary of findings from a joint project, whose team included University Archivist & Special Collections Librarian and Associate Professor Meg Miner, will receive the Preservation Publication Award given by the Society of American Archivists (SAA) at its annual meeting in August.

"From Theory to Action: 'Good Enough' Digital Preservation Solutions for Under-Resourced Cultural Heritage Institutions" summarizes the findings of the Digital POWRR: Preserving digital Objects With Restricted Resources project, funded by an Institute of Museum and Library Services National Leadership Grant. Miner was the project leader for Illinois Wesleyan, which was one of five Illinois universities involved in the project.

• Brittany Ambler '15 is spending the summer performance season with the Bigfork Summer Playhouse in Bigfork, Montana

• Mandi (Cioni) Perko '02 is featured, along with her two sisters, in a LaSalle News Tribune series on former Illinois Valley sports stars, "Where Are They Now?" Perko earned a master's degree in reading at Illinois State University and has been teaching seventh grade English and reading at Beverly Manner Grade School in Washington since 2007.

• Dr. Cara VanWormer-Hartman '03 has opened Therapeutic Health Associates, a new holistic clinic in Hinsdale, Illinois.

> Find faculty publications and research and creative activity on the University website or Digital Commons @ IWU.
We hope you enjoy this edition of our campus newsletter, sharing important happenings at Illinois Wesleyan University and news about the Titan community.
---
Titans In The News
Windy City Times

Writer and director Nicholas Reinhart '11 was named among 30 Under 30 best and brightest individuals in the Chicago LGBTQQIA+ youth community.

The (Champaign) News-Gazette
Celia Williams '17 earned a rave review for her performance in the Young Baroque Artists Showcase Concert.

Nashville Business Journal 
Brookdale Senior Living President and Chief Financial Officer Mark Ohlendorf '82 will transition to an enhanced role as president as the current chief operating officer steps down.

(Moline) Dispatch/Argus
Longtime Prophetstown coach Don Robinson '76, who this year became the seventh high school coach in state history with 700 girls' basketball wins, is retiring after 38 years.

Canton Daily Ledger
Adam Hanes '99 has fulfilled his goal of opening his own clinic, Hanes Physical Therapy.

WGLT Radio
On the June 23 edition of Sound Ideas, Assistant Professor of Psychology Ellen Furlong discussed how her research with dogs can advance behavioral science. Listen.

WJBC Radio
Tony Bankston '91 has been named Illinois Wesleyan's assistant athletic director and director of the Shirk Athletic Complex. Also in The Pantagraph.

news.gov.hk
Illinois Wesleyan, which has partnerships with Lingnan University and Hang Seng Management College, is part of a growing education hub touted by Hong Kong Chief Executive CY Leung.

USA Today
Professor of Computer Science Hans-Joerg Tiede discussed the American Association of University Professors' decision to censure the University of Illinois at Urbana-Champaign for rescinding a faculty job offer to Steven Salaita, in response to tweets by Salaita regarding the Israeli-Palestinian conflict. Tiede was co-author of an AAUP report on the incident.

The Pantagraph
Class of 1937 IWU alumna Virginia Shannon Guy is celebrating her 100th birthday.

WGLT Radio
Illinois Wesleyan hosted the 17th annual McLean County Economic Seminar, where a top Busey Bank executive reported a low unemployment rate and other signs of economic strength for the region. Also in The Pantagraph.

> More Titans in the News