Aug. 26, 2019
News for and about the Illinois Wesleyan community
Campus News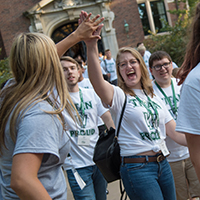 New Students Welcomed at Convocation
"If you want to bring your gifts, talents and passions to a community where they'll matter, then you're a Titan, and you've come to the right place," new Interim President Georgia Nugent told incoming students, after reading from current students' comments about IWU during the New Student Convocation.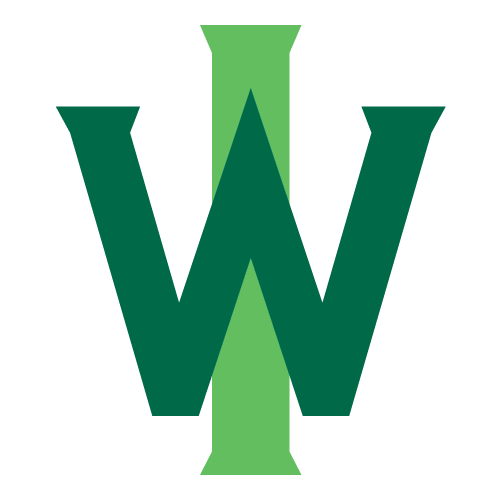 New Illinois Wesleyan App Connects Campus
Students can easily view their grades, courses, campus events, dining options and more within the free Illinois Wesleyan app, now available for download on Apple and Android mobile devices.
Darnell '88 Wins Starkey Award
Michele Murray Darnell '88 is the 2019 recipient of the Max L. Starkey Service Award at Illinois Wesleyan, announced by Interim President Georgia Nugent at the annual Faculty-Staff Breakfast.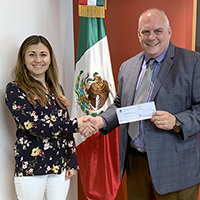 Scholarship Grant Awarded by the Consulado General de México
A $10,000 scholarship grant to support students of Mexican origin or Mexican descent has been presented to Illinois Wesleyan University at the Consulate General de México en Chicago.
Titan Athletics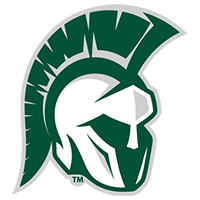 Coming off their NCAA Division III National Championship last season, the Illinois Wesleyan men's golf team enters the 2019-20 season as the top-ranked team in the nation, according to the Bushnell Golfweek Preseason Poll. See more team rankings at iwusports.com.
Titans In The News
The Pantagraph
In her first week on the job, Illinois Wesleyan Interim President Georgia Nugent said she has been struck by people's "eagerness to get going, to really work together."
WILL Radio
Professor of English Kathleen O'Gorman shared her experience interviewing migrant children and observing their living conditions at the U.S.-Mexico border.
The Pantagraph
Nearly 40 volunteers offered insight as "books" at a Human Library that was part of IWU's Mission Day.
(Hinsdale-Clarendon Hills) Patch
Jeff Lambert '86 has been named a senior regional sales director for Boston Mutual Life Insurance Company.
Broadway World
Elizabeth Kensek '02 has been named associate producer at WaterTower Theatre in Addison, Texas.
Sauk Valley Media
Bill Hertel '68, owner of Grace Notes Music Studio in Dixon, is still sharing his music with the world.
WMBD-TV
Stew Salowitz '76, who will retire at the end of the month, presided over his final football media day as IWU's Sports Information Director.
FarmWeekNow.com
"Illinois farm boy" Jack Sikma '77 will be inducted into the Naismith Memorial Basketball Hall of Fame in September.
Upcoming
Want your event listed on the University Events Calendar?
Submit the information using our online form.
Monday, Aug. 26

First day of classes!
Tuesday, Aug. 27

7 p.m., Shirk Center – Women's Volleyball vs. Illinois Central College (Scrimmage)
Wednesday, Aug. 28
10 a.m.-noon & 1:30-3:30 p.m., Hart Career Center, Myers Welcome Center – Walk-In Wednesdays – Students: Bring your resume or cover letter and have a Hart Career Center staff member review it. Have a quick question about Handshake? Need help preparing for an upcoming interview? We're here to help.
Thursday, Aug. 29

4 p.m., Eckley Quadrangle – RSO Fair – The Registered Student Organization (RSO) Fair is where students can discover their place at IWU. RSOs on campus will be out in full force to show what they offer and how you can join. Sponsored by the Office of Student Involvement and Student Senate.
Friday, Aug. 30

6 p.m., Maxwell Park, Normal – Men's & Women's Cross Country - Illinois Wesleyan Titan Opener
Monday, Sept. 2

Labor Day (NO CLASSES)

9 a.m., Weibring Golf Course, Normal – Men's Golf vs. Millikin University (Match Play)
Kudos
Professor of Anthropology Rebecca Gearhart Mafazy has published:

Changing Concepts of Wellness among the Swahili of Lamu Town, Kenya. Co-authored by Munib Said Mafazy '02. In The Routledge Handbook of Indigenous Wellbeing, Christopher Fleming, Matthew Manning, and Adrian Miller (Eds.), Routledge, 37-44 (2019).
Skype, Facebook, and Chat Rooms: New Modes of Expression and Changing Gender Relations among Swahili Youth at Home & Abroad. In Translocal Connections Across the Indian Ocean: Swahili Speaking Networks on the Move, Francesca Declich (Ed.), Brill Press, 254-268 (2018)
Swahili Permutations: Ngoma and Identity in the Lamu Archipelago. In World on the Horizon: Swahili Arts Across the Indian Ocean, Allyson Purpura and Prita Meier (Eds.), University of Washington Press, 202-216 (2018)



Ted Delicath '13 recently completed an Urban Leaders Fellowship, a paid summer fellowship for early- to mid-career professionals looking to accelerate their leadership through a seven-week fellowship with a focus on policy and practice. Delicath is also currently in the Alumni Ventures Group Ventures Fellow Program, where he is offered access to the skills, network and experience necessary to break into the venture capital industry. He joined McChrystal Group, an elite advisory services and leadership development firm in Alexandria, Virginia, as an associate in August 2019.


William Powers '64 will perform at Harper College's Performing Arts Center on Sept. 17 in Palatine, Illinois. A leading bass-baritone whose career has spanned a half-century with leading opera companies around the globe, Powers is also scheduled to perform the national anthem prior to Illinois Wesleyan's Homecoming football game on Oct. 5.
Announcements
Choral Ensemble Auditions: Collegiate Choir, University Choir

When: August 24-30 by appointment - see below for sign-up instructions
Where: Presser Hall Room 262
Choral Ensemble auditions are under way! Both ensembles are open to all students. A prepared piece is not necessary. The audition will consist of a vocal quality/range check, ear-training exercises, and sight reading. Please sign up online for an audition time using the following link to the iwu voice blog: blogs.iwu.edu/voice/
Be sure to download the Google Sheets app to be able to use the link provided on the voice page on a mobile device.
Photography-Videography on Campus
We believe that members of our Titan community are proud of their Illinois Wesleyan affiliation and will welcome involvement in images representing the University. Therefore we do not collect photo/image release forms from Illinois Wesleyan faculty, staff, or students. We reserve the right to take photographs and soundless video of campus facilities, events, faculty, staff, and students in any areas of the campus where individuals would not have an expectation of privacy. All photographs/video taken for or by Illinois Wesleyan are the property of the University and may be used for Illinois Wesleyan advertising, marketing and promotional purposes, such as electronic and printed publications, websites, billboards and other advertisements, classroom use, etc.
Individuals involved in video that includes their voice audio are asked to sign a License and Release form. Learn more.
Colleagues
Welcome New Employees
Katie Gonzales started Aug. 12 as Sports Information Director, replacing Stew Salowitz '76.
Allison McCarthy started Aug. 19 as the Scene Shop Supervisor/Stage Carpenter in the School of Theatre Arts, replacing Ken Johnson.
Tracy Tiritilli started Aug. 21 as Administrative Specialist II in Social Sciences, replacing Patra Noonan.
Campus Weekly is an electronic newsletter from Illinois Wesleyan's Office of Communications, edited by Ann Aubry, director of communications. To submit items of interest, email webedit@iwu.edu. See an archive of past editions.
All images and content