Jan. 7, 2019
News for and about the Illinois Wesleyan community
Campus News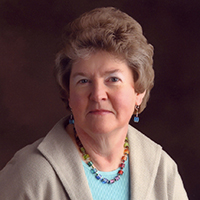 Former Faculty Member Establishes Faculty Scholar Program
Former faculty member and administrator Mona Gardner will continue to support her colleagues by funding the Gardner Faculty Scholars program to aid Illinois Wesleyan professors during sabbatical work.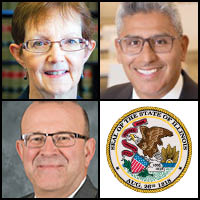 Three Alumni Picked for Gov.-Elect Transition Committees
The Illinois governor-elect is drawing upon the expertise of three IWU alumni who have been selected to serve on transition committees: Elizabeth Robb '78, Juan Salgado '91 and Michael Tipsord '81.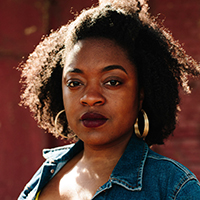 Carruthers to Give Keynote at MLK Teach-In
Alumna and activist Charlene Carruthers '07 will give the keynote address at this year's Dr. Martin Luther King, Jr. Teach-In on Monday, Jan. 21, which centers on the theme "Gender and social justice." Later that day, Illinois Wesleyan will host the annual Dr. Martin Luther King, Jr. National Holiday Gospel Festival.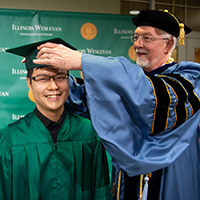 December Graduates Celebrated
Photo Gallery: Illinois Wesleyan President Eric Jensen, faculty and staff members honored students graduating in December during the annual December Graduates Dinner.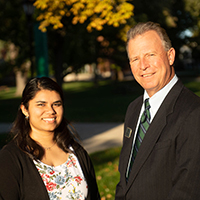 Illinois Wesleyan Awards $20,000 Getz Scholarship
An aspiring doctor from a family of ministers, Salomi "Nima" Arunima '22 is pursuing her unique passion for medicine at Illinois Wesleyan, thanks to support from the Getz Scholarship.
Titan Athletics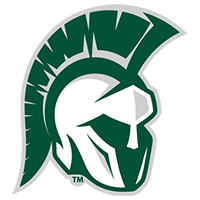 The Illinois Wesleyan women's basketball team gave head coach Mia Smith her 400th career victory by topping Whittier College in the Whittier (Calif.) Holiday Inn La Mirada Purple & Gold Poets Classic on Saturday, Dec. 29.
Titans In The News
Williamson (Tenn.) Source
Trinity Elementary Principal Chris Schwartz '92 has been selected to lead a new elementary school in Franklin, Tennessee.
Chicago Tribune
Chicago attorney Tina Wills '06 has been named an Income Partner at Freeborn & Peters LLP.
Aurora Beacon News
Linnea (Erickson) Windel '85 is the president and chief executive officer of VNA Health Care, which celebrated its 100th anniversary in 2018.
The Pantagraph
An annual teach-in and gospel festival will celebrate the legacy of Dr. Martin Luther King Jr. at Illinois Wesleyan on the national holiday in his honor.
The Pantagraph
The McLean County Museum of History is continuing its Lunch and Learn series in 2019, with several IWU faculty members among the speakers.
Canton Daily Ledger
Former Spoon River Valley High School head boys' basketball coach Hendry "Hank" Bennett '49 will be posthumously inducted into the Illinois Basketball Coaches Association Hall of Fame.
WMBD-TV
IWU basketball standout Brady Rose '19 is entering the final months of playing for his dad, Titans' head coach Ron Rose '88.
The Pantagraph
With a win in California at the Whittier Purple and Gold Poets Classic, the women's basketball team gave Coach Mia Smith her 400th career victory.
The Press of Atlantic City (N.J.)
Radio host and former mayor Bob Burns '70, who died Dec. 10, was remembered as a mainstay of area airwaves and Egg Harbor Township (N.J.) life.
The Pantagraph
Distinguished Alumnus Steve Doran '79, who died unexpectedly on Dec. 3, was remembered by family, friends and co-workers for his passion to serve.
The Pantagraph
Faculty member Eva Ferguson shared holiday traditions from her native Slovakia.
Upcoming
Want your event listed on the University Events Calendar?
Submit the information using our online form.
Monday, Jan. 7
Through Feb. 14 – The Ames Library – Exhibit: Native Voices: Native Peoples' Concepts of Health and Illness
Tuesday, Jan. 8
Orientation and registration of new students
Wednesday, Jan. 9

First day of classes!
7 p.m., Shirk Center – Men's Basketball vs. North Central College – Live streaming video at www.iwu.edu/livesports.
Thursday, Jan. 10

12:10 p.m., Fifer Courtroom (2nd floor), McLean County Museum of History, 200 N. Main St., Bloomington – Lunch and Learn: Emeritus Associate Professor of Physics Ray Wilson on "Nuclear War: Hiroshima, Nagasaki and a workable moral strategy for Achieving and Preserving World Peace."
Friday, Jan. 11

6 p.m., Ames Library Rotunda – Native Voices: Opening Ceremony including Spirit of the Rainbow Drum – Butch and Waylon McCamy, the leaders of Spirit of the Rainbow drum – the official drum of Seven Circles Heritage Center in Edwards, Illinois, which specializes in the Northern song tradition – will perform an opening ceremony for the exhibit, "Native Voices: Native Peoples' Concepts of Health and Illness."
Saturday, Jan. 12
1 p.m., Fort Natatorium – Swimming and Diving vs. Rose-Hulman Institute of Technology
Monday, Jan. 14

4 p.m., CNS C101 – Faculty Meeting

7 p.m., Beckman Auditorium, The Ames Library – Film: Merchants of Doubt – Documentary inspired by the acclaimed book of the same name by Founders' Day Convocation speaker Naomi Oreskes with Erik Conway, which looks at pundits-for-hire who present themselves as scientific authorities to cast doubt on well-researched public health threats like toxic chemicals, pharmaceuticals and climate change. Screening free and open to all members of the IWU community, sponsored by the IWU Environmental Studies Program.
Kudos
Professor of Biology Edgar Lehr co-authored "New distribution records for Euspondylus excelsum Chávez, Catenazzi & Venegas, 2017 (Reptilia, Gymnophthalmidae, Cercosaurinae) in Peru," published in the journal CheckList.


Bill Murphy '98, the subject of a Spring 2018 IWU Magazine feature, was named to the National Academy of Inventors' Class of 2018 Fellows.
Announcements
Snow and Ice Procedures
Reminder — As the snow and ice season is upon us, the Physical Plant would like to review the procedures for getting those work orders to us. Please do not put those requests into School Dude. Please call us at the Physical Plant at 556-3066 during our regular hours: Monday through Friday 7:00 a.m. to 4:30 p.m. After hours, please call Campus Safety at 556-1111 for an emergency, and they will contact someone from Physical Plant.
Colleagues
In Sympathy: Bob Leekley
Emeritus Associate Professor of Economics Robert (Bob) Leekley passed away on Tuesday, Jan.1. Prof. Leekley started teaching at Illinois Wesleyan in 1974, and from his first year to his 44th, his commitment to IWU and our students remained unchanged. His positive impact on generations of students and colleagues will not be forgotten. Read an obituary.

Welcome New Employees
Alfred Holland started Dec. 10 as a custodian in the Shirk Center.
Kathy Thoma started Dec. 10 as an Information Specialist in Advancement, replacing Pam Burress.
Campus Weekly is an electronic newsletter from Illinois Wesleyan's Office of Communications, edited by Ann Aubry, director of communications. To submit items of interest, email webedit@iwu.edu. See an archive of past editions.
All images and content