Campus Weekly
June 25, 2018
Published biweekly in the summer months
News for and about the Illinois Wesleyan community
Campus News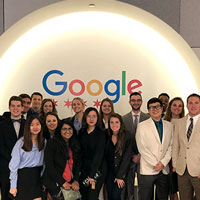 Students Network With Chicago Business Leaders
Students enrolled in Illinois Wesleyan's May Term "Seminar in Management" stepped outside the classroom and into the offices of big-name companies during a three-day trip to Chicago.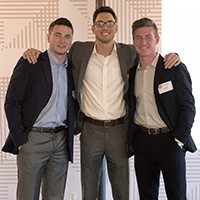 Entrepreneurial Fellowship Winners Create Unity Threads
United by their civic-minded entrepreneurial talents, three Illinois Wesleyan students are developing an online specialty clothing store which caters to the needs of children with disabilities.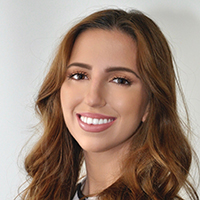 Borisova '17 Earns Two Department of State Grants
On track to become a U.S. diplomat, alumna Boryana Borisova '17 was selected to receive a Critical Language Scholarship and the 2018 National Security Education Program Boren Fellowship, supporting extensive Russian language study.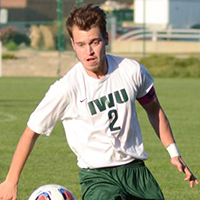 Kaplan Touts Economic Impact of IWU Athletics
Ryan Kaplan '18 combined his knowledge of finance with his experience as a student-athlete to reveal the multi-million dollar economic impact of IWU's Department of Athletics.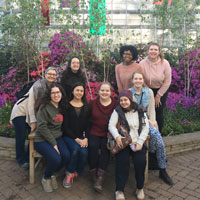 Inaugural Group of Humanities Fellows Share First-Year Experiences
The first First-Year Humanities Fellows at Illinois Wesleyan, who will be followed by several First-Year Experiences cohorts this fall, reflected on what they gained from the program as they delivered final presentations.
Titan Athletics
Amelia Glueck '18 has been elected to the first team of the Division III Women's Track and Field Google Cloud Academic All America® Team, as selected by the College Sports Information Directors of America. Glueck's selection brings the total to 128 for Illinois Wesleyan Academic All-Americans ® since the program began in 1970.
Titans In The News
WJBC Radio
Recent graduate and All-American golfer Conner O'Neil '18 talked about his round of golf with former NFL quarterback Tony Romo in the Wisconsin State Amateur Match Play Tournament.
Chicago Tribune
Speaking to business and civic leaders during a City Club lunch, City Colleges Chancellor Juan Salgado '91 described the college system's pledge to provide at least half of its students with work-based learning opportunities.
Colleagues
Welcome New Employee
Sam Rosenberg '17 will begin July 2 as an Area Director for the Office of Residential Life. Before graduating Illinois Wesleyan with a degree in psychology, he worked a desk aide in Gulick Hall, he was a first-year resident advisor in Ferguson Hall, and was a student worker for ORL . He earned his master's degree in higher education from the University of Pennsylvania.
In Sympathy
Dick Whitlock, former Vice President for University Advancement, passed away June 12, 2018. He served Illinois Wesleyan for 28 years before his retirement in 2005. Read his obituary.
Upcoming
Want your event listed on the University Events Calendar?
Submit the information using our online form.
Sunday, July 8
7:30 p.m., Westbrook Auditorium, Presser Hall – Illinois Chamber Music Festival - Faculty and Guest Artist Performance – An opening-night concert will kick off the festival performances, which are free and open to the public.
Summer Camps and Conferences
Conference Services is welcoming the following overnight groups this July:
July 5-9: Youth basketball players will be on campus for a skills camp, using the Shirk Center and enjoying meals in the Commons.
July 5-19: Local rotary clubs will host a Friends Forever International youth retreat.
July 8-28: The Chamber Music Festival, coordinated by faculty members Lisa Nelson and Nina Gordon, will consist of about 20 students staying in Blackstock and using Presser Hall, and dining in the Commons.
July 10-13: A camp of around 600 youth wrestlers will be on campus staying in a large majority of our residence halls and utilizing the Shirk Center.
July 15-20: An adult banking group will be using spaces in CNS and the Memorial Center for classes followed by a graduation ceremony at the end of their stay.
July 15-18: Head Football Coach Norm Eash will host a large number of football teams from high schools in the state.
July 18-20: Coach Eash will host another round of football teams to work with himself and his coaching staff.
July 18-20: The Admission staff will host area high school and college admission counselors for professional development sessions, using Memorial Center and State Farm Hall.
July 24-26: Head Volleyball Coach Kim Nelson Brown will host high school volleyball players to enable practice time with some of her current players and to explore our campus.
July 27-29: An upstate group will hold a youth retreat, using the Memorial Center for most of their stay.

If you have any questions about these groups, please contact the Conference Services office at (309) 556-3100 or conferences@iwu.edu. 
Among Illinois Wesleyan sports camps, there will also be day camps held at the Shirk Center; please contact the Shirk staff with any questions regarding those camps.
Kudos
Emeritus Illinois Wesleyan Trustee Robert Evans '62, founder of FMG Financial Services in Worcester, Massachusetts, was presented the 2018 Community Leadership Award by the Wachusett (Mass.) Area Chamber of Commerce at the organization's annual dinner on June 5.
Campus Weekly is an electronic newsletter from Illinois Wesleyan's Office of Communications, edited by Ann Aubry, director of communications. To submit items of interest, email webedit@iwu.edu. See an archive of past editions.