News for and about the Illinois Wesleyan community
Turning Titan – Next Steps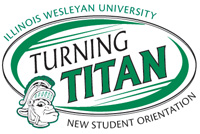 Move-In Day Weather The current forecast is suggesting a high chance of rain on Tuesday. We encourage you to protect your belongings by covering them with garbage bags or other rain-resistant material.

Directions to Shirk Center Before you make your way to your residence hall to unpack, your first stop will be the Shirk Center to check in. Check in will begin at 8 a.m. and will be available until 1 p.m. (For GPS & map searches, the Shirk Center's street address is 302 E Emerson St, Bloomington, IL 61701.)

Family Activities on Move-in Day There are several activities that families can participate in during move-in day, including the Turning Titan Check-In, lunch, Campus Drop-In Hours, and the indoor picnic. After the picnic, students will go to New Student Convocation and parents will make their way home, if they have not already departed.

Movie on the Quad During Turning Titan we will be showing an outdoor Movie on the Quad, and we want you to choose what you want to see! Would you rather see The Lego Movie, 21 Jump Street, or We're The Millers? To vote for your favorite option, download the Guidebook app on your phone or vote from your computer.

Follow or "Like" Us Follow Orientation Services on Twitter @IWUOrientation or find us on Facebook. Also, make sure to use #TurningTitan14 on related social media posts you make throughout the week. If you have any questions, please contact orientation@iwu.edu or (309) 556-3749. We are happy to help you Turn Titan!

Checklist Items
Turning Titan Schedule Don't forget to download the Orientation Guidebook for the full schedule of orientation events.
---
Campus News
Common To Lead Office of Diversity and Inclusion
Brandon Common has been named director of the newly renamed Office of Diversity and Inclusion at Illinois Wesleyan. See a video introduction.
Students Explore Big Ideas as Mellon Humanities Scholars
From great literature to multifaith traditions to creative writing as therapy, four students pondered big ideas as Mellon Scholars (listed below).
O'Connor '14 Investigates Therapeutic Value of Creative Writing
A psychology and English writing double major, Mellon Scholar Colleen O'Connor is investigating creative writing as an affordable mental health intervention.
Mishra '15 Researching Multifaith Space
As a Mellon Scholar, Lisa Mishra has investigated the creation of an interfaith prayer space on campus.
Love Inspires Research for Douglas '15
Hispanic Studies and secondary education double major Nathan Douglas indulged his obsession with Spain as a Mellon Scholar.
Four Languages and a Poem: McDunn '16 Analyzes Dante
Mellon Scholar Tim McDunn spent his summer vacation reading some of the world's greatest works of literature in their original languages.
Human Rights Interns Work for 'All of Humanity'
Illinois Wesleyan's Center for Human Rights and Social Justice provides summer opportunities for students to actively support human rights efforts around the world.
Nearly 200 Students Fill Summer With Internships
From Hollywood to Hanoi, nearly 200 Illinois Wesleyan University students are gaining work experience and career knowledge during their summer break from classes.
Illinois Wesleyan Interns Win COUNTRY Financial Competition
Teams including Kimberly Wenger '15 and Kelsey Emmert '15 took first and second place in COUNTRY Financial's annual case study competition for summer interns.
Students Focus on Homeless During Summer Enrichment Program
Shining light on the complexities of homelessness in the Bloomington area was the main project for students participating in the Summer Enrichment Program.
Sports
• Illinois Wesleyan's Norm Eash was among the eight football coaches from the College Conference of Illinois & Wisconsin discussing the upcoming season as part of the first-ever Google Hangouts on Air, recorded on Aug. 4.


> Find more highlights at www.iwusports.com.
---
New University Website
Illinois Wesleyan launched a redesigned website at www.iwu.edu on July 23.

In addition to a new, more visual design that includes more video, the new website has a responsive design that adapts for viewing on mobile devices. The nearly two-year-long website redesign project was a collaboration between the Office of Communications, Information Technology Services, and the campus-wide Web Advisory Group.

Three alumni were among the staff who played key roles in the project: Senior Web Developer Michael Gorman '10, Web Designer Robert "Trey" Frank III '14 and Instructional Technologist Rick Lindquist '99.
---
Upcoming
Concluding Today (Monday, Aug. 18)

– International Student Orientation

– MALANA Orientation

– Engaging Diversity

Monday, Aug. 18-Tuesday, Aug. 19

International Connections – This new pre-orientation program was created specifically for the roommates of international students, to help support students' individual success and enhance their roommate relationship.

Also Today (Monday, Aug. 18)

Regular Office Hours Resume – Summer hours conclude; campus offices will be open until 4:30 p.m.

• 3 p.m., Kemp Plaza, The Eckley Quadrangle – Marshmallow Golf – The entire campus community is invited to come out and welcome new international students, enjoy lemonade and participate in a longest drive contest – hitting a marshmallow with a golf club.


Tuesday, Aug. 19

New Students Arrive


Tuesday, Aug. 19- Sunday, Aug. 24

Turning Titan (New Student Orientation and Registration) – See the schedule of events


Wednesday, Aug. 20

• 12-4 p.m., Davidson Room, Memorial Center – New Faculty Orientation – A meeting for new faculty will be followed by a reception at the President's House from 4:30-6 p.m.

• 7 p.m., Shirk Center – Volleyball vs. Illinois Central College (Scrimmage)


Friday, Aug. 22

• 4 p.m., The Ames Library – Faculty Scholarship Showcase – An exhibit will feature faculty books, book chapters, articles, audio/video recordings, concert/theatrical programs and art works.


Saturday, Aug. 23

Returning Students Arrive

• 2 p.m., Neis Field – Women's Soccer vs. St. Xavier (Exhibition)

• 8 p.m., Hansen Student Center – Titan Carnival – This night of entertainment is open to all students. Whether you are a returning or new student, fun will be had by all! Indulge in your favorite carnival food. Test your strength and agility on the inflatable amusements. Get a henna tattoo, then challenge your friends to laser tag or race them on the bumper cars. Get a bit to eat then do it all over again. Finally, don't miss a chance to get up close and personal with some cute and amazing real live wild animals at the exotic petting zoo!


Sunday, Aug. 24

• 4 p.m., Evelyn Chapel – Spiritual and Religious Life Fair


Monday, Aug. 25

First day of classes
– SAVE THE DATE –

Eckley Lecture in Economics – Sept. 10, 7 p.m., Hansen Student Center – Experimental economist Don L. Coursey, Ameritech Professor of Public Policy at Harris School of Public Policy, University of Chicago, will deliver a lecture entitled "Vernon Smith, Economic Experiments, and the Visible Hand." The talk will provide an overview of how experimental economics can be used for environmental policy, while providing insight into future environmental policy topics facing the nation.


> Find more on the Events Calendar
---
Colleagues
Welcome New Employees

Robert "Trey" Frank III, a class of 2014 graduate, began Aug. 11 as the web designer in the Office of Communications, a new position created from department reorganization.

Brian Wheeler began Aug. 11 as a plumber in the Physical Plant, a new position created from department reorganization.


---
Titans In The News
Best College Reviews
Bloomington-Normal was ranked among the 50 best college towns in America.

REJournals.com
Steve Groetsema '07, director of development and leasing for Bridge Development Partners, quickly launched a successful career in the real estate industry.

WEEK, HOI-19 TV
Illinois Wesleyan is expecting its largest number of first-year international students in the school's history. Also reported by WMBD/WYZZ TV.

(Des Plaines) Journal & Topics
Frank Mirandola '02 is the new boys track and field coach at Prospect High School.

WMBD/WYZZ TV
A special orientation for international students aims to help them adjust before others join them on campus.

The Pantagraph
Professor of Anthropology Rebecca Gearhart and her husband, students and colleagues have given key support for a health clinic in Kenya.

Journal Gazette & Times Courier
Aaron Smith '14 competed in the Ironman Triathlon at Couer d'Alene, Idaho.

Insurance News Net
Sarah Mysiewicz Gill '06 has been appointed by Maryland Gov. Martin O'Malley to the Governor's Task Force to Ensure Retirement Security for All Marylanders.

Chicago Tribune
Psych major Niccole Nelson '16 is exploring the effects that social support from adult children can have on elderly parents.

MarketWatch
PwC US announced that Rod Adams '95 has been named US Recruiting Leader.

Bureau County Republican
Charles Gebeck '83 will return to his native county to perform in the Homestead Talent Showcase.

The Times of Northwest Indiana
Dan Carden '00 is the Indianapolis bureau chief and covers Indiana state government for The Times.

Lincoln Daily News
Associate Professor of Theatre Arts Jean Kerr and five of her acting students provided guidance for a theatre camp at the Atlanta Public Library.

> More Titans in the News
---
Kudos
• Action Research Center (ARC) Director Deborah Halperin, recent IWU alumnus Matt LaLonde '14, and University Librarian Karen Schmidt were presenters at the inaugural Colloquium on Libraries and Service Learning, held Aug. 11 at Santa Clara University.

The team spoke on several service learning projects that ARC has hosted, with an emphasis on community connections and how the library supported these kinds of initiatives. LaLonde also discussed the West Bloomington Revitalization Project Tool Library at a poster session.

Information Literacy Librarian and Associate Professor Chris Sweet, one of the Colloquium organizers, also led a discussion on libraries and service learning.

• Professor of Physics Gabe Spalding is co-chairing the SPIE Optics + Photonics conference, Optical Trapping and Optical Micromanipulation XI, in San Diego, Aug. 17-21. Two receptions at the conference will recognize Spalding as a new fellow of SPIE.

Research with his Scottish collaborators about hybrid acoustic-laser devices will be presented.

In addition, research co-authored by recent IWU physics grad "Sunny" Qing Ding '13, "Optical trapping with pillar bowtie nanoantennas," will be presented. Ding is pursuing his Ph.D. in electrical and computer engineering at the University of Illinois at Urbana-Champaign.

• Brad Forsyth '91 has been named a college scout with the Miami Dolphins.

• Andy Junk '08 is an understudy in the Lifeline Theatre production of The Last of the Dragons. He is a member of "Carpeted Afterhours," a Sketch Comedy group that performs in the Chicago area.

• Soprano Nola Richardson '08 was the featured soloist with the Baltimore Symphony Orchestra last month. She is a graduate student at the Yale Institute of Sacred Music, where she is a member of the Voxtet.


> Find faculty publications and Digital Commons @ IWU.
---
GREENetwork
Indoor Bike Storage

Students: Planning to bring a bike to campus, but don't want to keep it outside? You're in luck! We have a limited-access indoor bike storage room on the first floor of Harriett.

Signups are accepted on a first-come, first-served basis, and if you're one of the lucky few, you'll be given a key to the room so you can park your bike inside any time, day or night, all year long.

For more information, check the signup form or contact Bike Committee Chair Michael Gorman '10.
---