Feb. 24, 2020
News for and about the Illinois Wesleyan community
Campus News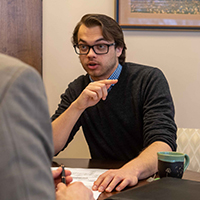 McKermitt '20 Trades Places with President Nugent
On Presidents Day, biology major Jack McKermitt '20 served as president of Illinois Wesleyan for a day while President S. Georgia Nugent participated in McKermitt's usual classes and extracurricular activities. Listen to a student-hosted podcast interview about the exchange on Apple Podcasts or Spotify.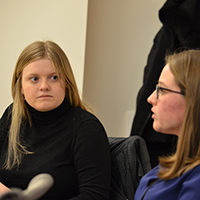 Students Present Original Research at Human Rights Workshop
Students shared the facts on several human rights issues at the eighth annual Human Rights Undergraduate Research Workshop hosted by Illinois Wesleyan, based on this year's theme "Facts and Fictions: Human Rights and the Search for Truth(s)."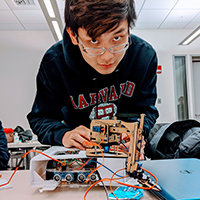 Students Develop Recycling Robot at MakeHarvard
A trash recycling robot named GARI (for "Green Autonomous Recycling Initiative") was developed by a team of Illinois Wesleyan students during MakeHarvard, a 24-hour engineering make-a-thon hosted by Harvard University.
Collegiate Choir Spring Tour Includes Concerts in Illinois, South Africa
Illinois Wesleyan's Collegiate Choir will present freewill concerts in Illinois before and after a week-long concert tour in South Africa. Concert dates in the U.S. include include Saturday, Feb. 29 in La Grange; Tuesday, March 3 in Kankakee; and Friday, March 20 in Bloomington.
Titan Athletics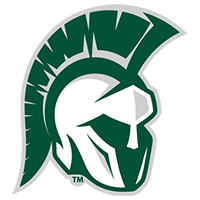 The women's basketball team clinched the No. 2 seed and first-round bye in the College Conference of Illinois and Wisconsin Tournament with a win over Carthage College on Feb. 22 inside Tarble Arena.
The men's basketball team also defeated Carthage to clinch the No. 3 seed in the CCIW Tournament. The Titan will host Carthage on Tuesday, Feb. 25, in a CCIW quarterfinals matchup.

Titans In The News
The Pantagraph
Heartland Bank and Trust Company announced the promotion of Chad Beaty '99 to senior vice president, commercial lending, and senior lender for the Bloomington area.
The (Santa Rosa, Calif.) North Bay Business Journal
St. Joseph Health-Northern California Regional Chief Executive Kevin Klockenga '89 was highlighted as a "health care leader you should know."
The (Kankakee) Daily Journal
Illinois Wesleyan's Collegiate Choir will present a freewill concert in Kankakee on March 3, prior to its spring concert tour in South Africa.
The Pantagraph
Illinois Wesleyan, with its expanding Esports program, is a pioneer among local schools in the fast-growing sport.
Vogue India
Research conducted by IWU Associate Professor of Psychology Amanda Vicary was cited to explain women's interest in true crime.
WGLT-Radio
Guitarist Mike Kennerty was interviewed in advance of the All-American Rejects headlining IWU's "Big Show" on Feb. 22 at the Shirk Center.
Alumni Events
View Presidential Welcome Tour Events


February
Titan Mixer - St. Louis
Thursday, February 27  |  5:30 - 9 p.m.
Steinberg Skating Rink - St. Louis, Missouri
Co-Choir Pre-Tour
Saturday, February 29  |  7:30 p.m.
Emmanuel Episcopal Church - La Grange, Illinois
March
Co-Choir Pre-Tour
Tuesday, March 3  |  7:30 p.m.
Asbury United Methodist - Kankakee, Illinois
Presidential Welcome Tour - Florida 
Sunday, March 8, 2020 | 4 - 6 p.m.
Stonebridge Country Club - Naples, Florida
Career Immersion Excursion Student and Alumni Networking Event
Tuesday, March 10  
AT&T Stadium - Arlington, Texas  |  4:30 - 6 p.m.
Texas Live!  |  6 - 8:30 p.m.
Pride Alumni Community Student and Alumni Panel  
Thursday, March 26 |  8 - 10 p.m.
Illinois Wesleyan University - Memorial Center, Turfler Room 
April
Presidential Welcome Tour - Chicago 
Sunday, April 26, 2020 | 3 - 5 p.m.
The Metropolitan - Chicago
Class Newsletter Highlight
Keep up with the latest news and photos from your classmates! When you visit your Class Newsletter, you can subscribe via email by submitting your address under "subscribe to my posts."

In recent highlights, Jonathan Cable '07 is reprising his role as Nick Massi on the off-Broadway run of Jersey Boys. He spent two years with the National Tour of Jersey Boys, including a run that included a week of performances at the Auditorium Theatre in Chicago in 2019. Read more.
Kudos
Irv Epstein, Ben and Susan Rhodes Professor of Peace and Social Justice, was interviewed on the podcast FreshEd With Will Brehm, with regard to his book: Affect Theory and Comparative Education Discourse. FreshEd with Will Brehm is a weekly podcast that takes ideas in educational research, which may initially seem impenetrable, and seeks to make them more accessible, unraveling their complexity through conversations with expert academics in the field. The show began in October 2015 out of the confluence of two ideas: to make research on globalization and education less esoteric by encouraging academics to talk about concepts in their work in a conversational atmosphere using everyday language; and to expand the reach of educational research and ideas to a larger audience, beyond the confines of academic journals and conferences. The show has been widely received, reaching an audience around the world. It has also been incorporated into many university syllabi. The interview can be accessed here.


Aaron R. Gierhart '09 defended his dissertation focused on digital pedagogy of elementary teachers and earned his Ed.D. at Illinois State University this month. He has accepted a job as an Assistant Professor of Elementary Education at Columbus State University in Columbus, Georgia, beginning in August 2020.
Announcements
IWU Phonathon
The Titan Talkers have begun calling for the semester. These students will be calling our alumni, parents and friends of the University. Their last day of calling will be on April 9, which is All In For Wesleyan.
In Sympathy
Sharon Albee, who served Illinois Wesleyan international students and registrar's offices for 18 years until her retirement in 2017, passed away on Feb. 2. A celebration of life will be planned at a later date. Her obituary is online.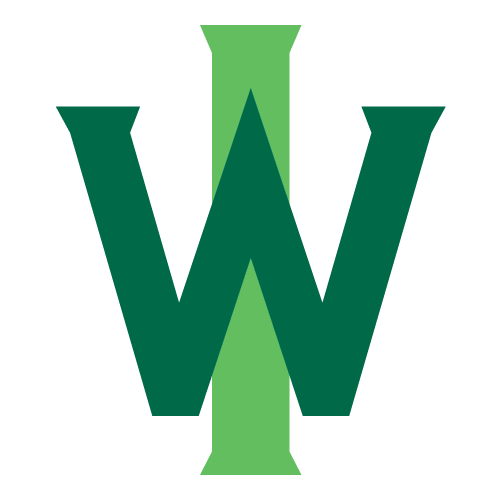 This newsletter is an electronic publication of Illinois Wesleyan University's Communications Office, edited by Ann Aubry, director of communications, in conjunction with the Office of Alumni Engagement. To submit items of interest, email webedit@iwu.edu.
Visit titanpride.org today to update your profile, register for an event, post pictures, or simply get back in touch.