Aug. 5, 2019
News for and about the Illinois Wesleyan community
Campus News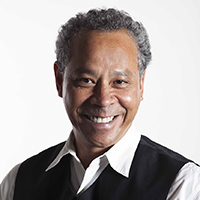 Larey Named Director of the School of Music
Internationally recognized music scholar and renowned concert pianist Franklin Larey has been named director and professor of the Illinois Wesleyan University School of Music.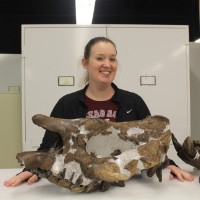 Short '09 Identifies New Species of Rhinoceros
Rachel Short '09 is the lead author on a project that identified a new species of rhinoceros, Teleoceras aepysoma, which roamed the Great Plains nearly 5 million years ago.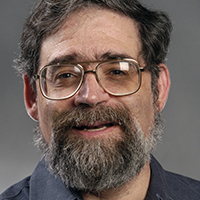 Education Policy Explored In New Faculty Book
Affect theory in relation to comparative education and policies is explored in a new book by Irving Epstein, the Ben and Susan Rhodes Endowed Professor in Peace and Justice, Chair of Educational Studies and Director of the Center for Human Rights.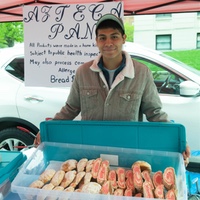 Student's Local Bread Business on the Rise
With the help of a McLean County Scholarship and an IWU Entrepreneurial Fellowship, Juan Rios-Narciso '22 has launched Azteca Pan at the Bloomington Farmers' Market, where he sells his freshly baked bread.
Titan Athletics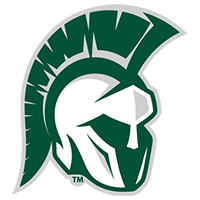 The Illinois Wesleyan men's basketball team will compete in a series of three exhibition games during a 10-day stay in Italy from Aug. 6-15.


Katie Gonzales, who has experience at the Division III and Division I levels of college sports, has been chosen as the new sports information director for Titan athletics, succeeding Stew Salowitz '76, who is retiring on Aug. 30 after nearly 31 years at Illinois Wesleyan.
Titans In The News
The (Oxfordshire, England) Henley Standard
Max Lewendel '03 is the new manager of the Kenton Theatre in the town of Henley-on-Thames, Oxfordshire, England.
The Pantagraph
Franklin Larey, an internationally recognized music scholar and concert pianist, is the new director of Illinois Wesleyan's School of Music.
WGLT-Radio
The 100 Greatest Literary Characters, the latest book from R. Forrest Colwell Endowed Chair and Professor of English James Plath, highlights fictional characters who have made a lasting cultural impact.
Crain's Chicago Business
Guggenheim Securities is stepping up its investment banking presence in Chicago, hiring two senior bankers – including Scott Stevens '96 – from the investment banking technology group of local heavyweight William Blair.
The Pantagraph
The Illinois Wesleyan men's basketball team is bound for Italy for a 'whirlwind' of competition and sightseeing.
The (La Salle, Ill.) News Tribune
Former IWU student-athlete Ellen Renk '16 works in social media and hosts a podcast, but still loves to compete.
The Pantagraph
Clarissa King '22 was one of seven candidates for McLean County Fair royalty.
The Pantagraph
Katie Gonzales was named Illinois Wesleyan's new sports information director.
Redwood Falls (Minn.) Gazette
Krey Leesman '07 serves as pastor to three Methodist congregations in Minnesota.
The Pantagraph
Wah Chook '22 was among the young leaders nominated for a Why I See You (YICU) Service Award by nonprofit For a Better Tomorrow.
The Pantagraph
Illinois Wesleyan assistant volleyball coach Mary Frahm was named head coach of the Heartland Community College volleyball team.
The Pantagraph
Rob Wuethrich '21, a member of the Titan men's golf team, won the Bloomington-Normal Medal Play on Sunday.
Alumni Events
Titan Day at the Races 
Saturday, August 17
12:30 - 5:30 p.m.
Join fellow alumni and friends for a fun day at the races at the Arlington International Racecourse! Enjoy lunch, drinks, and a great view from the Canopy Finish Line as you connect with fellow Titans and cheer on your favorite horse.

Indiana Mixer 
Tuesday, August 29
5-7 p.m.
Connect with alumni and friends at Blind Owl Brewery for happy hour. Appetizers will be provided.
24th Annual Titan Alumni and Friends Golf Outing  
Monday, September 9
Noon start; 5 p.m. dinner
Join us for the 24th Annual Titan Alumni Golf Outing at the Mistwood Golf Club in Romeoville, Illinois.
Class Newsletter Highlight
We've made it easier to keep up with the latest news and photos from your classmates! When you visit your Class Newsletter, you can subscribe via email by submitting your address under "subscribe to my posts."

In recent highlights, a solo show of recent paintings by Dennis Kleidon '66 has been announced by the Walter Wickiser Gallery of New York City. Dennis Kleidon is a Professor of Art Emeritus from the University of Akron, co-founder and CEO of Kleidon & Associates (a marketing communications firm in Akron, Ohio), and author of the soon-to-be-published Unleashing Your Imagination. Read more.
Kudos
IWU B. Charles & Joyce Eichhorn Ames Professor Gabriel Spalding led a panel session at the American Association of Physics Teachers (AAPT) summer meeting in Provo, Utah, on curricular reform in physics, co-valuing student development in terms of physics formalism, computer methods, and hands-on grappling with technology and experimentation. Invited panelists represented Amherst College, Swarthmore College, Cal Tech, University of Wisconsin-River Falls, University of Colorado Denver, and the national Society of Physics Students. Spalding serves as Director-at-Large for the AAPT, which aims to advance physics teaching at all levels, from grade school to grad school, and beyond.
This newsletter is an electronic publication of Illinois Wesleyan University's Communications Office, edited by Ann Aubry, director of communications, in conjunction with the Office of Alumni Engagement. To submit items of interest, email webedit@iwu.edu. See an archive of past editions.
Visit titanpride.org today to update your profile, register for an event, post pictures, or simply get back in touch.