Oct. 29, 2018
News for and about the Illinois Wesleyan community
Campus News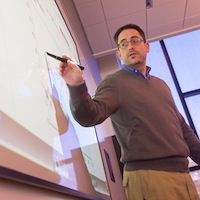 Mendez-Carbajo Takes on New Opportunities in Economics
Professor of Economics Diego Mendez-Carbajo was named Chair of the Research Committee of the National Association of Economic Educators, he will serve as Associate Editor for The American Economist, and will be a Visiting Scholar in-residence at the University of Delaware's Center for Economic Education and Entrepreneurship.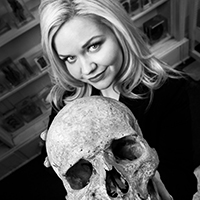 Fitzharris '04 to Share Grisly World of Victorian Medicine with IWU
Bestselling author and medical historian Lindsey Fitzharris '04 will return to her alma mater to discuss the brutal and bloody world of Victorian surgery on Tuesday, Oct. 30.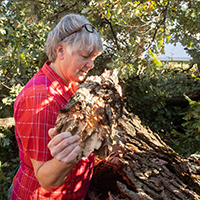 Remembering the Big Bur Oak Tree
Eric Nelson, Manager of Grounds Services, shares the history of a bur oak tree which was among the oldest members of Illinois Wesleyan's urban forest.
Titans In The News
WGLT Radio
Climate change researcher Amir Jina, who said the state's agriculture will be hit hard, spoke on WGLT's Sound Ideas in advance of a presentation at Illinois Wesleyan last week.
Wallet Hub
In rankings of top-performing schools at the lowest possible costs, Illinois Wesleyan is among the top five schools in Illinois, according to 2019's College & University Rankings.
Waunakee (Wis.) Tribune
Judy Walker '68, whose love of music was nurtured by her parents, has spent her career sharing her knowledge and expertise as a professor of music.
WMBD TV
The No. 15-ranked Illinois Wesleyan volleyball team celebrates Halloween by coming to practice in full costume, and practicing in costume.
The Pantagraph
Legendary football coaches Norm Eash '75 and Ken Leonard forged a friendship growing up in Chenoa, Illinois, which continues to this day. 
Alumni Events
IWU vs. University of Illinois at Chicago
Thursday, Nov. 1
4:30-6:30 p.m. – Pregame Party at Haymarket Pub & Brewery, 737 W. Randolph St., Chicago. Appetizers provided.
7 p.m. – Game at UIC Pavilion, 525 S. Racine, Chicago.
RSVP to Chris Murray at cmurray@iwu.edu or (309) 556-3305. Game tickets available at the UIC Pavilion.
IWU vs. University of Illinois at Urbana-Champaign
Friday, Nov. 2
7 p.m.
The Illinois Wesleyan men's basketball team will face the University of Illinois in an exhibition game that you won't want to miss! You can purchase your tickets here.
Dallas Connection 
Sunday, Nov. 4
2-4 p.m.
Join fellow alumni, family and friends at the Dallas Connection, hosted by John Schilsky '95 and Dr. Angela Schilsky at their home. Our guest speaker will be Jaime Peters, Assistant Professor of Accounting & Financial Services. 
Sunday, Jan. 27, 2019
12:30-3 p.m.
Join fellow alumni, family and friends for the Greater Phoenix/Tucson Area Connection at McCormick Ranch Golf Club.
Class Newsletter Highlight
We've made it easier to keep up with the latest news and photos from your classmates! When you visit your Class Newsletter, you can subscribe via email by submitting your address under "subscribe to my posts."

In recent highlights, Kristin Schleiter '04 has taken a position with the American Board of Medical Specialties as the Vice President of Policy, Government Relations and Strategic Engagement. Read more.
Kudos
James E. House, Adjunct Professor of Chemistry and Scholar in Residence, presented the lecture "Of Solids and Sehnsucht" at Southern Illinois University (Carbondale) on Friday, Oct. 19. The lecture was presented in conjunction with House's induction into the Chemistry Alumni Hall of Fame at SIU.


"Dear Dark Lord," a comedy-horror web series created, written, produced, and scored by Pat Cavanaugh '14, has been chosen by the Chicago International REEL Shorts Film Fest as an official selection of this year's festival. The series is now streaming at deardarklord.com

Campus Weekly is an electronic newsletter from Illinois Wesleyan's Office of Communications, edited by Ann Aubry, director of communications. To submit items of interest, email webedit@iwu.edu.
Visit titanpride.org today to update your profile, register for an event, post pictures, or simply get back in touch.