Oct. 15, 2018
News for and about the Illinois Wesleyan community
Campus News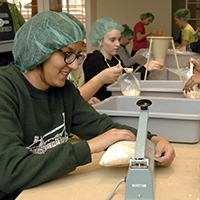 Students Band Together to Fight Hunger
Illinois Wesleyan's interfaith student organization will help combat hunger ahead of the upcoming holiday season with its annual "Harvesting Help" service day.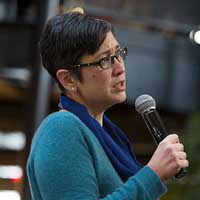 Halperin Recognized for Community Leadership
Deborah Halperin, director of Illinois Wesleyan's Action Research Center, has been awarded the 2018 ATHENA Leadership Award for her work in the Bloomington-Normal community.
Titan Athletics
The Illinois Wesleyan volleyball team scored their 10th consecutive win, defeating Augustana on Oct. 12.
Titans In The News
The Pantagraph
Efforts to overturn wrongful convictions will be the focus of a panel discussion hosted by Associate Professor of Psychology Amanda Vicary on Tuesday, Oct. 16, at Hansen Student Center. 
The Pantagraph
Deb Halperin, director of Illinois Wesleyan's Action Research Center, won the Athena Award from the McLean County Chamber of Commerce.
Sioux City (Iowa) Journal
Mercy Medical Center in Sioux City, Iowa, appointed Timothy Daugherty '91 as vice president of operations and strategic planning, with responsibility for business development and clinical services.
eCampus News
Illinois Wesleyan combines traditional classroom learning with experiential, outside-the-classroom learning through its Signature Experiences program.
Alumni Events
Saturday, Oct. 20
3:30-5:30 p.m.
The Titans will take on the Washington University Bears in their first conference game since Wash U. joined the CCIW. You're invited to join us for a mixer where you can catch up with fellow alumni prior to the game.
IWU vs. U of I
Friday, Nov. 2
7 p.m.
The Illinois Wesleyan men's basketball team will face the University of Illinois in an exhibition game on Friday, Nov. 2 at U of I – you won't want to miss this match up! Tickets go on sale Wednesday, Oct. 17 at 9 a.m. Purchase your tickets at U of I Athletics website or the Ticket Office.
Dallas Connection 
Sunday, Nov. 4
2-4 p.m.
Join fellow alumni, family and friends at the Dallas Connection, hosted by John Schilsky '95 and Dr. Angela Schilsky at their home. Our guest speaker will be Jaime Peters, Assistant Professor of Accounting & Financial Services. 
Sunday, Jan. 27, 2019
12:30-3 p.m.
Join fellow alumni, family and friends for the Greater Phoenix/Tucson Area Connection at McCormick Ranch Golf Club.
Class Newsletter Highlight
We've made it easier to keep up with the latest news and photos from your classmates! When you visit your Class Newsletter, you can subscribe via email by submitting your address under "subscribe to my posts."

In recent highlights, Mary Sue (Knopp) Brewer '65 retired after 29 years with the textile, merchandising and interiors department of the University of Georgia. Read more.
Kudos
Singer/actor Lisa Nehrer performed Tell Me What You Think Of Me: A Monodrama in Twenty-Six Letters, a humorous musical composition by Fern Rosetta Sherff Professor of Music David Vayo, in two concerts presented by the Iowa Composers Forum. The first was at the Frank Lloyd Wright-designed Walter House in Quasqueton on Oct. 6, and the second at Montauk Historic Site in Clermont on Oct. 7.

Colleagues
Welcome New Employees
Ligeia "Gigi" Miller started Oct. 8 as a custodian in Gulick Hall.
Amy Jo Caulkins started today, Oct. 15, as Administrative Specialist IV - Associate Provost's Office, replacing Pat Neustel, who is retiring Oct. 26.
Campus Weekly is an electronic newsletter from Illinois Wesleyan's Office of Communications, edited by Ann Aubry, director of communications. To submit items of interest, email webedit@iwu.edu.
Visit titanpride.org today to update your profile, register for an event, post pictures, or simply get back in touch.