Sept. 4, 2018
News for and about the Illinois Wesleyan community
Campus News
President Proposes Better Way to Keep Illinois College Students in the State
In an Op-Ed published in the Chicago Tribune, IWU President Eric Jensen argues that a recent state legislative effort to retain college students in Illinois wrongfully neglects students who otherwise could not afford to attend college – students who, data suggests, are best served by private institutions.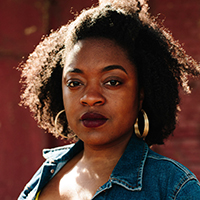 Carruthers '07 Takes 'Unapologetic' Approach in Debut Book
Illinois Wesleyan alum Charlene Carruthers '07 reimagines the Black Radical Tradition in her book Unapologetic: A Black, Queer, and Feminist Mandate for Radical Movements.
Becoming Nicole Author to Speak at President's Convocation
Pulitzer Prize-winning writer Amy Ellis Nutt, author of this year's Summer Reading Program selection, will speak at the President's Convocation on Wednesday, Sept. 5, at 11 a.m. in Presser Hall's Westbrook Auditorium.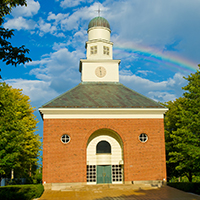 Evelyn Chapel Provides Home for Interfaith Community
The newly renovated Evelyn Chapel serves as the hub for Illinois Wesleyan's diverse religious programming, offering unique avenues of understanding religious and secular diversity.
Titan Athletics
The No. 13-ranked Illinois Wesleyan volleyball team dropped No. 5 Emory University, then defeated Whittier College (California) to claim both Saturday matches in the Emory Classic in Atlanta, Georgia, on Sept. 1.
Titans In The News
National Geographic
Professor of Biology Will Jaeckle contributed to an article that found sea cucumbers keep the ocean clean and resilient, and even fight climate change.
(West Palm Beach, Fla.) Palm Beach Post
Sara (Shannon) Alijewicz '84, an attorney and former general magistrate, was elected to a Palm Beach County Court judgeship.
WGLT Radio
President Eric Jensen talked with WGLT about fall enrollment and the upcoming academic year.
Chicago Tribune
Associate Professor of Music Vadim Mazo is one of four candidates vying to become director of the Waukegan (Ill.) Symphony Orchestra.
WGLT Radio
Professor of Political Science Jim Simeone described how Illinois settlement patterns did a lot to shape the early politics of the state and remain a force today.
The Pantagraph
Christine McHugh '82 performed Parents Must Be Dead, a solo spoken memoir, Saturday at Illinois Wesleyan.
Victory Sports Network
Amanda Fazzari '14 has been named the head softball coach at Trinity Christian College.
(Peoria, Ill.) Journal Star
Ben Hammer '09, a Peoria native and the head football coach at Rock Island High School, talked about returning closer to his roots after coaching in North Carolina.
Alumni Events
23rd Annual Titan Alumni Golf Outing
Tuesday, Sept. 11
12 p.m.
Join us for the 23rd Annual Titan Alumni Golf Outing at Mistwood Golf Club! 12 p.m. shotgun start, with dinner at 5 p.m.
Dallas Connection 
Sunday, Nov. 4
2-4 p.m.
Join fellow alumni, family and friends at the Dallas Connection, hosted by John Schilsky '95 and Dr. Angela Schilsky at their home. Our guest speaker will be Jaime Peters, Assistant Professor of Accounting & Financial Services. 
Registration is Open!
Homecoming –
October 5-7, 2018
This year marks 100 years of Homecoming tradition at Illinois Wesleyan University. Join us as we celebrate a century of alumni and friends returning to campus, to share fond memories and make new ones!
Watch for details at www.iwu.edu/homecoming
Class Newsletter Highlight
We've made it easier to keep up with the latest news and photos from your classmates! When you visit your Class Newsletter, you can subscribe via email by submitting your address under "subscribe to my posts."

In recent highlights, David Darling '79, a partner/shareholder in the law firm Stone & Johnson, Chartered, in Chicago, has been nominated by his peers and selected as one of Illinois Leading Lawyers in Construction Law in 2018.
Kudos
Drama alum Tom Bost '78 was nominated for a Sacramento Area Regional Theatre Alliance (SARTA) 2018 Elly Award for best supporting actor in a comedy, for his performance in Duck Hunter Shoots Angel at Sutter Street Theatre in Folsom, California. The Elly Awards will be held Sept. 23.


Graphic Design alumna Anne Kopf '08 has been promoted to architect at Quinn Evans Architects. Anne has worked extensively in the urban environment, contributing to multiple restoration projects at the Daughters of the American Revolution headquarters in Washington, D.C., and the modernization and adaptive use of the Old City Hall in Richmond, Virginia.
TEDxIWU 2019
Speaker applications for TEDxIWU 2019 "Becoming Human" are now open. All interested IWU faculty, staff, students and alumni are invited to apply here. The deadline for applications is Wednesday, Sept. 12.
TEDxIWU 2019 will take place on March 23, 2019 from 10 a.m.-2 p.m. at the Hansen Student Center.
Campus Weekly is an electronic newsletter from Illinois Wesleyan's Office of Communications, edited by Ann Aubry, director of communications. To submit items of interest, email webedit@iwu.edu.
Visit titanpride.org today to update your profile, register for an event, post pictures, or simply get back in touch.
All images and content