Campus Weekly
July 23, 2018
Published biweekly in the summer months
News for and about the Illinois Wesleyan community
Campus News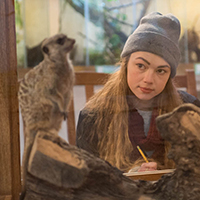 Bowden '18 Awarded Phi Kappa Phi Fellowship
Maisy Bowden '18 is the recipient of a $5,000 fellowship award to support her graduate-level studies at Georgia State University, focused on the evolutionary precursors of language in nonhuman primates.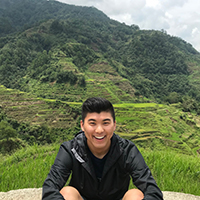 Freeman Asia Interns Blog About Life Abroad
Illinois Wesleyan students are immersing themselves in the lives and cultures of people halfway across the world this summer, taking part in internships will all expenses paid through a grant to IWU from the Freeman Foundation.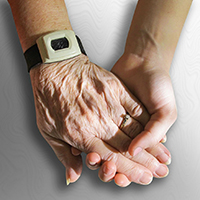 Course in Gerontology and Palliative Care Developed with $150,000 Grant
The Illinois Wesleyan School of Nursing and the Department of Biology have earned a $150,000 grant to develop a course and internship in gerontology and end-of-life care.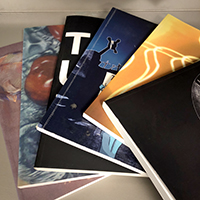 Eckley Scholar Explores Values Behind Creative Arts Journals
With a stipend to support her summer research, English-Literature and German double major Abigail Kauerauf '19 is taking an analytical look at how undergraduate creative arts journals assess the poems that they publish.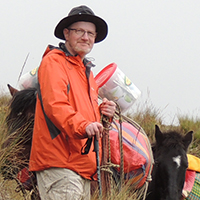 Lehr Honored for Two Decades of Research in Peru
Professor of Biology Edgar Lehr is one of just four foreign researchers to earn a silver medal from the Natural History Museum in Lima, Peru, in recognition of his long-term collaboration with – and support of – the institution.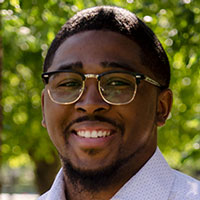 Patterson to Direct Office of Diversity and Inclusion
Kwame Patterson, previously a residence director in the Office of Residential Life, has been named the new director of Illinois Wesleyan's Office of Diversity and Inclusion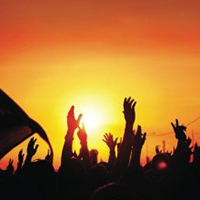 Fuist Book Explores Progressive Religious Activism
Assistant Professor of Sociology Todd Nicholas Fuist offers perspective on the perceived divide between religious conservatives and secular liberals in his co-edited book.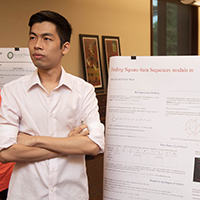 Grants Empower Students to Present at Math Symposium
Four IWU students had the opportunity to present alongside undergraduate, grad and doctoral mathematicians from across the country at the Algorithmic Number Theory Symposium, thanks to grants earned by Associate Professor of Mathematics Andrew Shallue.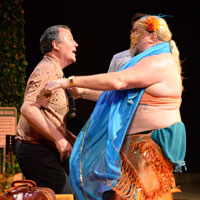 IWU Connections Abound at Illinois Shakespeare Festival
Illinois Wesleyan alumni, faculty and students are playing their parts on the stage – and behind it – to ensure the success of the Illinois Shakespeare Festival.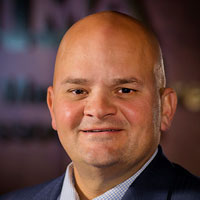 Denzler '93 Promoted to CEO of Illinois Manufacturers' Association
Mark Denzler '93 has been named the next CEO of the Illinois Manufacturers' Association, where he has served as vice president and chief operations officer.
Titan Athletics
Track and field athlete Amelia Glueck '18 was named the 2018 College Conference of Illinois & Wisconsin (CCIW) Woman of the Year, and will now represent the conference as a nominee for the 2018 NCAA Woman of the Year award.
Titans In The News
WGLT Radio
With support from a $5,000 IWU Entrepreneurial Fellowship grant, classmates Liam Keffer '20, Benjamin Sestak '19, and Zachary Walsh '20 have created Unity Threads, an online clothing store specifically made for children with disabilities.
Chicago Tribune
Incoming nursing major Madeline Gutierrez, who was named Miss Vernon Hills 2018, described why she wants to be a nurse.
Daily Southtown
Ansel Johnson '81 is an optometrist practicing at Vision Salon Eye Care Associates, in Blue Island, Illinois, and working to detect and combat diabetes in his patients.
The (Manhattan, Kansas) Mercury
Incoming student Bhavin "Bobby" Koirala '22 was among 18 area students chosen to The Mercury's annual Flint Hills All-Academic Team, recognizing some of the most successful students of the 2018 graduating class.
WGLT Radio
The fast pace of lacrosse has led to local growth of the sport, including local interest in the men's and women's lacrosse teams at Illinois Wesleyan.
The State Journal-Register
Mark Denzler '93 has been announced as the next CEO of the Illinois Manufacturers' Association, where he currently serves as vice president and chief operating officer.
The (Osseo, Min.) Sun Sailor
Matthew Humason '21 stars in the Minnetonka Theatre's summer production of "Merrily We Roll Along." 
The Pantagraph
Sigmund Livingston, who graduated from Illinois Wesleyan's former law school in 1894, founded the Anti-Defamation League.
The (Janesville, Wis.) Gazette
William Wartmann '57, who died June 17, was remembered as "a one-man anti-homophobia campaign, a terrific speaker and a generous donor."
Alumni Events
Tuesday, July 24
5:30-7:30 p.m.
Join fellow alumni, family, and friends at Urbana Country Club, hosted by Mark Ballard '83. Guest speaker is Mark Brodl, Provost and Dean of Faculty, and our special guests are President Eric Jensen and Elizabeth Jensen.
Sunday, July 29
2-4 p.m.
Join fellow alumni, family, and friends at the Denver Museum of Nature and Science. Guests speakers are Crystal Ocampo-Fernandez '18 and Nicki Chlebek '16, Regional Admissions Counselor.
St. Louis Happy Hour
Thursday, Aug. 2
5-8 p.m.
Join fellow alumni from the St. Louis Regional Club for a fun happy hour at Cafe Napoli! Appetizers and drinks will be provided.
Network Summer Picnic
Sunday, Aug. 5
2-4 p.m.
Join fellow alumni, family, and friends at the annual Network Summer Picnic! Graciously hosted by Network committee member Dave Darling '79 and Genie Darling at their home.
Thursday, Aug. 9
6-8 p.m.
Join fellow alumni, family, and friends at the next McLean County Connection! Our special guests include President Eric Jensen and Elizabeth Jensen, as well as Benjamin Sestak '19, co-founder of Unity Threads.
DC Alumni Event: Dave the Musical
Thursday, Aug. 9
8 p.m.
Join us for the world premiere of Dave and support our very own alum, Bryonha Marie Parham '07!
23rd Annual Titan Alumni Golf Outing
Tuesday, Sept. 11
12 p.m.
Join us for the 23rd Annual Titan Alumni Golf Outing at Mistwood Golf Club! 12 p.m. shotgun start, with dinner at 5 p.m.
Class Newsletter Highlight
We've made it easier to keep up with the latest news and photos from your classmates! When you visit your Class Newsletter, you can subscribe via email by submitting your address under "subscribe to my posts."

In recent highlights, Michele (Millotte) Doss '76 competed in the International Breast Cancer Paddlers Commission Dragon Boat Festival, held in Florence, Italy, July 6-8. Michele was a member of the Sarasota, Florida-based team, Survivors in Sync, which finished fourth out of more than 120 boats. See more.
Kudos
Professor of Biology Edgar Lehr coauthored a paper published with open access in the journal ZooKeys, describing a new lizard genus and new species from Andean Peru. "Systematics of Neotropical microteiid lizards (Gymnophthalmidae, Cercosaurinae), with the description of a new genus and species from the Andean montane forests" was published in ZooKeys, doi: 10.3897/zookeys.774.25332.


B. Charles and Joyce Eichhorn Ames Professor of Physics Gabe Spalding has been nominated as one of two candidates for a position as a four-year college representative on the Board of Directors of the American Association of Physics Teachers (AAPT).


Music theatre majors Maddie Steele '19, Jessica McGrew '19 and Carson Grey '20 are performing in the Prairie Fire Theatre production of The Secret Garden, a musical based on the 1911 novel by Frances Hodgson Burnett. Performances are Aug. 2-5.


Hannah Bowen '15, who completed her master's in social work at the Erikson Institute this year, has been accepted for a prestigious fellowship at the Yale School of Medicine Child Study Center. Yale's post-MSW Fellowship in Advanced Clinical Social Work provides advanced training for social workers who want to become leaders in the field.


Gretchen Cepek '90, General Counsel at Allianz Life Insurance Company of North America, was named among Women in Business 2018 by the Minneapolis/St. Paul Business Journal.


Sean Conley '14 has joined the Tampa Bay Buccaneers as scouting assistant.



Professor Emeritus Robert Bray will speak Saturday, Aug. 4 as part of a symposium presented by the Illinois Shakespeare Festival on "Shakespeare in the Land of Lincoln." A scene will be read from the play he co-wrote, Lincoln's in Town!, which tells of a young Lincoln's historical connections to the Bloomington area.

Save the Date!
Homecoming –
October 5-7, 2018
This year marks 100 years of Homecoming tradition at Illinois Wesleyan University. Join us as we celebrate a century of alumni and friends returning to campus, to share fond memories and make new ones!
Watch for details at www.iwu.edu/homecoming
Campus Weekly is an electronic newsletter from Illinois Wesleyan's Office of Communications, edited by Ann Aubry, director of communications. To submit items of interest, email webedit@iwu.edu.
Visit titanpride.org today to update your profile, register for an event, post pictures, or simply get back in touch.
All images and content