Campus Weekly
April 23, 2018
News for and about the Illinois Wesleyan community
Campus News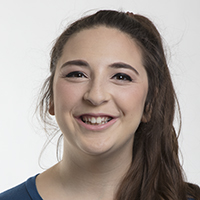 Bouras '18 Named Technos Award Winner
Zoe Bouras '18 has been awarded the 2018 Technos International Prize, an annual award recognizing a student who has excelled academically and has contributed to broadening international awareness and understanding.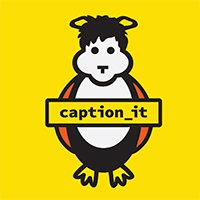 STEM Gala Scholarship Awarded to Meme App Entrepreneur
First-year computer science and physics double major David "Nico" Lopez '21 brings the fun – and the funds – with a $1,000 scholarship toward developing a party game app called Caption_it.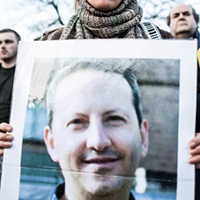 Students Advocate for Iranian Academic Sentenced to Death
First-year students who are participating in Illinois Wesleyan's Advocacy Risk Seminar traveled to Washington, D.C., to advocate for the release of Ahmadreza Djalali, a 45-year-old specialist in disaster medicine who has been imprisoned by Iranian officials.
Titans In The News
WGLT Radio
In bringing a guest artist to perform with the IWU Jazz Ensemble, Director of Jazz Glenn Wilson said he hoped some of John D'earth's joy and passion for the music will rub off on his students.
The Pantagraph
Abby Reel '04, associate director for career development at Illinois Wesleyan, is spearheading efforts to rebuild a theater space for the Conklin Players, starting construction in June.
Huffington Post
Amanda Vicary, associate professor of psychology, discussed possible psychological motivations behind people's fascination with true crime.
WILL Radio
On the anniversary of Dr. Martin Luther King, Jr.'s assassination, former IWU chaplain Dennis Groh '61, Richard Muirhead '66 and University Archivist Meg Miner recalled his visits to Illinois Wesleyan.
North Central Chronicle
A social activist, father, reverend and colleague, college chaplain Eric Doolittle '96 has connected with the North Central community with a belief in uniqueness and inclusivity.
The Pantagraph
In his latest book, acclaimed author James W. Bennett '64 takes a look at his personal battle with mental illness through his lifetime companionship with a memorable procession of pet dogs. 
Alumni Events
IWU vs. ISU Baseball Game and Alumni Connection
Tuesday, April 24
5 p.m.
Join us for this tradition of crosstown rivals that dates back to 1890! Come enjoy the pre-game social at 5 p.m. Game starts at 6 p.m.
Tuesday, May 15
5:30-7:30 p.m.
Join fellow alumni and friends at the Country Club of Peoria! Guest speaker will be Mark Brodl, Provost and Dean of Faculty. Event hosted by Doug Stewart '73.
Entrepreneurship Society Networking Event
Wednesday, May 16
5-7 p.m.
Join the Illinois Wesleyan Entrepreneurship Society for a networking event at mHub in Chicago and meet current entrepreneurship students.
Greater Minneapolis Connection
Sunday, June 3
2-4 p.m.
Join fellow alumni and friends at Surly Brewing Company! President Eric Jensen and Elizabeth Jensen will join us.
Monday, June 25
12 p.m.
Join us for the 27th Annual Titan Athletics Golf Outing at El Paso Golf Club! 12 p.m. shotgun start with ribeye dinner around 4:30 p.m. Join us to catch up with old friends, meet new ones, and celebrate Titan Athletics!
Class Newsletter Highlight
We've made it easier to keep up with the latest news and photos from your classmates! When you visit your Class Newsletter, you can subscribe via email by submitting your address under "subscribe to my posts."

In recent highlights, Bill Breach '78, Carl Tenney '79 and Al Black '79 recently traveled to Puerto Rico to spend time with fellow Titan Ivan Soler '77. See more.
Kudos
Scholarly Communications Librarian/Professor Stephanie Davis-Kahl will co-present the closing keynote at the Digital Initiatives Symposium on Tuesday, April 24 at the University of San Diego. The title of her talk is "Collaborative and Collective: Setting an Agenda for the Intersections of Scholarly Communication and Information Literacy."
Campus Weekly is an electronic newsletter from Illinois Wesleyan's Office of Communications, edited by Ann Aubry, director of communications. To submit items of interest, email webedit@iwu.edu.
Visit titanpride.org today to update your profile, register for an event, post pictures, or simply get back in touch.