Campus Weekly
April 9, 2018
News for and about the Illinois Wesleyan community
IWU Magazine
Watch your mailboxes for the Spring 2018 edition of the Illinois Wesleyan University magazine, featuring Richard '69 and Sharon Jenkins '69 on the cover, plus feature stories on Amanda Toney-Logan '74 and William Murphy '98.
This edition marks the 100th issue of the magazine in its modern history. It introduces both a refreshed design and our new magazine editor, Matt Wing. An expanded Alumni Updates section features alumni news from August 2017 through February 2018. All news items submitted after mid-February will appear in our Summer 2018 edition. Questions? Contact iwumag@iwu.edu.
Enjoy!
Campus News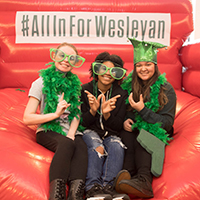 Titans "Think Bigger" During All In For Wesleyan
Embodying this year's All In For Wesleyan theme to "Think Bigger," a total of 2,193 donors teamed up to raise $714,533 during Illinois Wesleyan's one-day giving challenge on Tuesday, April 3.
Kooken and Brown-Ajayi Earn Inaugural Inclusive Excellence Awards
Assistant Professor of Nursing Wendy Kooken and Administrative Specialist in the Provost's Office Sharla Brown-Ajayi have been named 2018 recipients of the inaugural President's Award for Inclusive Excellence at Illinois Wesleyan.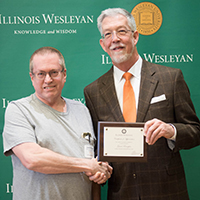 University Celebrates Employee Anniversaries, Retirements
Illinois Wesleyan honored retirees and celebrated employees with milestone anniversaries on Friday, April 6, during the annual Faculty-Staff Recognition Celebration.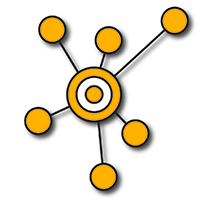 LSMCE Partnership Aims to Advance Minority Students in STEM
Building upon a shared interest in broadening participation of underrepresented minority students in STEM fields, Illinois Wesleyan has partnered with the Louis Stokes Midwest Center for Excellence.
Titan Athletics
The Illinois Wesleyan men's golf team finished first in its own invitational on Saturday, April 7.

Titans In The News
WJBC Radio
Illinois Wesleyan alumni, parents and friends raised nearly $715,000 during All In For Wesleyan, a day of giving and celebrating the University. Also in The Pantagraph.
The Pantagraph
On the 50th anniversary of the Rev. Martin Luther King Jr.'s assassination, King's visits to Illinois Wesleyan and his influence were recalled by former professors Pamela Muirhead and Paul Bushnell, and by University Archivist Meg Miner.
Broadway World
Nikki Savitt '90 is among the 2018 troupe of visiting professional theatre artists announced by Nettle Creek Players in Hagerstown, Indiana. 
The Pantagraph
Michael Gorman '10, now president of the board of directors for Green Top Grocery, discussed new strategies being implemented at the cooperatively owned business.
Sarasota Magazine
Lora Wey '88 has been appointed assistant vice president of strategic philanthropy at Ringling College of Art and Design in Sarasota, Florida.
The Edwardsville Intelligencer
Ryan Jumper '00 and his relatives paid tribute to the influence of his parents as he was sworn in as the newest associate judge in Madison County.
The Pantagraph
Theatre students are taking on the challenge of singing and dancing in roller skates for the upcoming production of the musical "Xanadu."
Alumni Events
IWU vs. ISU Baseball Game and Alumni Connection
Tuesday, April 24
5 p.m.
Join us for this tradition of crosstown rivals that dates back to 1890! Come enjoy the pre-game social at 5 p.m. Game starts at 6 p.m.
Tuesday, May 15
5:30-7:30 p.m.
Join fellow alumni and friends at the Country Club of Peoria! Guest speaker will be Mark Brodl, Provost and Dean of Faculty. Event hosted by Doug Stewart '73.
Entrepreneurship Society Networking Event
Wednesday, May 16
5-7 p.m.
Join the Illinois Wesleyan Entrepreneurship Society for a networking event at mHub in Chicago and meet current entrepreneurship students.
Class Newsletter Highlight
We've made it easier to keep up with the latest news and photos from your classmates! When you visit your Class Newsletter, you can subscribe via email by submitting your address under "subscribe to my posts."

In recent highlights, James Proctor Brown III '62 gave the January lecture to the Torch Club of Southampton Roads on "Understanding African Art." In March he was presented with the Moultrie Guerry Award for the best paper of 2016-17, entitled "Kenya: An Historic Safari."
Kudos
Colleagues
Welcome New Employees
Derek Caughron started April 4 as an HVAC Technician, replacing Troy Steidinger. Troy Steidinger transferred to the Planner/Building Mechanic position, replacing Carl Gillis. Carl Gillis transferred to the Manager of Building Maintenance position, replacing George Wainwright, who retired.
Campus Weekly is an electronic newsletter from Illinois Wesleyan's Office of Communications, edited by Ann Aubry, director of communications. To submit items of interest, email webedit@iwu.edu.
Visit titanpride.org today to update your profile, register for an event, post pictures, or simply get back in touch.
All images and content