Campus Weekly
March 26, 2018
News for and about the Illinois Wesleyan community
Campus News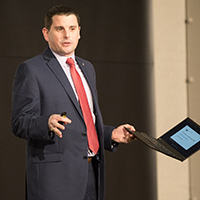 Eckley Economics Speaker Puts a Digital Spin on Learning
Economist Carlos Asarta, who directs the Center for Economic Education and Entrepreneurship at the University of Delaware, shared a "digital-first" approach to learning as part of the Robert S. Eckley Lecture Series in Economics.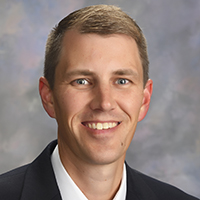 Bierman Named Vice President for Business and Finance
Matt Bierman has been named Vice President for Business and Finance at Illinois Wesleyan University, effective May 15. He is currently Vice President for Administrative Services and Interim Director of Business and Financial Services at Western Illinois University.
Students Named 2018 Eckley Scholars
Five students have been selected to receive 2018 Eckley fellowships, supporting an opportunity to work on campus over the summer as scholars and artists under the supervision of a faculty mentor.
Titan Athletics
The women's lacrosse team defeated Aurora University on Saturday, March 24 and improved to 6-4 on the season, and the men's lacrosse team is at 6-2 after a win over DePauw University on Thursday, March 22.

Titans In The News
WJBC Radio
Illinois Wesleyan is introducing the First-Year Experience Program, allowing first-year students to work intimately with their professors and gain early hands-on experience.
WJBC Radio
Assistant Professor of Accounting and Finance Jaime Peters advised people not to overreact to the market drop over new tariffs on China.
The Pantagraph
The campus gained a sweet "peep" into ancient history and modern ingenuity through a diorama contest, organized by Professor and Director of Greek and Roman studies Nancy Sultan.
(Charleston, S.C.) Post and Courier
Sarah Bockel '10 worked under two different actresses as an understudy before snagging the lead role as Carole King in Broadway's touring performance of "Beautiful."
WGLT Radio
How can love be revolutionary? Activist Valarie Kaur, keynote speaker at Illinois Wesleyan's inaugural Interfaith Summit, shared her insights.
The Pantagraph
Jason Drengwitz '97 has been named head football coach at Normal Community High School.
The Pantagraph
Matt Bierman, currently at Western Illinois University, has been named the new vice president for business and finance at Illinois Wesleyan.
Alumni Events
Tuesday, May 15
5:30-7:30 p.m.
Join fellow alumni and friends at the Country Club of Peoria! Guest speaker will be Mark Brodl, Provost and Dean of Faculty. Event hosted by Doug Stewart '73.
Entrepreneurship Society Networking Event
Wednesday, May 16
5-7 p.m.
Join the Illinois Wesleyan Entrepreneurship Society for a networking event at mHub in Chicago and meet current entrepreneurship students.
Class Newsletter Highlight
We've made it easier to keep up with the latest news and photos from your classmates! When you visit your Class Newsletter, you can subscribe via email by submitting your address under "subscribe to my posts."

In recent posts, Shannon O'Rourke '07 was one of 10 chosen out of over 300 applications to participate in the 2018 Rotary Peace Fellow Retreat in Nepal. Read more.
Kudos
Professor of English Michael Theune discussed the book he co-authored with Illinois State University colleague Bob Broad, We Need to Talk: A New Method for Evaluating Poetry.


Wings by Fern Rosetta Sherff Professor of Music David Vayo was performed four times during a recently completed concert tour by cellist Craig Hultgren and pianist Lawrence Axelrod. In addition to their March 22 performance at IWU, the two played concerts that week at St.Mary's College in South Bend, Indiana, Butler University in Indianapolis, and the Porter House Museum in Decorah, Iowa.
Summer Camps at IWU
Opportunities to send young future Titans to summer camps on the Illinois Wesleyan campus include music (chamber music, cello and composition), athletics and Spanish language. Learn more.
Campus Weekly is an electronic newsletter from Illinois Wesleyan's Office of Communications, edited by Ann Aubry, director of communications. To submit items of interest, email webedit@iwu.edu.
Visit titanpride.org today to update your profile, register for an event, post pictures, or simply get back in touch.
All images and content