Campus Weekly
Feb. 19, 2018
News for and about the Illinois Wesleyan community
Campus News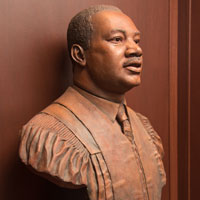 Ames Library Additions Highlight Social Justice
Two new additions to The Ames Library collection were unveiled in a dedication in conjunction with Black History Month: a bust of Martin Luther King, Jr., donated by renowned sculptors Jeffrey and Anna Koh Varilla, and a first edition of A Letter on the Abolition of the Slave Trade written in 1807.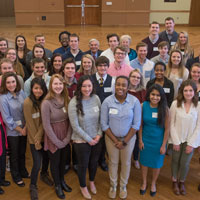 University, Students Celebrate State Farm Scholarship Support
Many of the 100 students currently attending Illinois Wesleyan University with scholarship support from the State Farm Companies Foundation were able to meet and thank their benefactors on Feb. 14.
Titans In The News
The Pantagraph
An editorial praises the "creative thinking" at Illinois Wesleyan behind the new McLean County Scholarships and suggests the idea be extended to other schools to keep students in Illinois and locally involved.
WGLT Radio
Local nonprofit organization Books to Benefit found a new home for a rare, historical text from the 19th century at Illinois Wesleyan, because of the university's social justice library collection.
The Pantagraph
On the anniversary of the Rev. Martin Luther King Jr.'s first visit to Illinois Wesleyan, the university unveiled a bust of the civil rights leader in the rotunda of The Ames Library, along with an 1807 abolitionist book.
espnW
"Legendary sportswriter" David Kindred '63 returns home to his roots to cover high school girls' basketball.
MLive
Sarah Bockel '10 plays singer/songwriter Carole King in the Broadway touring musical "Beautiful - The Carole King Musical," appearing at the DeVos Performance Hall in Grand Rapids.
The Pantagraph
Students from Korea described their excitement at their home country hosting the Winter Olympics.
Class Newsletter Highlight
We've made it easier to keep up with the latest news and photos from your classmates! When you visit your Class Newsletter, you can subscribe via email by submitting your address under "subscribe to my posts."

In recent posts, Edie (Hook) Yakutis '84 has retired from Microsoft after 22 years in various management positions. She has been accepted to Hebrew Union College-Jewish Institute of Religion as a rabbinical student in their five-year educational program.
Kudos
Professor Emeritus Jared A. Brown was presented with the Albert Nelson Marquis Lifetime Achievement Award.
Nominate Deserving Titans
The IWU Alumni Association Nominating Committee needs your help compiling a list of alumni candidates for the Alumni Award categories below. Tell us about a Titan who has made a difference and deserves recognition.
Please nominate here before March 1, 2018!

Distinguished Alumnus/na Award 
This award is presented annually to an alumnus/na who has made a distinguished contribution to society, has achieved professional distinction, or has demonstrated civic leadership. 

Robert M. Montgomery Outstanding Young Alumnus/na Award 
Named for a 1968 alumnus and former IWU Alumni Director, this award recognizes young alumni for outstanding professional achievement, civic leadership, or both. Nominees for this award should be 2001-2015 graduates. 

Loyalty Award 
This award recognizes alumni who have benefited Illinois Wesleyan either through service to the University, strong financial support, or both. 

Winners will be announced at Homecoming (October 5-7, 2018). You can view previous award winners here. 
Alumni Events
School of Theatre Arts Senior Showcase
Monday, Feb. 19
6:30 p.m.
The Illinois Wesleyan School of Theatre Arts invites you to the Senior Showcase at Stage 773 in Chicago. Please bring friends and colleagues who are directors, artistic directors, managing directors and casting directors to see our talented seniors!
Naples Connection
Sunday, Feb. 25
3-5 p.m.
Join fellow alumni, family, and friends for the Greater Naples Area Connection at Audubon Country Club.
Friday-Saturday, March 2-3
Join us for the Council for IWU Women 2018 Summit! The Summit is open to council women, alumnae, faculty, staff and students.
Career Immersion Excursion: New York City Student Alumni Networking
Tuesday, March 13
6-8 p.m.
Join fellow IWU alumni and current students for a special networking event at Papillon Bistro & Bar in New York City.
Campus Weekly is an electronic newsletter from Illinois Wesleyan's Office of Communications, edited by Ann Aubry, director of communications. To submit items of interest, email webedit@iwu.edu.
Visit titanpride.org today to update your profile, register for an event, post pictures, or simply get back in touch.
All images and content