Campus Weekly
Jan. 29, 2018
News for and about the Illinois Wesleyan community
Campus News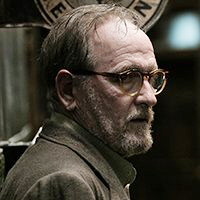 Jenkins '69 Nominated for Oscar
On the heels of nominations for Golden Globe, Screen Actors Guild and Critics Choice awards for his role in The Shape of Water, theatre alumnus Richard Jenkins '69 has been nominated for an Academy Award for Best Supporting Actor, his second career Oscar nomination.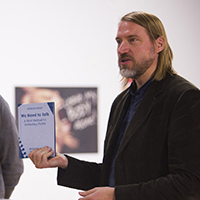 Faculty Book Launch Celebrates Works of Plath, Theune
The Department of English celebrated new books published by two faculty members in 2017 – Everything Shapes Itself to the Sea by James Plath and We Need to Talk: A New Method For Evaluating Poetry, co-authored by Michael Theune.
Titan Athletics
The Illinois Wesleyan women's track team finished second of 13 teams and the men's team was third of 15 teams at the Top Times Titan Open, held at the Shirk Center on Saturday, Jan. 27.
Titans In The News
WGLT Radio
Head women's soccer coach Dave Barrett accepted the rare chance to move to Division 1 for a head coaching job at Fairfield University in Connecticut – also returning him to family roots.
The Pantagraph
Rappers B.o.B and Waka Flocka Flame will share the stage in a concert on Saturday, Feb. 3, at Illinois Wesleyan's Shirk Center.
Class Newsletter Highlight
We've made it easier to keep up with the latest news and photos from your classmates! When you visit your Class Newsletter, you can subscribe via email by submitting your address under "subscribe to my posts."

Highlight: In recent posts, Michael Oesch '99 won the 2018 Shellie Award for Outstanding Lighting Design of a Musical for Grease! with Contra Costa Musical Theatre in Walnut Creek, California.
Kudos
Lindsey Fitzharris '04 is a finalist for a 2018 PEN Literary Award, one of the highest awards in American literature. Her acclaimed book, The Butchering Art: Joseph Lister's Quest to Transform the Grisly World of Victorian Medicine, is on the shortlist for the E.O. Wilson Prize for Literary Science Writing.
Alumni Events
Chicago Blackhawks
Saturday, Feb. 17
Join us as we cheer on the Blackhawks! Pre-game party & ticket pick up 5-6:30 p.m. at Park Tavern. Puck drop at 7:30pm.
School of Theatre Arts Senior Showcase
Monday, Feb. 19
6:30 p.m.
The Illinois Wesleyan School of Theatre Arts invites you to the Senior Showcase at Stage 773 in Chicago. Please bring friends and colleagues who are directors, artistic directors, managing directors and casting directors to see our talented seniors!
Naples Connection
Sunday, Feb. 25
3-5 p.m.
Join fellow alumni, family, and friends for the Greater Naples Area Connection at Audubon Country Club.
Career Immersion Excursion: New York City Student Alumni Networking
Tuesday, March 13
6-8 p.m.
Join fellow IWU alumni and current students for a special networking event at Papillon Bistro & Bar in New York City.
Campus Weekly is an electronic newsletter from Illinois Wesleyan's Office of Communications, edited by Ann Aubry, director of communications. To submit items of interest, email webedit@iwu.edu.
Visit titanpride.org today to update your profile, register for an event, post pictures, or simply get back in touch.