Turning Titan - Next Steps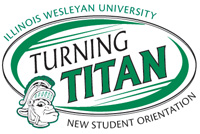 Weather for Move-In Day
The forecast for Tuesday calls for seasonably hot (88 F) and sunny conditions. We look forward to welcoming you to campus!

Directions to Shirk Center
Before you make your way to your residence hall to unpack, your first stop will be the Shirk Center to check in. (For GPS & map searches, the Shirk Center's street address is 302 E Emerson St, Bloomington, IL 61701)

Family Activities on Move-in Day
There are several activities that families can participate in during move-in day, including the Turning Titan Check-In, lunch, Parent Orientation Q & A, Campus Drop-In Hours and the indoor picnic. After the picnic, students will go to New Student Convocation and parents will make their way home, if they have not already departed.

Follow or "Like" Us
Follow Orientation Services on Twitter @IWUOrientation or #TurningTitan13, or find us on Facebook. If you have any questions, please contact orientation@iwu.edu or (309) 556-3749. We are happy to help you Turn Titan!
Checklist Items
Turning Titan Schedule
Don't forget to download the Orientation Guidebook for the full schedule of orientation events.
---
Campus News
First Students Chosen as Mellon Scholars
Mallika Kavadi '15 and Joseph O'Brien '14 pursued research as Mellon Summer Scholars under the mentorship of faculty members, thanks to a grant from the Mellon Foundation.
It's a Small World When You're a Titan
From remote mountaintops, to job interviews, to the world's busiest pedestrian intersection in Tokyo, Titans shared the most unexpected places they've found each other.
---
Sports
• The first-ever WeishFest, a benefit for the Andrew Weishar Foundation, will be held on Sept. 1 at Standard Bank Stadium in Crestwood, Ill., raising money to support families who have teenagers with cancer. The event honors Weishar, a former IWU football player who died last October.


> Find more highlights at www.iwusports.com.

---
Upcoming
Monday, Aug. 19 -- Final day for International Student Orientation, MALANA Pre-Orientation and the Engaging Diversity pre-orientation programs.

Tuesday, Aug. 20 - Sunday, Aug. 25

Turning Titan: New Student Orientation

Highlights include:
- kickoff event with Live Band Karaoke at 9 p.m. Tuesday
- the return of hypnotist Frederick Winters at 9 p.m. Friday, and
- Titan Carnival at 8 p.m. Saturday,
all at the Hansen Student Center.

Monday, Aug. 26

First day of classes

• 8 a.m., Kemp Commencement Plaza, State Farm Hall -- State Farm Hall Ribbon Cutting -- The campus community is invited to a ribbon cutting ceremony at State Farm Hall, followed by a continental breakfast and tours inside the new classroom building.


> Find more events on the Campus Calendar.
---
Campus Weekly is an electronic newsletter from Illinois Wesleyan's Communications Office, edited by Ann Aubry, assistant director for electronic communications. To submit items of interest, email webedit@iwu.edu.

Visit titanpride.org today to update your profile, register for an event, post pictures, or simply get back in touch.
---

Titans In The News
Sun-Times Media
William Powers '64, internationally recognized operatic bass-baritone, is directing the upcoming production of Verdi's La Traviata for Oak Park's
Verismo Opera Company. Powers' concept places the action in Frank Lloyd Wright's 1910 Oak Park rather than the usual setting of Paris in 1850.

The Pantagraph
Beach Lewis Chair of Biology Given Harper discussed the drop in monarch butterflies observed this year.

BBC News
Charlene Carruthers '07 of the Black Youth Project discussed the Trayvon Martin protests and U.S. race relations in this July 21 video clip.


> More Titans in the News

---
Kudos
• Professor of French Chris Callahan presented a paper at the 14th Triennial Congress of the International Courtly Literature Society (ICLS) in Lisbon, Portugal, where he was re-elected secretary/treasurer of the North American Branch of the ICLS.

Callahan also has been named to the Study in France Committee of the U.S. Student Fulbright National Screening Committee for a three-year term.

• Chair and Professor of Hispanic Studies Christina Isabelli presented a conference workshop entitled "Spanish heritage language learners in Spanish as a second language class" at the 2013 Middlebury College Conference on Pedagogy for Spanish as a Second Language in Middlebury, Vt., July 15-18.

• Scholarly Communications Librarian Stephanie Davis-Kahl was named a 2013 Institutional Repository (IR) All-Star by bepress, "because of her early vision and compelling advocacy for the value of student research in the IR, and specifically for student-edited journals." With platforms including Digital Commons, bepress offers hosted institutional repositories and scholarly publishing services.


> Find faculty publications and research and creative activity on the University website or Digital Commons @ IWU.

---
---