The Wilson Atrium Dedicated in Honor of Former IWU President and First Lady
May 7, 2018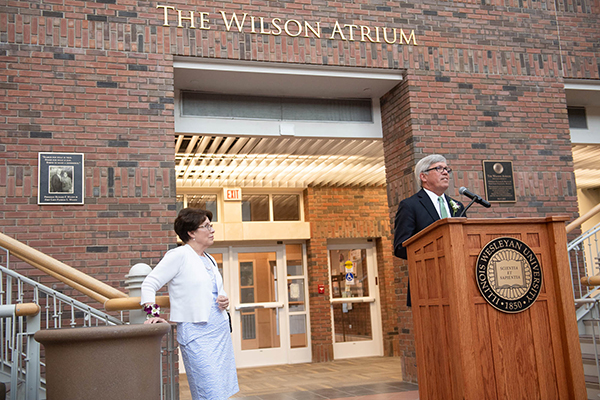 BLOOMINGTON, Ill. — The Center for Natural Science Learning and Research (CNS) atrium has been named The Wilson Atrium in honor of former Illinois Wesleyan University President Richard F. Wilson and his wife, former First Lady, Patricia L. Wilson.
The Wilson Atrium was dedicated and formally named during a ceremony hosted by the Illinois Wesleyan Board of Trustees (BOT) on Monday, May 7, which featured remarks by President Eric Jensen, BOT member Jim Shirk, BOT President George Vinyard '71, and the evening's guests of honor, Richard and Patricia Wilson.
"This space typifies the characteristics that I think we associate with Dick and Pat as a tangible reminder of their contributions," Vinyard told the crowd of more than 90 guests. "It's a welcoming space that reflects intelligence, excellence, grace and unpretentious elegance."
At Monday's ceremony, Richard and Patricia Wilson were invited to unveil a large inscription of the University seal set into the atrium floor and encompassed by "The Wilson Atrium" along with the years of Wilson's presidency: "2004-2015." Two bronze plaques and lettering commemorating the space were also unveiled.
"Pat and I are absolutely ecstatic to have this space named in our honor and in recognition of our work here," Richard Wilson said. "Nothing means more to us than the people we have met while working here at Illinois Wesleyan."
Wilson told the crowd that he likes having his last name associated with the CNS atrium for a number of reasons, including the fact that the building has two front doors which connect the north side of campus with the south side of campus.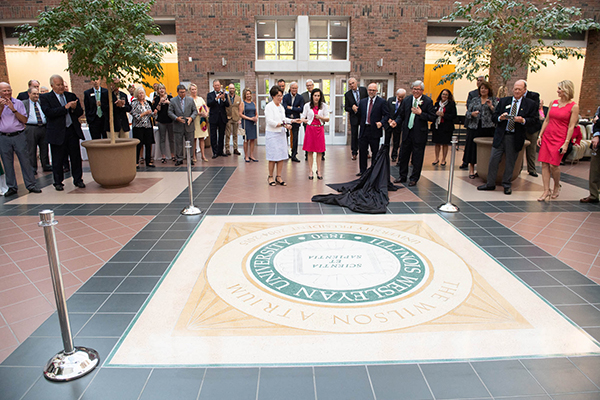 "Literally hundreds of students, faculty and staff meet here informally every day," Wilson said. "I like the feeling that evokes in my mind. This is an active space."
One of the bronze plaques unveiled Monday was inscribed with the message: "With gratitude for their passionate and inspiring leadership and years of selfless service to the lasting betterment of Illinois Wesleyan University and the greater Titan Community."
The other plaque featured a quote by Wilson, which was his traditional closing to annual Commencement ceremonies: "Search for what is true. Stand for what is just. Strive to make a difference."
Along with financing The Wilson Atrium seal, plaques and lettering, members of the BOT furnished the atrium with new chairs and couches to make the space more comfortable and functional in honor of Richard and Patricia Wilson.
"Many people work very hard in their jobs, but the lucky ones are those who feel the work they do makes a difference in other people's lives," said Patricia Wilson. "Dick and I felt from the beginning that what we were doing at Illinois Wesleyan did matter – that it really could enhance and change lives. To be recognized for our work is a special privilege."
Richard Wilson served as the President of Illinois Wesleyan University from 2004-2015. Wilson gave special attention to developing a strategic plan for Illinois Wesleyan, strengthening the University's financial position, and conducting the largest fund-raising campaign in the school's history.
By John Twork