IWU's Enduring Relationship with Technos International College - Tokyo
For more than a quarter of a century, Illinois Wesleyan University has enjoyed a close working relationship with Technos International College in Tokyo. When Former President Minor Myers met Dr. Tanaka of Technos International College, the two realized they both had appreciation for international relationships and subsequently forged an international bond which has culminated in several unique opportunities for students of both institutions:
Each year, the Technos International Prize is awarded to a deserving graduating senior as a prestigious honor in recognition of outstanding engagement in international affairs.
More recently, the collaboration between our institutions has resulted in productive internships for our students at the Technos International College campus.
A special highlight of the relationship has been IWU's participation in "Technos International Week" each June, when one faculty member and two students are selected to travel to Japan to experience Japanese culture and to interact with students at Technos International College.
We are grateful for the enduring relationship that has developed between our institutions, the many friendships that have been fostered by these collaborations, and the countless acts of goodwill between members of different nations as the fruit of the cultural understanding and mutual respect that your foresight has made possible.
-Former Provost Jonathan Green, marking the 25th anniversary of IWU's participation in Technos International Week
Technos International Prize
In 1994, the Technos International Prize was designed to recognize student achievement at Illinois Wesleyan University. Each year the Prize has been awarded to a senior IWU student who has excelled in both study and practice relating to international and global affairs as determined by the International Studies faculty at IWU . It was awarded at Commencement for the first 20 years with a member of the Tanaka family presenting the award and is now presented during the International Studies Honors Luncheon. In return, the Illinois Wesleyan University Prize of Distinction has been awarded to a Technos International College student at their Opening Ceremony in April of each year, based on outstanding achievement in a student's field of study as determined by the faculty of Technos International College.
2018 Recipient: Zoe Bouras '18
Technos Internships
IWU Freeman Foundation Asia Internship at Technos International College: IWU started sending interns to Technos in the summer of 2015 supported by a grant from the Freeman Foundation. Interns work with the English language teacher and their duties can include assisting the language teacher in the classroom, preparing for classes and exams, helping students with their homework, helping students practice their oral skills, and they may eventually teach a class. Students also help with the preparations for the Technos International Week. Interns spend early to mid- May to mid to late June in Japan leaving in a nearby sharehouse. Japanese language abilities with an interest in education and teaching, English or language majors, and an outgoing personality are preferred in interns.
Summer 2018 intern: Nathan Vartivarian '20
| | |
| --- | --- |
| | Andrea Fortner '16 (2015 Intern) and the other tour guides for Mount Takao. |
| | Kyle Serafico '17 (2016 Intern) helps Japanese students of English improve their skills. |
| | Payton Letko '19 (2017 Intern) learns nihon buyo dance. |
Technos College Teaching Assistant Internship Program: In 2014, Technos announced the creation of the Teaching Assistant program, through which the college annually hires two students from sister schools for a one-year paid language assistant position . Duties of the interns are to assist in English classes, prepare class materials and quizzes, assist in correcting assignments, run English activities or tutoring, write regular blogs for the Technos webpage, and update Facebook and Twitter accounts. Since the program began, three IWU graduates have been selected for assistantships.
2017-2018 Intern: Nick Cocorikis '17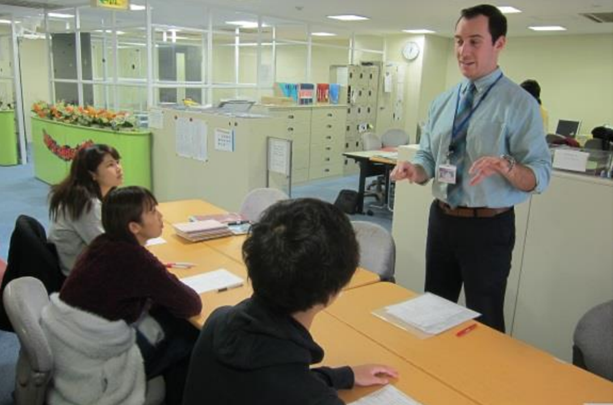 Nick roleplays English for customs and immigration with Sports Department students.
Japanese Language
Illinois Wesleyan University is proud to offer a program in Japanese language and culture, which has been made possible by the generous support of the Tanaka family, who were the driving force in founding Technos International College. This endowment has provided IWU with a dedicated faculty line for this Japanese language program.
Technos International Week
"The best way to understand yourself is to watch people who are different from you. The best way to understand others is to step out of yourself and view the world as they do. The most exciting part of being in Japan was doing things I couldn't or wouldn't have done in the U.S. The most enduring part of the experience was the strong bonds that I, an English-speaking American who had never left the U.S. before, forged with people I met there simply by being myself."
In 1992, the Technos International Week was founded in order to promote international understanding for the students, faculty members, and staff of participating institutions. The Technos International College of Tokyo sponsors the visit of groups from Bates, Carleton, Hobart and William Smith, Hope, McKendree Colleges and Illinois Wesleyan in addition to groups from New Zealand and England. A faculty leader and two freshman or sophomore students attend the 14 day long program in June and spend time both on the campus of Technos International College in Tokyo and in a mountain retreat near Nagano. Students and faculty are chosen on the following criteria: genuine interest in Japan, its people, culture and history; an excellent academic record; a willingness to meet people from different cultural backgrounds and experience aspects of Japanese culture which may be foreign; no previous travel experience to Japan; and a citizen of the USA.
June 2017
Professor Ellen Furlong with students Rowland Filbert '19 and Jacob Chapman '20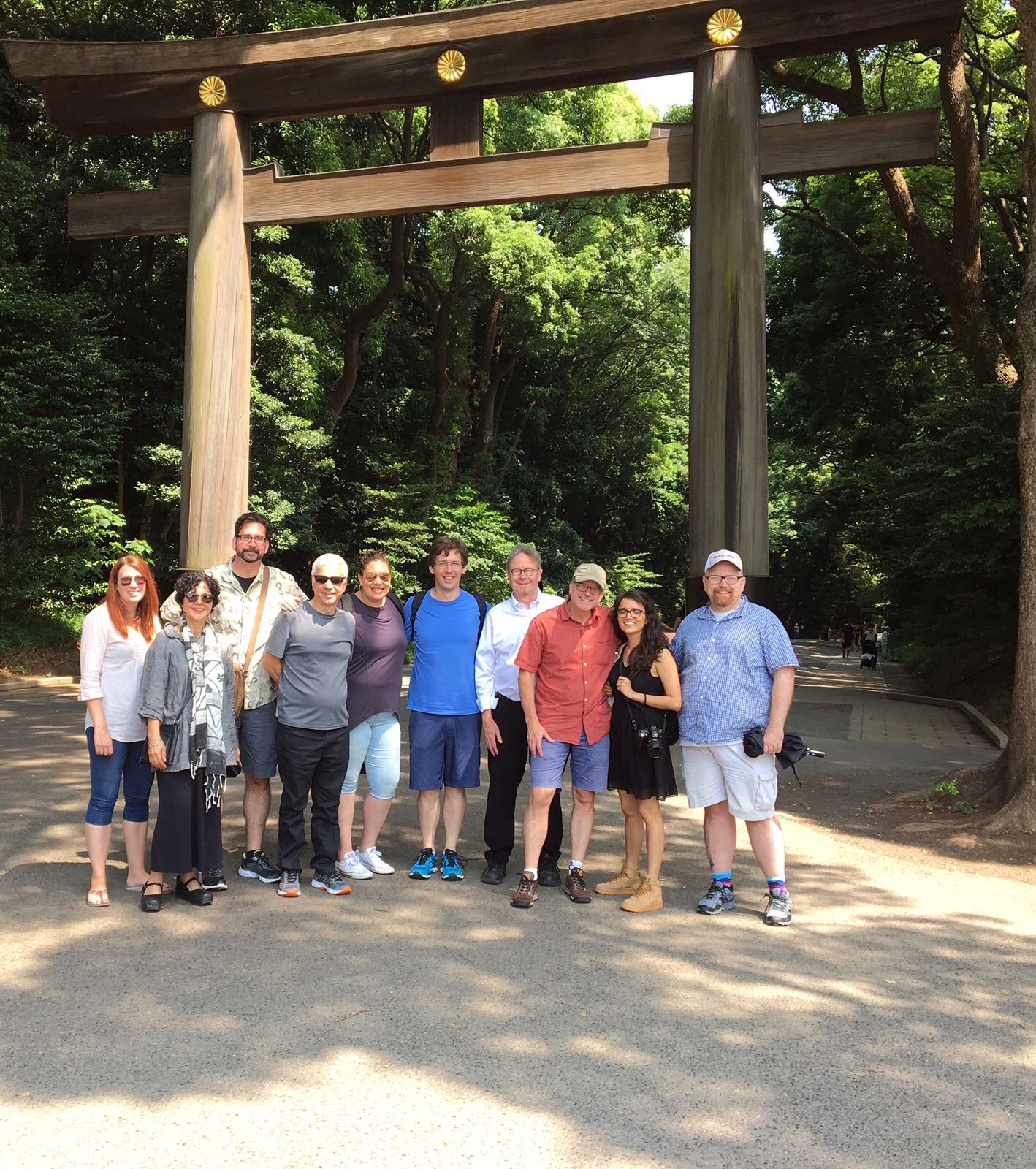 International Studies News