After Graduation
The International Studies major is designed for students who are interested in studying issues from a transnational perspective, and who are planning careers with internationally focused agencies of the public and private sector, international organizations, and foundations.
Alumni Spotlight
Sarah M. ('12) started an IT job at the University of Michigan in Ann Arbor. Sarah's future plans including returning to Germany to pursue graduate studies as soon as possible.
Caroline R. ('12) loved the time she spent studying abroad in France and is continuing her international experience by attending the University of Glasgow in Scotland for a one-year master's program in European Politics.
Adebola O. ('11), has completed a master's degree in International Relations from the University of Chicago. She now works for Delta Airlines and has had the opportunity to travel to Tokyo, Japan; Cape Town, South Africa; and Santiago, Chile. Adebola has also been able to visit family in Nigeria.
Emily C. (''11) completed a year in Bulgaria as a Fulbright Scholar. Emily moved to Nairorbi, Kenya, where she works for the Danish Refugee Council as a research assistant. Earlier this summer, she conducted interviews and focus groups in Jijiga, Ethiopia, and is now working on a report on durable solutions for Somali refugees in the Horn of Africa. This fall she will continue her studies at the London School of Economics. After graduation, she plans to move to Belgrade, Serbia, to work for an NGO.
Coco B. ('10) has recently completed a master's degree in Media and communications through Brandeis University's Global Studies Program and received and job offer from Fraunhofer CSE, a German-based research organization in Boston.
Tim C. ('10) Tim is a project manager for E-Graphics (subsidiary of the New York-based Omnicom, a marketing and advertising conglomerate) in Dalian, China (northern China), a major seaport and home to several high-tech enterprises.

Tyler R. ('10) Is in Tokyo working for CRASH, a disaster relief organization that has been providing relief assistance following the 2011 earthquake and tsunami.
Janelle S. ('10) is a Peace Corps Volunteer in Micronesia, working as an ESL Teacher and Community Developer. Janelle started her service November 2010 and has extended her contract for an additional six months to finish May 2013. "Joining the Peace Corps after IWU is a wonderful way to apply what you have already learned through studying abroad and to continue to challenge yourself in helping a deserving community in a developing country."
Rachel H. ('08) graduated from the University of Illinois College of Law in 2011. She is clerking for the Hon. Michael M. Mihm of the Central District of Illinois.
Charlene C. '07 went on to earn a master's degree in social work from Washington University in St. Louis and traveled to China to study and compare China's mental health services with the American system. After returning Charlene became involved in activism and politics, campaigned against anti-affirmative action state legislation and volunteered for local political races. After graduating, Charlene moved to Washington, D.C., and took an organizing apprenticeship that returned her to Chicago. Currently, Charlene is a special initiatives manager at the Women's Media Center in New York City. You can read more about her current work at thefreedompages.wordpress.com. In fall 2011, she will apply to law school with the goal of working in the juvenile justice. To read more of the IWU Magazine article. . .
Amanda F. ('07) earned a master's degree in Music at Northwestern University and returned to IWU last winter as a visiting faculty member. She is now a free-lance musician in Los Angeles.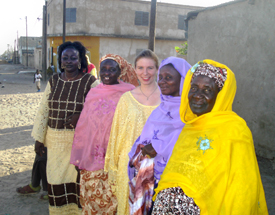 Shannon O. '07. After studying in Africa as a Rotary Ambassadorial Scholar, international studies and political science double major extended her time in Senegal with an internship for the nonprofit organization 10,000 Girls.
In 2010, she accepted a 14-month contract with the nonprofit organization FORGE as a site manager for their projects in the Meheba Refugee Camp in northwestern Zambia.
Shannon returned to the U.S. to earn a master's degree in international development at The George Washington University in Washington, D.C. Her studies focused on international community development.
In 2012, Shannon joined the Norwegian Refugee Council in the Democratic Republic of Congo as a project coordinator in charge of all education for emergency programming in the country. This includes building temporary schools, training teachers, and providing classes for students who have fled their homes due to war.
Leslie C. '07 enrolled in a study abroad program (IWU London Program) in her sophomore year, before becoming an International Studies major. It was one of the reasons she decided to pursue International Studies as a second major. Leslie joined the Peace Corp after graduation. As a Peace Corp volunteer she had the opportunity to use Mandinka, a West African language. In fall 2010, Leslie will be attending New York University's School of Law.
Susie W. '07 works for a non-profit organization in Tijuana, Mexico. She leads an after school program in a poor neighborhood outside Tijuana as part of the mission of community development in the area. Susie also hosts and translates for teams that come to build houses for low-income families through the non-profit organization.
Ayumi K. ('05) is currently a Fulbright English Teaching Assistant in the Lalitpur district outside of Kathmandu, Nepal. Ayumi volunteers with the English Access Microscholarship Program. It is co-sponsored by the Nepal English Language Teacher's Association (NELTA) and the U.S. Embassy to develop the English language skills of Nepali adolescents while also introducing them to American culture. She also volunteers with the U. S. Educational Foundation in Nepal, which works with students seeking to study at American universities.
International Studies News