Past Programs and Events
The following programs and events took place at IWU in recent years. These programs feature LGBTQ+ speakers and discussions that talk about issues within the LGBTQ+ community in order to raise awareness, provide education, create inclusion, and model LGBTQ+ professional contributions.
*Pictures are linked to a Photobucket account. Click on each picture to view the whole album.*
Lavender Graduation: April 2, 2015
Safe Zone Reception: March 05, 2015
Drag Ball: Feb 6, 2015
Athens Boy Choir: Feb 5, 2015
Trans* Day of Remembrance: Nov 20, 2014
Christina Kahrl: Becoming a woman in a man's world - Nov 6, 2014
Jen Kober - October 24, 2014
Coming Out Muslim: Radical Acts of Love - October 4, 2014
Dr. Stuart Chen-Hayes- September 26, 2014
Drag Ball - April 18
Pride Mentoring Mixer - April 17
Lavender Graduation - April 3
Pride Summit - March 29
Speaker: Robyn Ochs - March 25
Performer: Diana Chittester - February 14
Safe Zone Members Reception - February 13
Speaker: Charlene Carruthers '07 - February 6
Dugout: Gender Display - January 31-February 13
Ames Library: LGBT Display - January
LGBT Campus Climate Survey: Non-Org - January 20
A comprehensive climate survey was conducted at IWU in spring 2013 around LGBTQ+ identity. This session presented the survey results and progress made to date in creating a more inclusive campus for LGBTQ+ people and allies. The PowerPoint presentation presented at the event is located here: (.pdf)
2013
Trans* Day of Remembrance - November 20
Trans* Day of Remembrance is a day to commemorate those with a trans* identity who have been victims of hate crimes. IWU Pride Alliance hosted a candlelight vigil for those with a trans* identity who lost their life because of their identity/expression.
Karla Carney-Hall, Vice President for Student Affairs and Dean of Students, spoke at the Trans* Day of Remembrance vigil, offering the following remarks:
"On this Trans* Day of Remembrance, I am struck by several things:
First, remembering comes from a place of care – we remember people we love and care about greatly. We care about others and their journey. We care about their pain. Today, we honor Trans* people who have been lost to violence and hatred.
Second, while "remembering" is shared with other national holidays, on this day, we raise up humanity and equality, while raising awareness about discrimination and hate. We hope for change, compassion, and an end to injustice.
Finally, I am also hopeful about a future "remembering." I hope for a day when we can all say, "I remember when there used to be a need to raise awareness." I hope for a day when there is no anti-transgender violence. A day when we can celebrate the end of violence. I hope for a day that we can celebrate the living, their courage and sense of self."
Speaker: Searah Deysach - November 14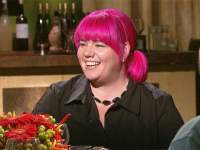 Searah Deysach is the founder and owner of Early to Bed, a sex toy shop in Chicago, IL. Searah speaks to colleges' queer and feminist organizations and classes, providing education on safe sex practices. Other organizations she has worked with include the Chicago Women's Health Center, Lesbian Community Care Project, and the Broadway Youth Center, amongst others.
(From left to right) Rachel Paturi '13, Todd Zoellick '00, Brian Dailey, Chad Maxwell '02, Athena Cocallas, Chris Richardson, Bobby Castillo, Aaron Woodstein.
Tuesday - NO H8 Photoshoot
NO H8 is a charitable organization designed to promote equality through visual protest.
Wednesday - LGBTQ+ Discussion Panel
A discussion was held with IWU Alumni about LGBTQ+ related events and questions about the community.
Thursday - Pride Meeting
IWU Pride Alliance met and had a discussion with IWU Alumni. Pride also discussed campus climate relating to the LGBTQ+ community.
Friday - National Coming Out Day Party
A party was held to tell coming out stories and discuss the issues that people face during the coming out process, aswell as how you can be a good ally for those who are in the process.