Exceptional Facilities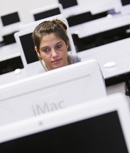 Computer Science is located in the Center for Natural Science Learning and Research, a modern and technology-rich building that is home to classrooms, science facilities and computer labs that rival those of many major research universities.
The department maintains three computer labs and classrooms.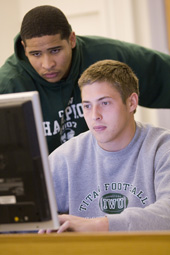 Extending Learning
Computer Science faculty provide students with opportunities to become engaged in collaborative research projects and independent study.
Recent project topics have included work in computational linguistics, theoretical computer science, and network security. Read examples of student research.
Students can gain work experience as lab assistants or as tutors. Internships are also available in a variety of corporate settings in Bloomington and Chicago.
The department has student chapters of the Association for Computing Machinery (ACM) and ΥΠΕ, the Computer Science Honorary Society.