My recent works examine the state of living in the information age. Inspired by synchronous exchanges of information on social media and live stream apps, my sculpture Help Yourselves (painted papier-mâché pizza slice and mirrors) intends to capture a sense of co-existence in different physical spaces of contact. By borrowing the mirrors from Robert Smithson, I revisit the perception of the boundaries between fiction and reality and inspect its form of existence in the digital age.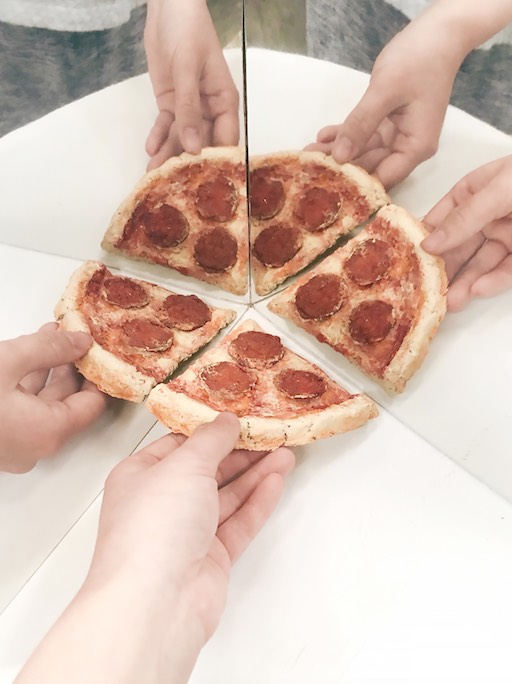 The mirror here also represents a reversibility of the gaze under ubiquitous online surveillance, while the piece of pizza embodies the sharing of the most banal things through social media. A virtual reality course here at IWU also inspired me to think about the perception of one's self in the information age. Tilt Brush, a VR software we used in class, has a mirror tool that could show reflections, while it would never show one's own image in the mirror, which departs from the common sense of a mirror. I attempted to trace myself back into the space to alleviate the absence of Self in a virtual reality environment.
For my design works, I spend time approaching feasible solutions without dismissing the tangible aspects of human perceptions. There always remains an emphasis on dynamic human actions even in the absence of the human image. I hope to evoke the memory or imagination of oneself doing specific things, so you can trace the evidences to a sense of intimacy. My photographs also reflect similar thinking processes. My favorite subjects are old places that still keep the traces of living and illuminate the flow of memories coming from our collective experiences.
Student Organizations
IWU students run lots of Registered Student Organizations (RSO) on campus and several of them are dedicated to the fine arts. For example, Creativity for Change uses the arts to better society. The Flameworking Glass Club meets weekly and sponsors an art sale on campus, the Ceramics Club provides an opportunity to continue to work with clay, and the Kappa Pi International Honorary Art Fraternity engages in community outreach by using art for a common good.
CovidRunaway Fashion Show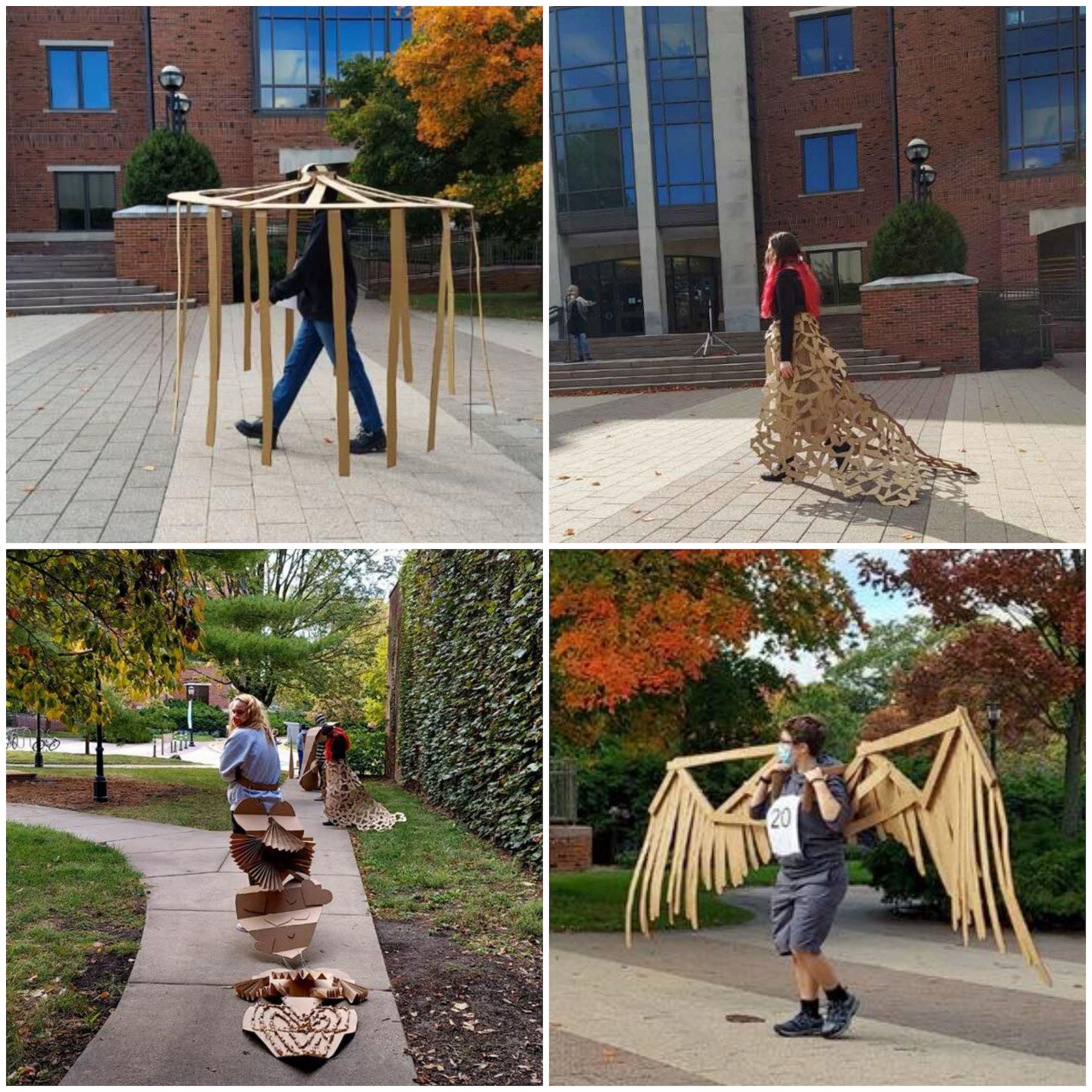 Sep. 29, 2020 -- Students in Foundation Art and Beginning 3D Design displayed their cardboard wearable designs to the tune of BeeGee's "Stayin Alive."
IWU's COVID Runaway Fashion Show makes social distancing an art form as students show off their designs (Read full article).