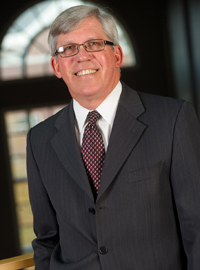 The Pantagraph Annual Report
March 16, 2013
Progress On Many Fronts For Illinois Wesleyan
I am pleased to report that 2012 was a very good year for Illinois Wesleyan. We made progress in a number of important areas, saw our students engage and succeed both inside and outside of the classroom, and we're looking forward to continued success as the academic year concludes in 2013.
In the area of academics, there were many accomplishments and noteworthy events. Here are a few from what is a very long list.
A significant gift received from former President Robert S. Eckley and his wife, Nell, established the Eckley Scholars and Artists Summer Undergraduate Research Program. The program funded summer stipends for five students to work with faculty mentors on scientific, scholarly and artistic projects. The Eckley Scholars and Artists summer program has attracted the attention of other alumni and friends and will be expanded in the future.
Our faculty received a major grant from the Mellon Foundation for a new initiative, which we have named Re-Centering the Humanities. As part of this program we will use interdisciplinary seminars engaging faculty from the sciences, ethics, politics, sociology and environmental studies to tackle problems facing our local community. 
---
Previous Remarks
> May 20, 2013:  Inside Higher Ed Alma Mater Blog: Managing Risk
> February 11, 2013: Inside Higher Ed Alma Mater Blog: Gun Control: What Makes Common Sense?
> March 1, 2013: Tuition and Fees 2013-14
> October 22, 2012:  Inside Higher Ed Alma Mater Blog: MOOCs: Excitement and Apprehension
> August 24, 2012: Remarks for Faculty and Staff Breakfast
> April 10, 2012: Special Report
> March 21, 2012: For The Pantagraph Annual Report
> March 21, 2012: Special Report to the Campus Community
> March 12, 2011: For The Pantagraph Annual Report
> February 20, 2012: Tuition and Fees 2012-13
Browse or search an archive of President Richard F. Wilson's remarks and messages, including letters From the President's Desk from the Illinois Wesleyan University Magazine, on Digital Commons @ IWU: